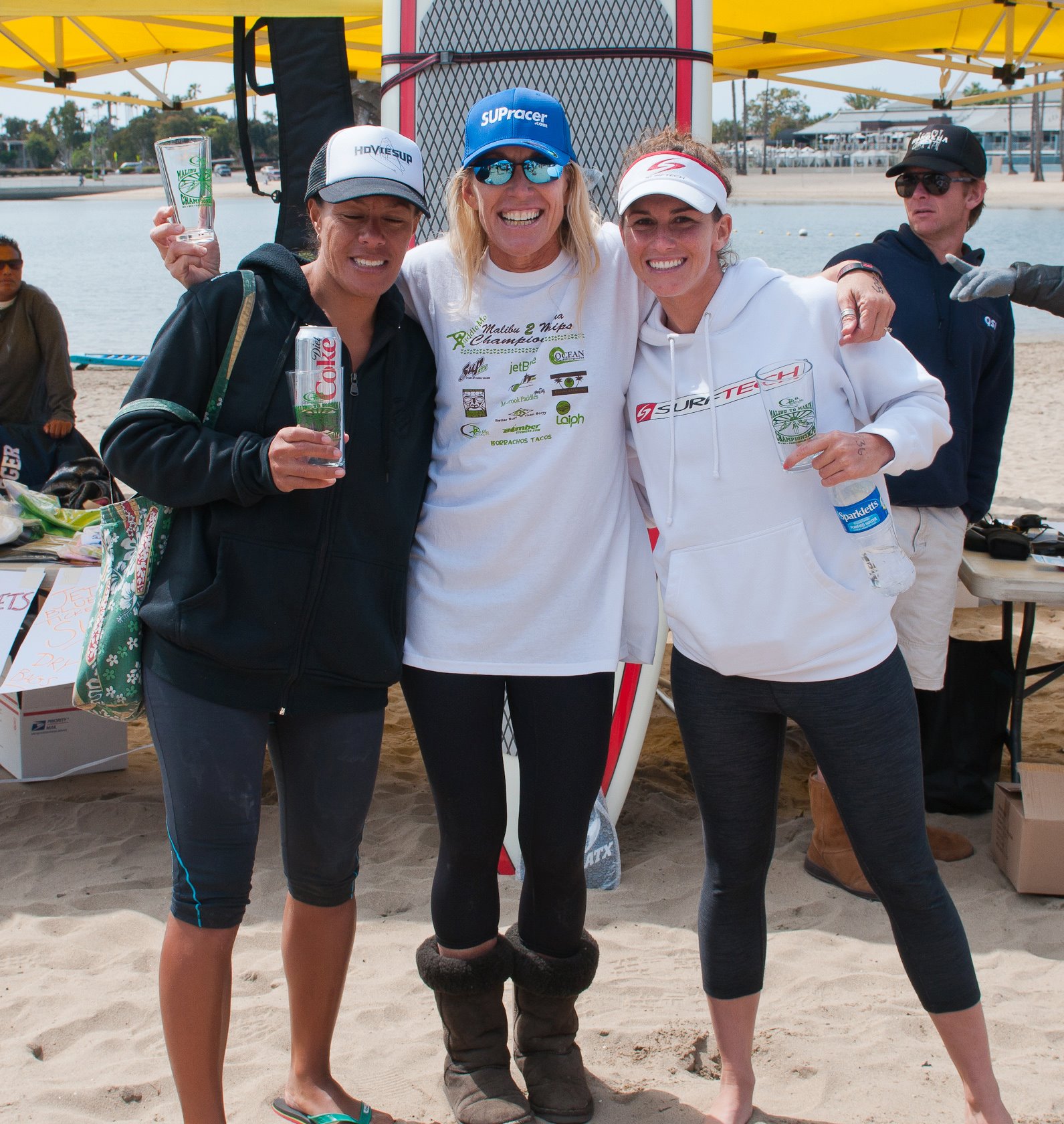 March 24, 2012
by Christopher Parker (@wheresbossman)
[RESULTS] Malibu2Marina Paddle Championships
Results from the Stand Up Paddle race @ the 2012 Malibu 2 Marina Championships, hosted by PaddleMe.com.
All the action happened on Saturday 24th March in California, as part of the SoCal Ocean Racing Series.
Jared Vargas and Jim Terrell scored victories, but it was Kristin Thomas who stole the show by taking out the women's race in her new SUPracer Epic SUP Cap.
Way to represent Kristin!
Check out the full SUP race results below, or click here to check out some pics of the action from John Goodman.
 *****
2012 Malibu-2-Marina Paddle Championship RESULTS
Click "M/F" to sort between Men's and Women's Results
Click "Class" to sort results by board class

| M/F | # | Name | Time | Class | Class # |
| --- | --- | --- | --- | --- | --- |
| M | 1 | Jered Vargas | 0.47.17 | Unlim | 1 |
| M | 2 | Tyler Morgan | 0.48.00 | Unlim | 2 |
| M | 3 | Jim Terrell | 0.50.33 | 14' | 1 |
| M | 4 | Brendan Light | 0.50.35 | 14' | 2 |
| M | 5 | Ernie Johnson | 0.52.15 | 14' | 3 |
| M | 6 | Brian Murphy | 0.52.47 | 12'6" | 1 |
| M | 7 | Brennan Rose | 0.53.01 | 12'6" | 2 |
| M | 8 | Patrick O'Hea | 0.54.41 | 14' | 4 |
| M | 9 | Peter Black | 0.54.45 | 14' | 5 |
| M | 10 | Lance Erickson | 0.55.10 | 12'6" | 3 |
| M | 11 | Bruce Brunson | 0.55.43 | 12'6" | 4 |
| M | 12 | Jay Butki | 0.56.02 | 14' | 6 |
| M | 13 | John Goodman | 0.56.15 | 14' | 7 |
| M | 14 | John Schalka | 0.56.28 | 12'6" | 5 |
| M | 15 | Brian Kane | 0.56.31 | 12'6" | 6 |
| M | 16 | Peter De Avila | 0.56.39 | 12'6" | 7 |
| M | 17 | Mike Vaughan Jr | 0.56.49 | 14' | 8 |
| M | 18 | Jayson Campbell | 0.57.13 | 12'6" | 8 |
| M | 19 | John Gossett | 0.57.22 | 14' | 9 |
| M | 20 | Tim Sanford | 0.57.24 | 14' | 10 |
| M | 21 | Mark Christman | 0.57.25 | 14' | 11 |
| M | 22 | Kyle Wade | 0.57.33 | 14' | 12 |
| M | 23 | Mark Pighini | 0.58.09 | 14' | 13 |
| F | 24 | Kristin Thomas | 0.58.28 | F12'6" | 1 |
| F | 25 | Alison Riddle | 0.59.36 | F12'6" | 2 |
| M | 26 | William Dinnean | 0.59.49 | 12'6" | 9 |
| M | 27 | Nicholas D'Angelo | 0.59.56 | 12'6" | 10 |
| F | 28 | Anntoinette Cocco | 1.00.01 | F12'6" | 3 |
| M | 29 | Joe Bark | 1.00.14 | 14' | 14 |
| M | 30 | Brandon Sauls | 1.00.20 | 12'6" | 11 |
| M | 31 | Jason Artof | 1.00.29 | 14' | 15 |
| M | 32 | Jim Oleson | 1.00.39 | 12'6" | 12 |
| F | 33 | Jill Vickery | 1.00.42 | F14' | 1 |
| M | 34 | Pat Ryan | 1.00.55 | 12'6" | 13 |
| M | 35 | Gary Peterson | 1.01.10 | 14' | 16 |
| M | 36 | Simon Swart | 1.02.51 | 14' | 17 |
| F | 37 | Elizabeth Schalka | 1.04.04 | F12'6" | 4 |
| M | 38 | Ian Light | 1.04.14 | 12'6" | 14 |
| M | 39 | Scott Cohen | 1.04.21 | 12'6" | 15 |
| M | 40 | Alia Long | 1.04.26 | 12'6" | 16 |
| M | 41 | Jeremy Buckham | 1.05.02 | 12'6" | 17 |
| M | 42 | Paul Holthe | 1.05.07 | 12'6" | 18 |
| F | 43 | Mandy Brunson | 1.05.36 | F14' | 2 |
| M | 44 | Rich Roe | 1.05.42 | 12'6" | 19 |
| M | 45 | Jurg Schnorf | 1.06.44 | 12'6" | 20 |
| M | 46 | Mike Vaughan Sr | 1.07.14 | 12'6" | 21 |
| F | 47 | Kathy Dewet | 1.07.20 | F12'6" | 5 |
| M | 48 | John Austin | 1.07.45 | 12'6" | 22 |
| F | 49 | Stefani Jones | 1.07.55 | F12'6" | 6 |
| M | 50 | Kyle Kushner | 1.08.45 | 12'6" | 23 |
| M | 51 | Alan Latteri | 1.09.52 | 14' | 18 |
| F | 52 | Andie Johnson | 1.10.06 | F12'6" | 7 |
| M | 53 | Frank Perna | 1.10.42 | 14' | 19 |
| M | 54 | Mike Stevenson | 1.13.47 | 12'6" | 24 |
| M | 55 | Jeff Petty | 1.16.50 | 12'6" | 25 |
| M | 56 | James Yanoschik | 1.16.52 | 12'6" | 26 |