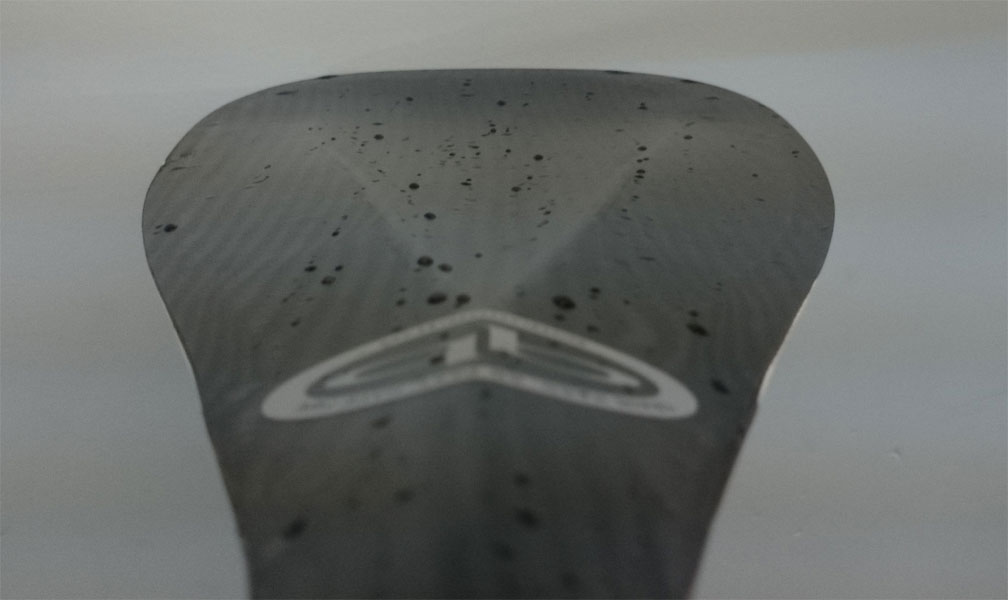 January 10, 2014
by Christopher Parker (@wheresbossman)
First Look At The New 'V-Drive' Paddle From Dave Kalama And Quickblade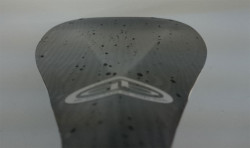 I was very lucky to get my hands on one of the most eagerly-anticipated new paddles recently: The Dave Kalama inspired "V-Drive" paddle from Quickblade Paddles.
As luck would have it, I was on the same flight as Quickblade founder Jim Terrell (as well as Danny Ching, Thomas Maximus and Chance Fielder) from LAX to Puerto Rico last month. We were all heading to the Paddle Royal event and, as luck would also have it, I had no paddle with me while Jimmy just happened to have two, both of them new, secret prototype models.
Anyone that knows me knows I like to travel light. Very light. I never travel with a board or paddle and only ever have a little carry on backpack with me. That meant I was heading to the Paddle Royal race with no equipment and wasn't sure what I'd be using, at least until the Mad Scientist stepped up and offered for me to test out one of the brand new V-Drive paddles.
In fact my paddle wasn't just "one" of the brand new V-Drives, it was the only V-Drive: The model I got to race with was the first paddle off the production line. It was so new it didn't have the cool "V Drive" stickers on it yet and wasn't even glued together (more on that in a bit). In fact all it had was a couple of stock QB logos that would have made it look similar to any one of their other elite paddles, if not for one very distinct identifying feature.
So seeing how I got to race with this new paddle personally, I figured I'd do a quick review.
The new creation from Dave Kalama and Jim Terrell started getting a lot of attention when a video of the V-Drive paddle was posted last month, in which Dave talks about his motivation and inspiration for the new design. The V-Drive paddle is different because it has a double "dihedral" on the back of the blade (its unique identifying feature).
The standard SUP paddle has a single ridge running down the back of the blade, which is there to help stop the paddle wobbling when you're mid-stroke (i.e. "cavitation"). Almost every paddle you've ever seen will have had this single-dihedral design, but the V-Drive has two. As you can see above and below this double-dihedral forms a "V" on the back of the paddle blade, hence the name.


The theory is that this design could produce a stronger catch and allow for less cavitation. That's the theory anyway…
So how does it perform?
The short answer: pretty awesome.
I was so happy with this paddle I was actually surprised. I know Jim and the Quickblade crew make good paddles, but I think even Dave and Jim were surprised when they first tested their prototype. This quote from Kalama pretty much sums up the paddle for me:
"You've got your theories, but this is one of those rare instances where it actually works better than I thought it might."
The catch (the part of the your stroke when the blade enters the water) with the V-Drive is amazing. It's like sticking your paddle into concrete – it just locks in right away and allows you to drive forward with your full power. It feels like you're using some kind of massive 130 square inch blade, but, surprisingly it's actually smaller than most regular blades (I think the design I had was the 91 square inch version), meaning your shoulders probably won't get as tired as fast as they would with a bigger paddle.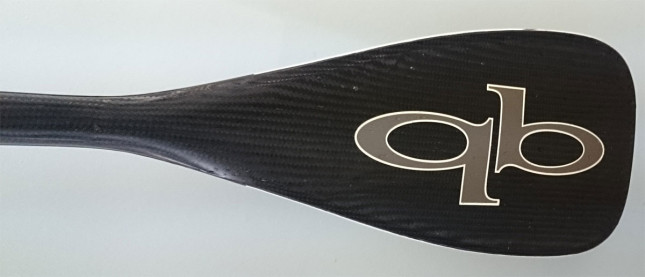 The main feature of the paddle is the blade, however the rest of the design is pretty cool too. Remember how I said my paddle wasn't even glued? That's thanks to a new 45 degree angle join that Quickblade came up with. I'm not sure if this is the first time it's been used in a paddle or not, but I've never seen it before and I was mightily impressed by what is such a simple yet effective idea.
This 45 degree join between the shaft and the blade meant the paddle could be taped together instead of glued and was still just as strong as a one-piece paddle. Throw in a couple of little proprietary adjustments on the inside of the shaft that make it waterproof and, suddenly, you can now have a two-piece paddle that's better (and stronger) than most one-piece designs.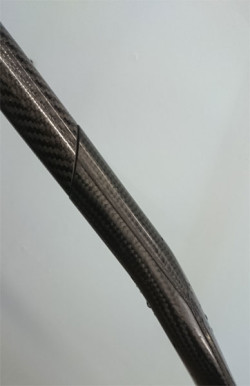 Apart from the pure novelty value alone, this has some very useful applications. Being able to remove the blade makes it easier to travel: Jim commented on how he get both paddles checked-in for free on the way to Puerto Rico. That's because his paddle bag, with blades removed, came in just under the maximum baggage length limit, whereas a month earlier he'd paid $200 to get his paddles on a similar flight.
The V-Drive also comes standard with QB's high end "Oval Tapered" shaft. We've seen this shaft on some of their other new designs, so that alone isn't entirely new, however when you combine the oval-tapered shaft with the new 45 degree cut, it makes for a better, stronger join (at least this is what I'm told: I didn't really want to snap a bunch of paddles in half to independently verify it, however it did feel rock solid and that was without any glue, just a bit of tape holding it together, so it sounds about right to me).
So basically I love the new V-Drive paddle.
One of the pioneers of SUP, Dave Kalama, had a kinda weird idea that he proposed to Jim Terrell, the two worked on it to produce several prototypes and in the end came up with something that works better than they had hoped.
In the Paddle Royal distance event I tested out the Dave Kalama V-Drive, while in the sprints the next day Jimmy wanted to swap around, so I got to try out the Travis Grant Trifecta as well (another unreleased model that Quickblade will be announcing in a few months). I loved both of them but preferred using the Trifecta over long distances and the V-Drive over shorter courses, though that probably had more to do with me being totally out of shape in PR and hitting the wall halfway through the distance race.
You can call me a fanboy if you want (I've almost always used Quickblade Paddles) and in fact you should call me a fanboy: You should test this out for yourself instead of taking some armchair hack's word for it.
I can guarantee this new V-Drive paddle won't be for everyone: for one, the price alone reserves it for those who take their paddling seriously (I'm not sure what the final retail cost will be, but the guys indicated it'll be their premium – aka most expensive – model). If you're a weekend warrior the V-Drive probably isn't for you, unless you simply want to play around with the latest and greatest gadgets. But if you take your paddling seriously and love to race, I think you'll love it.
This paddle won't make you magically jump from 10th to 1st, but it will improve your speed and, because the catch is so powerful, I think it'll help your fundamental technique as well.
Actually the only thing I didn't like about this paddle is that I had to give it back at the end of the Paddle Royal event…
The Dave Kalama V-Drive Paddle by Quickblade Paddles will be available on a limited run later this month. Not sure exactly which date but I shotgun the first one. Keep an eye on their Facebook page for updates.