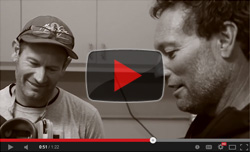 [VIDEO] Dave Kalama Unveils His Latest Contribution To The World Of SUP – The "V Drive" Paddle
As a SUP pioneer, downwind king and occasional guest pot-stirrer, Dave Kalama needs no introduction. The man was there from day one of modern-day stand up paddling and has more experience in this sport than just about anyone else on the planet. Dave is also a keen tinkerer and innovator, constantly working on new types of equipment to make himself and others go faster and further on the water.
Dave Kalama has also had a long association with another pioneer of the sport, Jim Terrell from Quickblade Paddles. The two recently collaborated to create a unique new design called the Dave Kalama "V Drive" paddle.
The most unique part of the paddle is its double dihedral on the back of the blade, the theory being that it catches the water better and lets you go faster with less effort. And as you can see in the video above, Dave is pretty confident that his theory has transferred to reality…