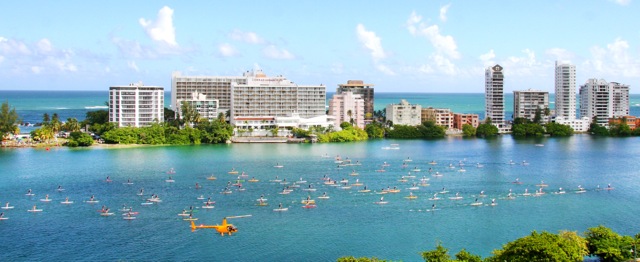 October 30, 2012
by Christopher Parker (@wheresbossman)
Paddle Royal: Exotic Location, $20,000 On The Line (And Only 48 Hours Left For Discounted Rego…)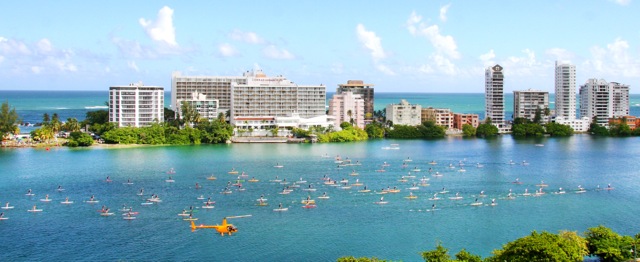 UPDATE: The event has just wrapped up. Check out the full 2012 Paddle Royal results.
The 2012 Paddle Royal SUP race in Puerto Rico is still a month away, but if you want to get in on the cheap you've only got 48 hours to register at the discounted entry price. The event is happening December 1st & 2nd in San Juan, Puerto Rico.
As the photo above shows, the location isn't too shabby, plus there's a $20,000 cash purse on the line, which makes Paddle Royal one of the single most lucrative SUP races of 2012 (the Battle of the Paddle is at #1 with $25k). The first place prize in the men's elite race alone is worth $6,000, more than most SUP race directors around the world could dream of giving away for an entire event.
This is the fifth annual Paddle Royal and this year features the new PR SUP Week, which is basically two weeks of festivities anchored around the Paddle Royal race weekend.
As far as the race courses go, there's the "Bad Ass" Elite Long Distance (8 miles), the "Not So Bad Ass" Open Race, the "Weekend Warrior" 3 miler, as well as plenty of sprints and relays as well.
With $20,000 on the line and a pretty awesome location to boast about, the 2012 Paddle Royal will no doubt attract some of the biggest names in SUP racing. Can anyone stop Chase Kosterlitz claiming a three-peat this year? We'll keep you posted with full coverage of the 2012 Paddle Royal right here on SUPracer.com.
Full disclosure: Paddle Royal is an advertiser on SUPracer.com (though we'd be writing about it either way, coz it seems like a pretty kickass event…)