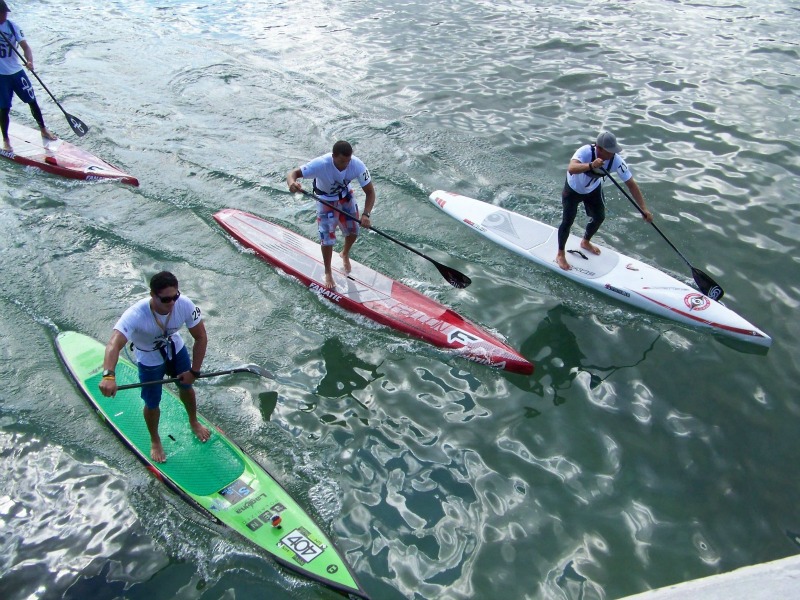 Candice Appleby, Danny Ching Victorious At The Paddle Royal (UPDATED With Final Results)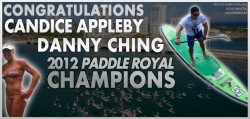 Danny Ching and Candice Appleby have just taken out the 2012 Paddle Royal. Saturday saw the 8 mile distance race, while Sunday was the sprint races. Results were combined to produce the overall event champions.
The Paddle Royal is a $20,000 SUP race happening this weekend in San Juan, Puerto Rico, which has attracted many of the world's best paddlers. Full results from the Distance Race are available below, with Sprints and Overall standings being updated as we speak. Other standout performances came from Eric Terrien, Ryan Helm, Nick Leason, Paul Jackson and Chase Kosterlitz in the men's division, while Angie Jackson and Gail Vento podium'd on the women's side.
———————————————————————————————————————————————
SKIP TO RESULTS: Men's Badass Overall | Women's Badass Overall | Men's & Women's Distance Race | Men's NotSoBadass | Women's NotSoBadAss | Men's Weekend Warriors | Women's Weekend Warriors | Junior Weekend Warriors | Keikis | (click the results images to zoom in and get a better view)
———————————————————————————————————————————————
So check out the Paddle Royal race results below, then check back later for a full race recap plus more pics & video of the action. From all reports it was a pretty awesome event…
*****
2012 Paddle Royal SUP Race RESULTS
(click the results images to zoom in and get a better view)
Men's Badass division
Women's Badass division
Men's NotSoBadass division

Women's NotSoBadass division
Men's Weekend Warrior division



Women's Weekend Warrior division


Junior Weekend Warriors division
Keikis (Kids) division

2012 Paddle Royal RESULTS: Long Distance Race (Day One)
Click "M/F" to switch between Men's and Women's Results

| # | M/F | M/F # | Name | Time | Division | Country |
| --- | --- | --- | --- | --- | --- | --- |
| 1 | M | 1 | Danny Ching | 1:26:11 | Badass Men | USA |
| 2 | M | 2 | Eric Terrien | 1:26:54 | Badass Men | France |
| 3 | M | 3 | Ryan Helm | 1:28:55 | Badass Men | Mexico |
| 4 | M | 4 | Chase Kosterlitz | 1:29:35 | Badass Men | USA |
| 5 | M | 5 | Nick Leason | 1:29:40 | Badass Men | Puerto Rico |
| 6 | M | 6 | Paul Jackson | 1:29:56 | Badass Men | Australia |
| 7 | M | 7 | Thomas Maximus | 1:33:03 | Badass Men | United States |
| 8 | M | 8 | Belar Diaz | 1:34:11 | Badass Men | Spain |
| 9 | M | 9 | Greg Jaudon | 1:35:10 | Badass Men | Puerto Rico |
| 10 | M | 10 | Elvin Maldonado | 1:36:18 | Badass Men | Puerto Rico |
| 11 | M | 11 | Adrian Garcia | 1:36:50 | Badass Men | Puerto Rico |
| 12 | M | 12 | Stephane Bodet | 1:37:04 | Badass Men | Guadalupe |
| 13 | M | 13 | Anthony Vela | 1:37:26 | Badass Men | USA |
| 14 | M | 14 | Ron Gossard | 1:38:03 | Badass Men | USA |
| 15 | M | 15 | James Donavan | 1:38:25 | Badass Men | USA |
| 16 | M | 16 | Alex Maldonado | 1:39:34 | Badass Men | Puerto Rico |
| 17 | M | 17 | Charlie Howden | 1:39:54 | Badass Men | United States |
| 18 | M | 18 | Alberto Colon | 1:40:44 | Badass Men | Puerto Rico |
| 19 | F | 1 | Candice Appleby | 1:40:57 | Badass Women | USA |
| 20 | M | 19 | Nat Ford | 1:41:36 | Badass Men | USVI |
| 21 | M | 20 | Miguel Beltran | 1:41:44 | Not So Badass M | United States |
| 22 | M | 21 | Willis Brown | 1:42:47 | Badass Men | USA |
| 23 | F | 2 | Gail Vento | 1:43:41 | Badass Women | USVI |
| 24 | M | 22 | Nelson Class | 1:44:21 | Not So Badass M | Puerto Rico |
| 25 | M | 23 | John Sekas | 1:44:45 | Not So Badass M | United States |
| 26 | F | 3 | Angela Jackson | 1:44:54 | Badass Women | Australia |
| 27 | M | 24 | Olivier Vigoureux | 1:45:08 | Not So Badass M | Guadeloupe |
| 28 | M | 25 | Michael Leason | 1:46:04 | Not So Badass M | Puerto Rico |
| 29 | M | 26 | Meldric Velez | 1:46:07 | Badass Men | Puerto Rico |
| 30 | M | 27 | Juan E Loyola | 1:46:31 | Not So Badass M | United States |
| 31 | M | 28 | Armando Soto | 1:46:49 | Not So Badass M | Puerto Rico |
| 32 | M | 29 | Bill Kraft | 1:47:47 | Badass Men | Virgin Islands |
| 33 | F | 4 | Laura Quetglas | 1:48:54 | Badass Women | Spain |
| 34 | M | 30 | John Ohara | 1:49:46 | Not So Badass M | USA |
| 35 | M | 31 | Carlos Gonzalez-M | 1:52:31 | Not So Badass M | Puerto Rico |
| 36 | M | 32 | Sylvain Herault | 1:53:32 | Not So Badass M | Guadeloupe |
| 37 | M | 33 | Dean Dunham | 1:54:12 | Badass Men | USVI |
| 38 | F | 5 | Kimberley Sutton | 1:54:51 | Badass Women | USA |
| 39 | F | 6 | Gisselle Delgado | 1:55:43 | Not So Badass W | Puerto Rico |
| 40 | F | 7 | Kristin Thomas | 1:55:50 | Badass Women | USA |
| 41 | M | 34 | Hector Westerband | 1:56:02 | Not So Badass M | Puerto Rico |
| 42 | M | 35 | Brian Willse | 1:56:20 | Not So Badass M | USA |
| 43 | M | 36 | Tim Burke | 1:56:36 | Not So Badass M | USA |
| 44 | M | 37 | Miguel Martinez | 1:57:42 | Not So Badass M | Puerto Rico |
| 45 | M | 38 | Jared Rodriguez | 1:58:31 | Badass Men | Puerto Rico |
| 46 | F | 8 | Kym Freeman | 1:59:16 | Badass Women | Puerto Rico |
| 47 | F | 9 | Dawn Ehman | 2:00:48 | Badass Women | USA |
| 48 | M | 39 | Ed Pierce | 2:01:27 | Not So Badass M | USA |
| 49 | M | 40 | Stanley Comas | 2:04:13 | Not So Badass M | Puerto Rico |
| 50 | M | 41 | Ade Gilles | 2:04:48 | Not So Badass M | Guadeloupe |
| 51 | M | 42 | Miguel Angel Alva | 2:04:58 | Not So Badass M | Puerto Rico |
| 52 | M | 43 | Carlos Sierra | 2:07:02 | Not So Badass M | Puerto Rico |
| 53 | M | 44 | Carlos Bnogueras | 2:08:35 | Not So Badass M | Puerto Rico |
| 54 | F | 10 | Kim Reilly | 2:09:00 | Not So Badass W | USA |
| 55 | M | 45 | Mario Ruiz | 2:09:24 | Not So Badass M | Puerto Rico |
| 56 | F | 11 | Karen Wilson | 2:10:43 | Not So Badass W | USA |
| 57 | M | 46 | Mathew Jarvis | 2:15:50 | Not So Badass M | Virgin Islands |
| 58 | M | 47 | Javier Cardona | 2:16:37 | Not So Badass M | Puerto Rico |
| 59 | M | 48 | Trey Knight | 2:22:43 | Not So Badass M | USA |
| 60 | M | 49 | Carlos Garcia | 2:25:56 | Badass Men | Puerto Rico |
| 61 | F | 12 | Cindy Journez | 2:25:57 | Not So Badass W | Guadeloupe |
| 62 | F | 13 | Lara Martinez | 2:37:12 | Not So Badass W | Puerto Rico |
| 63 | F | 14 | Jennie Espada | 2:37:13 | Not So Badass W | Puerto Rico |
| 64 | F | 15 | Karen Jarvis | 2:40:20 | Not So Badass W | Virgin Islands |
| 65 | F | 16 | Ariane Graf | 2:48:20 | Not So Badass W | Guadeloupe |
| 66 | F | 17 | Stephanie Menerat | 2:48:20 | Not So Badass W | Guadeloupe |
| 67 | M | 50 | Jose Javier Ramir | 2:48:25 | Not So Badass M | Puerto Rico |