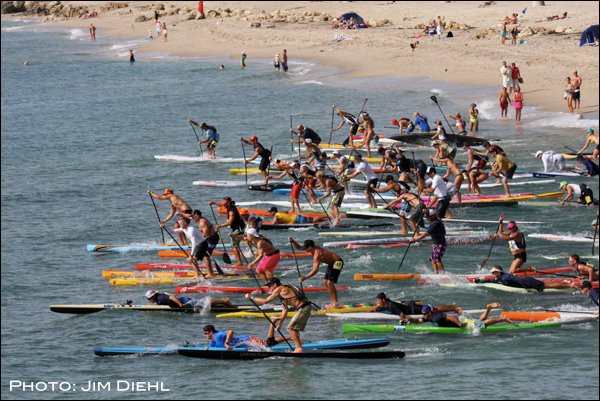 February 11, 2013
by Christopher Parker (@wheresbossman)
Watermans Paddle For Humanity 2013: New Races, New Locations (And The Mysterious "Rule 7")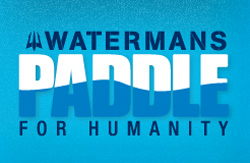 The schedule for the 2013 Watermans Paddle For Humanity series has just been revealed. There will be five six SUP races between June and September, with the money raised going to worthy causes.
The Paddle For Humanity is SUP's largest national race series. The event dates back to 2009 and since then has raised thousand of dollars for a bunch of different charities.
As for the racing; the 5K SUP Fun Race and 10K Elite SUP Race make their return in 2013, but this year there's also a new twist: the mysterious sounding "Rule 7 Race".
What on earth is Rule 7? Good question, so we asked the organisers and this is the official line:
"Rule #7 is no whining. So we built a race around that idea, which will be unique to each location. It's going to be a fun event that'll probably involve beer and some form of embarrassing contact…"
SUP racing… No whining… Beer… Sounds good to us. Each Paddle For Humanity event also includes a pre-event social paddle and happy hour. Even better.
The Watermans PFH series is expanding to new locations in 2013, including a stop in Minnesota at the end of June. The Newport Beach event is also a new one this year, and considering it's timed just a week away (and just up the road) from the Dana Point Battle of the Paddle, it'll probably cap the series off in a big way.
After the success of the 2012 Paddle For Humanity, it sounds this year's edition will be even better. So if you're looking for some fun SUP racing in the name of some good causes, this is where you wanna be:
2013 Watermans Paddle For Humanity SUP Race Series Schedule
UPDATE: There's a date change for Minnesota plus a sixth event has been added…
Event #1: Deerfield Beach, Florida, June 1st
Event #2: Minneapolis, Minnesota, June 29th June 22nd
Event #3: Seattle, Washington, July 20th [NEW]
Event #4: Potomac River, Washington DC, August 31st
Event #5: Town Lake, Austin, Texas, Sept 14th
Event #6: Newport Beach, California, Sept 21st