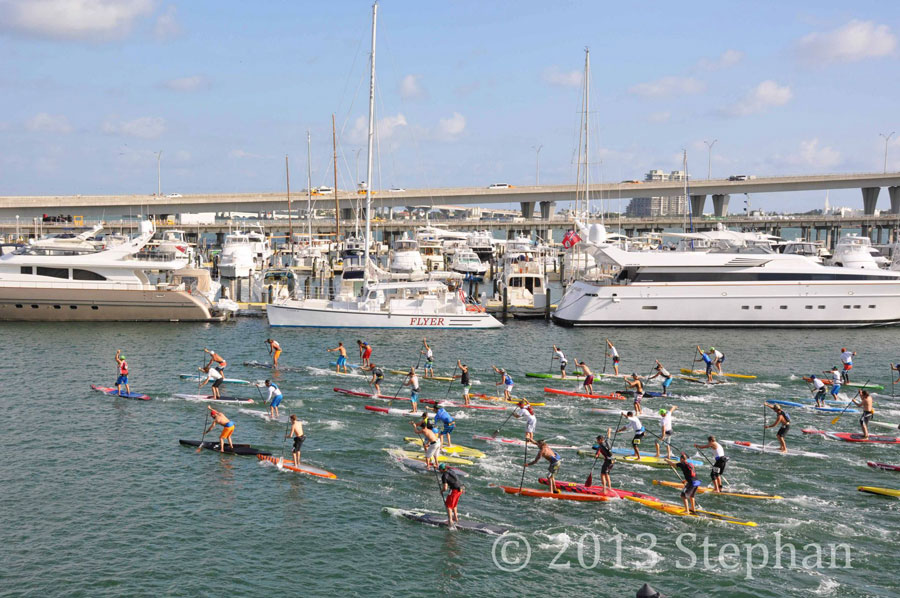 January 13, 2013
by Christopher Parker (@wheresbossman)
[RESULTS] Danny Ching, Candice Appleby Win Orange Bowl Paddle Championship (UPDATED)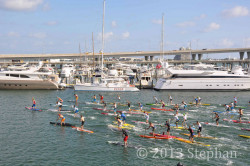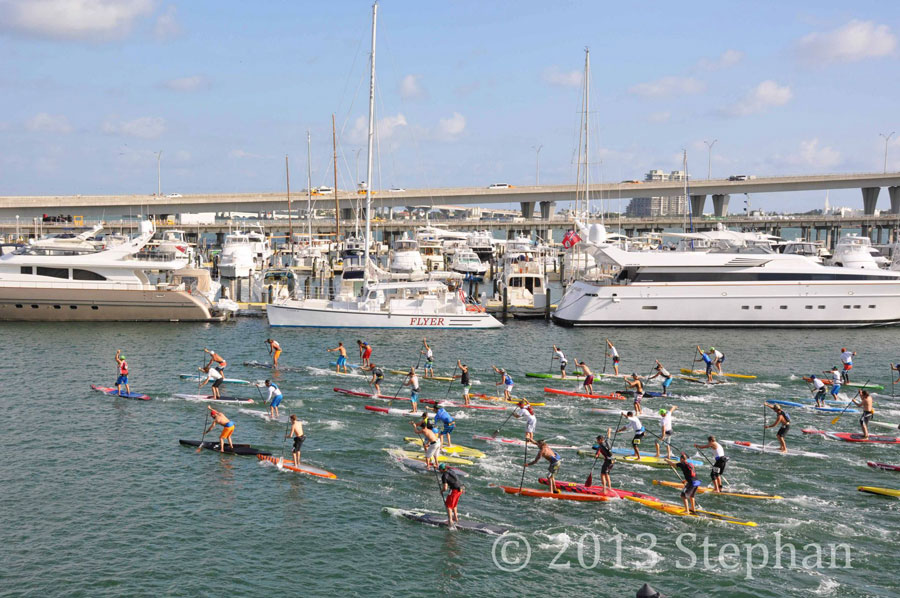 The first big SUP race of 2013 has just wrapped up in Miami, Florida, with Danny Ching and Candice Appleby taking out the Orange Bowl Paddle Championship. Ryan Helm, Brennan Rose, Krisztina Zur and Bailey Rosen also made the podium in the Elite Race, while Fernando Stalla won the sprints.
Many of the world's best were in town, thanks in large part to the big Surf Expo trade show over in Florida last week, so the starting list of competitors was very solid. In total there were almost 200 paddlers on the start line, which could very well be a record for SUP racing in Florida.
Stoked to see Danny and Candice start 2013 the same way they finished 2012, though it's also great to see some up and coming names.
Ryan Helm is no youngster at 38, but he's still a relative rookie in the sport of SUP racing. The Floridian (who now lives in Mexico) only started racing in late 2011, less than 18 months ago, but has already made an impact in several big events. Last month Ryan scored a coveted spot in the Top 12 of 2012 and seems to be carrying that form into the new year. On the weekend, Ryan was the only guy who got close to Danny Ching, finishing only just over a minute behind the champ and three minutes ahead of third place (Brennan Rose).
A couple of other great performances came on the women's side; Krisztina Zur – the Olympic Gold medallist – took the fight right up to Candice Appleby, while young bright-spark Bailey Rosen took third and appears to have a very solid future in store. Bailey also backed up her Elite Race performance by winning the SUP sprints in the afternoon.
Huge credit also goes to Fernando Stalla, who's one of the first guys to ever beat Jim Terrell in a short course SUP sprint race. Jimmy is a 4-time Olympic sprint canoer and despite pushing well past 40, he's almost impossible to beat on a SUP over short distances. On Sunday afternoon though it was Fernando 1st, Jim 2nd.
Check out the full results from the Orange Bowl SUP race below or skip straight to:
Elite Race Results | Open Race Results
You can also see some great race photos from Chris Stephan and even more race pics by TKS Miami.
*****
2013 Orange Bowl Paddle Championship RESULTS
ELITE RACE
Click "M/F" to switch between men's and women's results
Click "Class" or "Division" to sort results by board class and age division
Click "Time" to reset the results

| # | M/F | M/F # | Name | Time | Class | Class # | Division | Div # |
| --- | --- | --- | --- | --- | --- | --- | --- | --- |
| 1 | M | 1 | Danny Ching | 1:12:16 | 12'6 | 1 | 19-39 | 1 |
| 2 | M | 2 | Ryan Helm | 1:13:38 | 12'6 | 2 | 19-39 | 2 |
| 3 | M | 3 | Brannon Rose | 1:16:36 | 12'6 | 3 | 19-39 | 3 |
| 4 | M | 4 | Anthony Vela | 1:17:56 | 12'6 | 4 | 19-39 | 4 |
| 5 | M | 5 | Fernando Stalla | 1:17:58 | 12'6 | 5 | 19-39 | 5 |
| 6 | M | 6 | Nick Leason | 1:19:40 | 12'6 | 6 | 19-39 | 6 |
| 7 | M | 7 | Paolo Marconi | 1:20:17 | 12'6 | 7 | 19-39 | 7 |
| 8 | M | 8 | Thomas Maximus | 1:20:33 | Unlim | 1 | 40-49 | 1 |
| 9 | M | 9 | Brad Ward | 1:20:56 | 14' | 1 | 19-39 | 1 |
| 10 | M | 10 | Jim Terrell | 1:21:23 | 12'6 | 8 | 40-49 | 1 |
| 11 | M | 11 | Matthew McDonald | 1:21:30 | 12'6 | 9 | 19-39 | 8 |
| 12 | M | 12 | Belar Diaz | 1:21:54 | 12'6 | 10 | 19-39 | 9 |
| 13 | M | 13 | Daniele Guidi | 1:22:36 | 14' | 2 | 19-39 | 2 |
| 14 | M | 14 | Mark Athanacio | 1:23:26 | 12'6 | 11 | 40-49 | 2 |
| 15 | M | 15 | Packet Casey | 1:23:32 | 12'6 | 12 | 40-49 | 3 |
| 16 | M | 16 | Tom Lloy | 1:24:14 | 14' | 3 | 19-39 | 3 |
| 17 | F | 1 | Candice Appleby | 1:26:05 | F12'6 | 1 | 19-39 | 1 |
| 18 | M | 17 | Brad Ramer | 1:26:17 | 14' | 4 | 50-59 | 1 |
| 19 | M | 18 | Ron Gossard | 1:26:18 | 12'6 | 13 | 19-39 | 10 |
| 20 | M | 19 | Jesse Kautz | 1:26:20 | 14' | 5 | 19-39 | 4 |
| 21 | M | 20 | James Brown | 1:27:01 | 14' | 6 | 50-59 | 2 |
| 22 | M | 21 | Alberto Colon | 1:27:06 | 12'6 | 14 | 40-49 | 4 |
| 23 | F | 2 | Krisztina Zur | 1:27:06 | F12'6 | 2 | 19-39 | 2 |
| 24 | M | 22 | Chris Stephan | 1:27:07 | 14' | 7 | 40-49 | 1 |
| 25 | M | 23 | Trapper Chechak | 1:27:13 | 14' | 8 | 18 & under | 1 |
| 26 | F | 3 | Savanah / Heather Baus | 1:27:24 | FUnlim | 1 | 19-39 | 1 |
| 27 | M | 24 | Matt Wise | 1:28:00 | 12'6 | 15 | 18 & under | 1 |
| 28 | M | 25 | Rob Bitzkowski | 1:28:05 | 12'6 | 16 | 19-39 | 11 |
| 29 | M | 26 | John Sekas | 1:28:07 | 14' | 9 | 50-59 | 3 |
| 30 | M | 27 | Ej Johnson | 1:28:13 | 12'6 | 17 | 40-49 | 5 |
| 31 | M | 28 | Michael Conlee | 1:28:50 | 14' | 10 | 19-39 | 5 |
| 32 | M | 29 | Jamie Twigg | 1:29:07 | 12'6 | 18 | 19-39 | 12 |
| 33 | M | 30 | Brandon Rambo | 1:29:18 | 12'6 | 19 | 19-39 | 13 |
| 34 | M | 31 | Chip Bock | 1:30:13 | 14' | 11 | 40-49 | 2 |
| 35 | M | 32 | Jason Meehan | 1:30:15 | 12'6 | 20 | 19-39 | 14 |
| 36 | M | 33 | Todd Waskuch | 1:30:23 | 12'6 | 21 | 40-49 | 6 |
| 37 | M | 34 | Tony Paul | 1:30:30 | 14' | 12 | 40-49 | 3 |
| 38 | F | 4 | Bailey Rosen | 1:31:27 | F12'6 | 3 | 18 & under | 1 |
| 39 | M | 35 | Paolo Giovanni Glorio | 1:31:46 | 14' | 13 | 19-39 | 6 |
| 40 | M | 36 | Andrew White | 1:32:18 | 12'6 | 22 | 19-39 | 15 |
| 41 | M | 37 | Patrick Daughtery | 1:32:25 | 12'6 | 23 | 19-39 | 16 |
| 42 | M | 38 | Kevin Maclean | 1:32:41 | 12'6 | 24 | 19-39 | 17 |
| 43 | M | 39 | Joel Baker | 1:33:03 | 12'6 | 25 | 40-49 | 7 |
| 44 | M | 40 | Jeff Berry | 1:33:19 | 14' | 14 | 40-49 | 4 |
| 45 | M | 41 | Frank Dillenburg | 1:33:43 | 14' | 15 | 40-49 | 5 |
| 46 | M | 42 | Gianluca Gafforio | 1:34:30 | 12'6 | 26 | 40-49 | 8 |
| 47 | M | 43 | JoeyKraken Kolisch | 1:34:45 | 12'6 | 27 | 50-59 | 1 |
| 48 | M | 44 | Michael Faulkner | 1:34:55 | 12'6 | 28 | 40-49 | 9 |
| 49 | M | 45 | Jorge Navarro | 1:34:58 | 12'6 | 29 | 19-39 | 18 |
| 50 | M | 46 | Russell Fields | 1:35:06 | 12'6 | 30 | 40-49 | 10 |
| 51 | M | 47 | Don Eisenmnan | 1:35:24 | 12'6 | 31 | 40-49 | 11 |
| 52 | M | 48 | Basil Tydings | 1:35:35 | 12'6 | 32 | 40-49 | 12 |
| 53 | M | 49 | David Leach | 1:36:18 | 14' | 16 | 50-59 | 4 |
| 54 | M | 50 | Frithjof Sach | 1:36:23 | 14' | 17 | 50-59 | 5 |
| 55 | F | 5 | Helga Goebel | 1:37:07 | F12'6 | 4 | 19-39 | 3 |
| 56 | F | 6 | Silvia Mecucci | 1:37:16 | F12'6 | 5 | 19-39 | 4 |
| 57 | F | 7 | MaryAnne Boyer | 1:37:18 | F12'6 | 6 | 40-49 | 1 |
| 58 | M | 51 | David Dean | 1:37:21 | 14' | 18 | 50-59 | 6 |
| 59 | M | 52 | Michael Westenberger | 1:38:23 | 14' | 19 | 19-39 | 7 |
| 60 | M | 53 | Joseph Morel | 1:38:42 | 12'6 | 33 | 19-39 | 19 |
| 61 | M | 54 | Mark Cannon | 1:39:28 | 12'6 | 34 | 50-59 | 2 |
| 62 | M | 55 | Andres Pombo | 1:39:32 | 12'6 | 35 | 19-39 | 20 |
| 63 | M | 56 | Dave Jalving | 1:40:11 | 14' | 20 | 40-49 | 6 |
| 64 | M | 57 | Carmine Pici | 1:40:31 | 14' | 21 | 40-49 | 7 |
| 65 | M | 58 | Sandy Deeley | 1:40:42 | 14' | 22 | 60+ | 1 |
| 66 | M | 59 | John Meskauskas | 1:41:09 | 12'6 | 36 | 19-39 | 21 |
| 67 | F | 8 | Dani Schmidt | 1:41:18 | F12'6 | 7 | 19-39 | 5 |
| 68 | F | 9 | Mini Mini | 1:42:33 | F12'6 | 8 | 40-49 | 2 |
| 69 | F | 10 | Kristin Thomas | 1:42:35 | F12'6 | 9 | 50-59 | 1 |
| 70 | F | 11 | Bernadette Leach | 1:42:41 | F12'6 | 10 | 50-59 | 2 |
| 71 | M | 60 | Robert Plankenhorn | 1:43:15 | 12'6 | 37 | 50-59 | 3 |
| 72 | M | 61 | Brian Fedor | 1:43:19 | 14' | 23 | 19-39 | 8 |
| 73 | M | 62 | Morgan Blittner | 1:44:28 | 12'6 | 38 | 19-39 | 22 |
| 74 | F | 12 | Dawn Ehman | 1:45:02 | F12'6 | 11 | 40-49 | 3 |
| 75 | M | 63 | Gareth Sheppard | 1:45:24 | 12'6 | 39 | 19-39 | 23 |
| 76 | M | 64 | Darian Hildreth | 1:45:33 | Unlim | 2 | 19-39 | 1 |
| 77 | M | 65 | Jim Higgins | 1:46:28 | 14' | 24 | 60+ | 2 |
| 78 | M | 66 | Scott Baste | 1:46:36 | 14' | 25 | 50-59 | 7 |
| 79 | F | 13 | Gina Siegers | 1:48:23 | F12'6 | 12 | 19-39 | 6 |
| 80 | M | 67 | Juan Pavan | 1:49:40 | 12'6 | 40 | 19-39 | 24 |
| 81 | M | 68 | Andrew Dickey | 1:49:58 | 12'6 | 41 | 19-39 | 25 |
| 82 | F | 14 | Nessa Brunton | 1:50:17 | F12'6 | 13 | 50-59 | 3 |
| 83 | M | 69 | Anthony Berry | 1:50:43 | 12'6 | 42 | 19-39 | 26 |
| 84 | M | 70 | Don Pratt | 1:52:58 | 12'6 | 43 | 19-39 | 27 |
| 85 | F | 15 | Jessica Cichra | 1:53:48 | F12'6 | 14 | 19-39 | 7 |
| 86 | M | 71 | Bubba Ellis | 1:53:57 | 12'6 | 44 | 50-59 | 4 |
| 87 | F | 16 | Paula Ambrosia | 1:53:59 | F12'6 | 15 | 19-39 | 8 |
| 88 | M | 72 | ConradSr Garcia | 1:57:29 | Unlim | 3 | 50-59 | 1 |
| 89 | M | 73 | Ralf Steitz | 1:58:01 | 12'6 | 45 | 50-59 | 5 |
| 90 | M | 74 | Todd Carr | 2:02:43 | 14' | 26 | 50-59 | 8 |
| 91 | M | 75 | Emiliano Mignani | 2:03:17 | 14' | 27 | 19-39 | 9 |
| 92 | M | 76 | Pete Zittere | 2:04:05 | 12'6 | 46 | 40-49 | 13 |
| 93 | M | 77 | Danny Porcelli | 2:06:22 | Unlim | 4 | 19-39 | 2 |
| 94 | F | 17 | Jamie Stroud | 2:06:35 | F12'6 | 16 | 19-39 | 9 |
| 95 | M | 78 | Paul Gallgher | 2:07:22 | 14' | 28 | 40-49 | 8 |
| 96 | F | 18 | Heather Kaarup | 2:11:05 | F12'6 | 17 | 19-39 | 10 |
| 97 | M | 79 | Jonathan Bell | 2:14:05 | 12'6 | 47 | 40-49 | 14 |
| 98 | M | 80 | Mark Bandy | 2:14:22 | 14' | 29 | 50-59 | 9 |
OPEN RACE
Click "M/F" to switch between men's and women's results
Click "Class" or "Division" to sort results by board class and age division
Click "Time" to reset the results

| # | M/F | M/F # | Name | Time | Class | Class # | Division | Div # |
| --- | --- | --- | --- | --- | --- | --- | --- | --- |
| 1 | M | 1 | Jake Portwood | 0:33:58 | 14' | 1 | 19-39 | 1 |
| 2 | M | 2 | Pablo Rendon | 0:37:06 | 12'6 & under | 1 | 19-39 | 1 |
| 2 | M | 2 | Bill Whiddon | 0:37:06 | 12'6 & under | 1 | 60+ | 1 |
| 4 | M | 4 | Dave Meadows | 0:37:30 | 14' | 2 | 40-49 | 1 |
| 5 | M | 5 | Jimmy Lewis | 0:38:45 | 14' | 3 | 60+ | 1 |
| 6 | M | 6 | Kelvin Maldonado | 0:38:58 | 12'6 & under | 3 | 18 & under | 1 |
| 7 | M | 7 | Timothy Battle | 0:39:11 | 12'6 & under | 4 | 50-59 | 1 |
| 8 | M | 8 | Pablo Dona | 0:39:41 | 12'6 & under | 5 | 19-39 | 2 |
| 9 | M | 9 | Sean Manson | 0:39:42 | 14' | 4 | 40-49 | 2 |
| 10 | F | 1 | Andrea DiSante | 0:40:38 | F 12'6 & under | 1 | 50-59 | 1 |
| 11 | M | 10 | Brad Hallock | 0:41:02 | 12'6 & under | 6 | 60+ | 2 |
| 12 | M | 11 | Bob Capwell | 0:41:21 | 12'6 & under | 7 | 40-49 | 1 |
| 13 | M | 12 | Ryan Pena | 0:42:12 | 12'6 & under | 8 | 19-39 | 3 |
| 14 | M | 13 | Bill Blain | 0:42:19 | 12'6 & under | 9 | 50-59 | 2 |
| 15 | M | 14 | Oliver Boyd | 0:42:30 | 12'6 & under | 10 | 19-39 | 4 |
| 16 | M | 15 | Alex Pelkey | 0:42:47 | 14' | 5 | 19-39 | 2 |
| 17 | F | 2 | Cristina Boeri | 0:42:57 | F 12'6 & under | 2 | 50-59 | 2 |
| 18 | F | 3 | Annette Garcia | 0:43:00 | F 12'6 & under | 3 | 18 & under | 1 |
| 19 | M | 16 | Juan M. Del Rio | 0:43:02 | 12'6 & under | 11 | 19-39 | 5 |
| 20 | M | 17 | Rafael Sanchez | 0:43:04 | 12'6 & under | 12 | 50-59 | 3 |
| 9 | M | 18 | Tanner Chechak | 0:43:14 | 12'6 & under | 13 | 18 & under | 2 |
| 22 | M | 19 | Neil Uden | 0:43:31 | 12'6 & under | 14 | 19-39 | 6 |
| 23 | M | 20 | Jason Smith | 0:43:35 | 12'6 & under | 15 | 40-49 | 2 |
| 24 | F | 4 | Catherine Uden | 0:43:39 | F 12'6 & under | 4 | 19-39 | 1 |
| 25 | M | 21 | Salvador Menoyo | 0:44:04 | 12'6 & under | 16 | 40-49 | 3 |
| 26 | M | 22 | Jaime Barcelo | 0:44:17 | 12'6 & under | 17 | 50-59 | 4 |
| 27 | M | 23 | Brandon Bernardo | 0:44:23 | 12'6 & under | 18 | 19-39 | 7 |
| 28 | F | 5 | Jen Hayes | 0:44:29 | F 12'6 & under | 5 | 19-39 | 2 |
| 29 | F | 6 | Lizi Ruiz | 0:44:39 | F 12'6 & under | 6 | 19-39 | 3 |
| 30 | F | 7 | Cindy Capwell | 0:44:42 | F 12'6 & under | 7 | 40-49 | 1 |
| 31 | M | 24 | Hiroaki Sowa | 0:45:58 | 12'6 & under | 19 | 19-39 | 8 |
| 32 | M | 25 | Conrad Garcia | 0:46:06 | 12'6 & under | 20 | 18 & under | 3 |
| 33 | F | 8 | Donna Bandy | 0:46:43 | F 12'6 & under | 8 | 40-49 | 2 |
| 34 | F | 9 | Heather Gaines | 0:46:54 | F 12'6 & under | 9 | 50-59 | 3 |
| 35 | M | 26 | Jimmy Whited | 0:46:56 | 14' | 6 | 40-49 | 3 |
| 36 | F | 10 | Misty Willard | 0:47:10 | F 12'6 & under | 10 | 19-39 | 4 |
| 37 | M | 27 | Steve Davis | 0:48:19 | 12'6 & under | 21 | 50-59 | 5 |
| 38 | M | 28 | Jeff Rubin | 0:48:29 | 14' | 7 | 40-49 | 4 |
| 39 | M | 29 | Johann Lopez | 0:48:30 | 12'6 & under | 22 | 50-59 | 6 |
| 40 | M | 30 | Elliot Helmer | 0:48:40 | 12'6 & under | 23 | 19-39 | 9 |
| 41 | M | 31 | Jason Giachetti | 0:48:45 | 12'6 & under | 24 | 19-39 | 10 |
| 42 | F | 11 | Leigh Biggerman | 0:49:02 | F 12'6 & under | 11 | 19-39 | 5 |
| 43 | M | 32 | David Lloyd | 0:49:17 | 12'6 & under | 25 | 40-49 | 4 |
| 44 | F | 12 | Barbara Sage | 0:49:25 | F 12'6 & under | 12 | 40-49 | 3 |
| 45 | F | 13 | Sharon Dillenburg | 0:49:42 | F 12'6 & under | 13 | 50-59 | 4 |
| 46 | M | 33 | Richard Fee | 0:49:44 | 12'6 & under | 26 | 19-39 | 11 |
| 47 | F | 14 | Dorothy Wells | 0:49:45 | F 12'6 & under | 14 | 50-59 | 5 |
| 48 | M | 34 | Clayton Dunn | 0:50:05 | 12'6 & under | 27 | 50-59 | 7 |
| 49 | M | 35 | Joselin Ramos | 0:50:12 | 12'6 & under | 28 | 40-49 | 5 |
| 50 | F | 15 | Misty Green | 0:50:16 | F 12'6 & under | 15 | 40-49 | 4 |
| 51 | M | 36 | Michael Buchman | 0:50:20 | 12'6 & under | 29 | 40-49 | 6 |
| 52 | M | 37 | Todd Hofferberth | 0:50:23 | 12'6 & under | 30 | 40-49 | 7 |
| 53 | M | 38 | Alehandro Randazzo | 0:50:39 | 12'6 & under | 31 | n/a | 1 |
| 54 | F | 16 | Laura Talbert | 0:50:43 | F 14' | 1 | 40-49 | 1 |
| 55 | M | 39 | Steven Klare | 0:50:45 | 12'6 & under | 32 | 50-59 | 8 |
| 56 | F | 17 | Anne Maryse Lopez | 0:50:59 | F 12'6 & under | 16 | 40-49 | 5 |
| 57 | F | 18 | Jen Aqui | 0:51:05 | F 12'6 & under | 17 | 19-39 | 6 |
| 58 | M | 40 | Steve Clark | 0:51:08 | 14' | 8 | 40-49 | 5 |
| 59 | M | 41 | Justin Grosz | 0:51:13 | 12'6 & under | 33 | 40-49 | 8 |
| 60 | F | 19 | Teddi Mur | 0:51:19 | F 12'6 & under | 18 | 40-49 | 6 |
| 61 | F | 20 | Trisha Atchison | 0:51:22 | F 12'6 & under | 19 | 40-49 | 7 |
| 62 | M | 42 | Logan Alters | 0:51:31 | 12'6 & under | 34 | 18 & under | 4 |
| 63 | M | 43 | Warren Anderson | 0:51:40 | 14' | 9 | 50-59 | 1 |
| 64 | F | 21 | Milla Navarro | 0:51:44 | F 12'6 & under | 20 | 18 & under | 2 |
| 65 | M | 44 | Carter Nance | 0:51:57 | 12'6 & under | 35 | 40-49 | 9 |
| 66 | M | 45 | Thomas Hecker | 0:52:05 | 14' | 10 | n/a | 1 |
| 67 | F | 22 | Danielle Fedor | 0:52:20 | F 12'6 & under | 21 | 19-39 | 7 |
| 68 | F | 23 | Laura Iossi | 0:53:06 | F 12'6 & under | 22 | 19-39 | 8 |
| 69 | M | 46 | Jerome Emerson | 0:54:16 | 12'6 & under | 36 | 50-59 | 9 |
| 70 | F | 24 | Jeanine Fernandez | 0:56:59 | F 12'6 & under | 23 | 40-49 | 8 |
| 71 | F | 25 | Ana Garcia | 0:58:15 | F Unlimited | 1 | 50-59 | 1 |
| 72 | F | 26 | Naomi Gutnik | 0:58:55 | F 12'6 & under | 24 | 40-49 | 9 |
| 73 | M | 47 | Marcelino Jael | 1:00:10 | 12'6 & under | 37 | 50-59 | 10 |
| 74 | M | 48 | Corey Campbell | 1:02:27 | 12'6 & under | 38 | 19-39 | 12 |
| 75 | F | 27 | Becky Furry | 1:02:37 | F 12'6 & under | 25 | 19-39 | 9 |
| 76 | M | 49 | Ed Furry | 1:02:41 | 12'6 & under | 39 | 40-49 | 10 |
| 77 | M | 50 | Ron Samson | 1:03:00 | 12'6 & under | 40 | 60+ | 3 |
| 78 | F | 28 | Karen Bowie | 1:03:28 | F 12'6 & under | 26 | 50-59 | 6 |
| 79 | F | 29 | Kelly Carr | 1:03:52 | F 12'6 & under | 27 | 50-59 | 7 |
| 80 | M | 51 | James Reisigl | 1:05:35 | 12'6 & under | 41 | 19-39 | 13 |
| 81 | M | 52 | Joseph Semmer | 1:07:24 | 12'6 & under | 42 | 19-39 | 14 |
| 82 | F | 30 | Nicole Notte | 1:07:31 | F 12'6 & under | 28 | n/a | 1 |
| 83 | M | 53 | Patrick Harker | 1:07:56 | 12'6 & under | 43 | 19-39 | 15 |
| 84 | F | 31 | Kaitlyn Rejzer | 1:07:58 | F 12'6 & under | 29 | 19-39 | 10 |
| 85 | M | 54 | Ronald Kritzler | 1:08:09 | 12'6 & under | 44 | 40-49 | 11 |
| 86 | M | 55 | Antonio Pinto | 1:08:20 | 12'6 & under | 45 | 50-59 | 11 |
| 87 | F | 32 | Kathryn Shulzitski | 1:08:26 | F 12'6 & under | 30 | 19-39 | 11 |
| 88 | F | 33 | Allison Cammack | 1:09:00 | F 12'6 & under | 31 | 19-39 | 12 |
| 89 | M | 56 | Matthew Campbell | 1:16:20 | 12'6 & under | 46 | 18 & under | 5 |
| 90 | F | 34 | Dorothy Campbell | 1:16:21 | F 12'6 & under | 32 | 40-49 | 10 |
| 91 | F | 35 | Thais Reiss | 1:16:25 | F 12'6 & under | 33 | 19-39 | 13 |
| 92 | M | 57 | Jake Portwood | 1:29:23 | 14' | 11 | 19-39 | 3 |