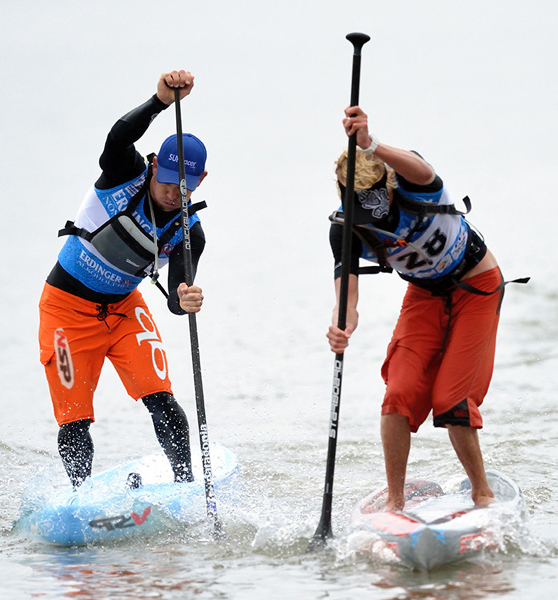 May 21, 2023
by Christopher Parker (@wheresbossman)
The untold story of how Travis Grant and Team NSP helped sow the seeds of the Euro Tour began 10 years ago this week
In early 2013, when California occupied the centre of the SUP universe and Naish was the all-star team, a recreational surf brand named NSP launched onto the scene by creating a SUP race division and signing one of the greatest paddlers of all time, Travis Grant. The move would help define the sport for a decade to follow.
But while NSP has become a superstar squad and Travis is a household name, the story of how a small band of paddlers from Australia helped sow the seeds of the sport's most iconic tour and usher in an era of European hegemony has never been told before.
And it all began with an excuse…
On 21 May, 2013, I posted something called the European SUP Racing Tour presented by NSP. This unofficial "tour" was merely a name to collate my European coverage but soon took on a life of its own. By the end of the summer we were calling it the 'NSP Euro Tour' for short, and it dawned on us that perhaps this was the beginning of a new era.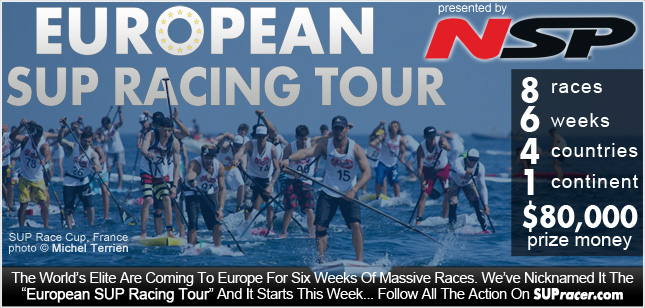 The European SUP Racing Tour was as much a celebration of paddling as it was an excuse for me to travel around Europe for the summer. I surveyed the calendar and saw back-to-back events that a dozen of the world's best paddlers and hundreds of weekend warriors would be traveling to. Top athletes had flirted with the continent in previous years, but I sensed 2013 would be the first big "European Summer of SUP" …and I needed some travel money to be part of it.
So I had a chat with NSP brand manager Chris Chamberlain and gave him a simple sales pitch: "How about I travel around Europe with Travis for a few weeks and promote the brand?"
It certainly helped that we shared the same hometown of Currumbin, Australia. In fact, despite the company being headquartered in Thailand, almost the entire NSP team paddled every morning on my local waterway, Currumbin Creek, along with many of the world's top paddlers at the time (it was a bit of a mecca).
There was Chamberlain the brand manager, the guy responsible for building NSP's race team to begin with. There was the star signing, Travis, who lived just down the road and trained on the creek with the likes of Jamie Mitchell, Kelly Margetts, the Jacksons, the Jensens, Beau O'Brian, Karla Gilbert and many more. There was the local board designer Dale 'DC' Chapman who signed on as the head shaper. There was the enigmatic Frenchman Alain Teurquetil who still designs NSP's race boards and advises their team riders to this day.
And there was me, an amateur paddler and aspiring blogger just trying to soak it all in.
So even though SUP Racer was in its infancy I was lucky to be in the right place at the right time, and when NSP signed on as presenting sponsor I knew it would be a big summer.
Chamberlain, who is back working with the brand again, laughed and called it the "Currumbin Conspiracy" when we caught up this week to chat about the 10 year anniversary of NSP's involvement in European racing.
"Those were the early days when people only talked about Molokai or the Battle of the Paddle," Chamberlain recalled, "NSP wasn't a big name yet and neither was Europe so I remember after we signed Trav and Rico we wanted to help change all that. We knew Europe would be way more accessible to the masses with flat water racing and so that's where the industry needed to start looking."
Those were the early days
The concept was simple enough. I'd travel around Europe with Travis and post results, recaps and interviews each week. This was before the SUP Racer World Rankings or any of the live streaming options we take for granted today. You couldn't even post videos on Instagram yet… it was the early days, and blog posts were the main way to find out what happened on the weekend.
I also agreed to ghostwrite a guest column for Travis called Trav's Trippin' that shared his European adventures alongside French teammate Rico Leroy, a legendary waterman who was helping spearhead NSP's push into Europe.
Trav looked back fondly on that fateful trip when I spoke with him this week.
"Yeah that was a fun summer hey. I think you told me it was going to be lots of ocean racing so I was pretty pumped but we got there and it was all flat water haha. Alain's French so he said he'd look after us over there and without him and Rico I couldn't have done it. I remember it was too hot in France, too cold in Germany and then Rico roped us into doing some crazy adventure race with a whole heap of French celebrities. The last thing I remember was a big party in Biarritz with you, Jamie and a bunch of excited French kids. Good memories actually."
According to Travis there was no plan back then. The early days in Europe were motivated as much by a simple desire to share the sport as anything else.
"Those first couple of years we did Europe it's almost like we just wanted to showcase what racing looked like in the U.S. at the time. They'd been racing in Europe a few years already of course but it wasn't so much of an international thing yet. I think 2013 was the year a lot more people started to take notice. The BOP [Battle of the Paddle] was peaking and we were looking for the next frontier which was Europe.
we didn't know what we were doing
"I don't think any of us really had a plan for it to become this big thing or anything, I mean we didn't know what we were doing really… We just wanted to travel and have a bit of fun and kind of put on a show and share what was happening in other parts of the world. America and Australia were pretty dominant back then and now Europe is kind of where it's at right? So I guess with everyone involved something must have worked. Right place right time and all that maybe."
Other legends of the sport who raced in Europe that fateful summer included a young Connor Baxter, Casper Steinfath, Jake Jensen, Chase Kosterlitz, Sonni Hönscheid and Olivia Piana.
Jim Terrell flew over and brought virtually all of Team Quickblade with him. The new wave of French paddlers (the "excited kids," as Travis remembers them) including Arthur Arutkin and Martin Letourneur stood out for their potential.
Jamie Mitchell, one of the true legends of paddling, was also there. Jamie would be my roadtrip buddy for the summer – he was working with the Princess of Monaco charity foundation and we somehow got to drive a royal SUV around Europe for six weeks.
Also part of that unofficial first tour was a pioneering Spanish paddler named Belar Diaz, the guy who would eventually take the reins and turn the Euro Tour into the success it is today.
Eric was the true pioneer
Paul & Angie Jackson, the first Aussies to race in Europe as early as 2010, roadtripped around Europe for a month with their their new Fanatic teammates. At one point they had to drive from the north of Spain to the south of Portugal and back again within 36 hours to pickup their prototype race boards in time for the Lost Mills. "Wow such good memories from that summer! We did something like 5000km in three and a half weeks getting around to all those early races."
But the true pioneer of the early days in Europe was Frenchman Eric Terrien, an incredible paddler in his own right who had actually created the original European tour a few years earlier. Eric organised something called the European SUP Association (EuroSUPA) that operated circa 2010 to 2012 and connected half a dozen regional events with a rankings leaderboard much the same way the Euro Tour eventually would. EuroSUPA paved the way, and in honour of his trailblazing work I created the first "Euro Tour" promo poster (seen up above) using Eric's image.
That summer in Europe felt like a traveling circus, and the string connecting the dots was this idea we'd thrown together on a whim while standing beside a creek on the other side of the world. It was slightly surreal.
I reminisced with Belar about those early days of roadtrippin' around Europe.
"It was actually back in 2012 when Eric and I toured around Europe for nearly three months in my van – him winning basically everything and making a decent paycheck as well – that made me realize the huge potential for racing in Europe. Chase also came over that year and defeated Eric at Lost Mills and it was perhaps when people took notice of Europe for the first time. Then in 2013 a lot of the internationals came over and that sowed the seeds for the Tour and what Europe is today, which is the epicenter of the sport."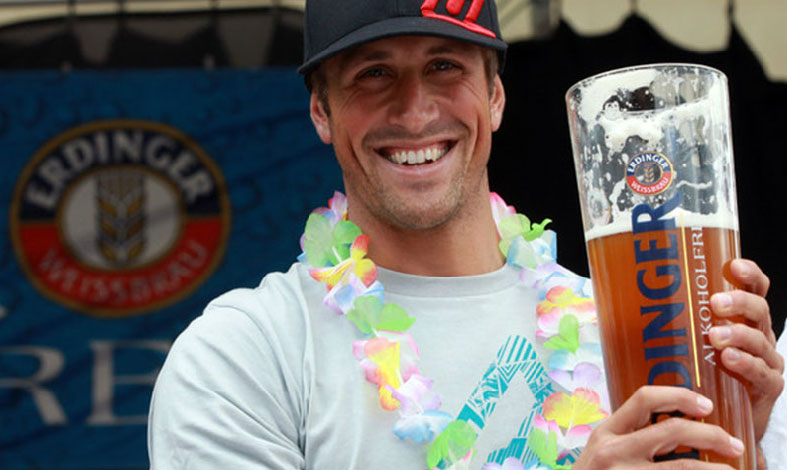 The 2013 "tour" started in chaotic fashion with the SUP Race Cup in the town of St. Maxime on the French Riviera. One of the oldest races in Europe, the SUP Race Cup had modelled itself on the Battle of the Paddle and was for the first time attracting a level of talent to match its messaging. Unfortunately it also attracted some wild weather as gale-force winds delayed the start of the beach race by eight hours.
Despite the unorthodox beginning – the race finally started at 6:30pm – Travis stuck to the script and won that first event for the host team.
Connor and Travis actually split the wins in St. Maxime between the beach race and long distance, but Trav got the official SUP Race Cup title based on combined times because that was a thing back then. Beau, Casper, Jake, Chase and Eric filled the minor positions. Celine Guesdon won the women's title for the home nation just six seconds ahead of Australia's Angela Jackson (yep, Angie's from Currumbin Creek too).
The traveling circus continued on to the Lost Mills race in the German countryside, which in 2013 had ascended in status to become the "Biggest Race in Europe" despite being located on a manmade lake in the middle of nowhere.
Travis and Connor were once again the favourites but nobody told Eric…
The long-time European number one had finished a disappointing 7th at his home race just six days earlier and we'd written off his chances of even making the podium in Germany. But on a cloudy Saturday afternoon in Bavaria – it was supposed to be summer but we huddled in jackets after the race – Eric Terrien produced one of the greatest victories I've ever seen. The jovial Frenchman broke away early and, like a solo attacker on a mountain stage of the Tour de France, never looked back. Eric won the 18km race by more than two minutes and an all-star field was stunned. Connor edged out Travis in an exhausting sprint to the line with Casper, Jake, Beau and Chase once again filling an illustrious top seven.
(Eric would defend his title a year later with the infamous "Lost at Lost Mills" incident but that's a story for another day.)
And in a sign of things to come, the relatively-unknown Sonni Hönscheid won the women's race in what would be the first of many "Euro Tour" victories for the German powerhouse. Angie once again hit the podium and surely deserves credit for helping pioneer an Australian presence in Europe that still lingers to this day.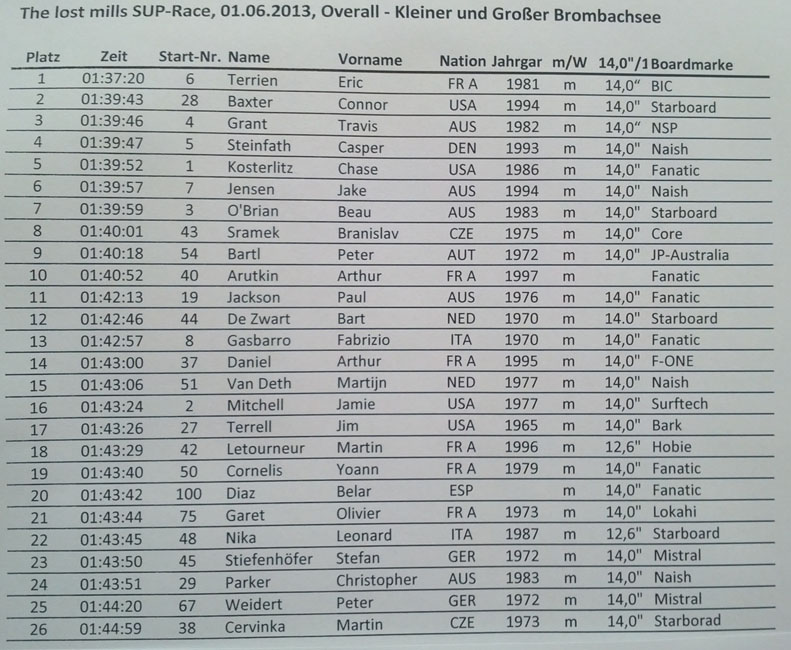 The quirky thing about the Lost Mills that year is that none of the athletes could use the boards they'd paddled a week earlier in France. That's because 2013 was the days of the "board class debate" when event organisers (and everyone else in the sport) were split between adopting 12'6 or 14′ as the standard.
After hauling two near-identical race boards around Europe for a month (and pulling off a miracle in getting them on the plane from Australia in the first place), Travis summed up the saga in his signature, understated style: "Yeah that was a bit silly wasn't it."
While the SUP Race Cup and Lost Mills provided most of the momentum in 2013, NSP's coverage of the European summer on SUP Racer continued for another six weeks and covered everything from racing to roadtripping and even a "summer ski trip" atop a French glacier.
That summer also showcased one of the new events that would soon become a major: The Bilbao World Paddle Challenge featuring the likes of Annabel Anderson and Kai Lenny. Annabel had famously beaten the guys at the Oleron Paddle Challenge in France a few weeks earlier in what was a harbinger of her supreme dominance over the next half a decade.
While the 'European SUP Racing Tour' was all just a bit of fun it was hard to ignore the serious hype building around the Euro scene in 2013.
It may seem strange these days when Europe is the undisputed center of the paddling universe, but back then we all had to work overtime to convince many of the brands, athletes and media that anything existed outside of southern California.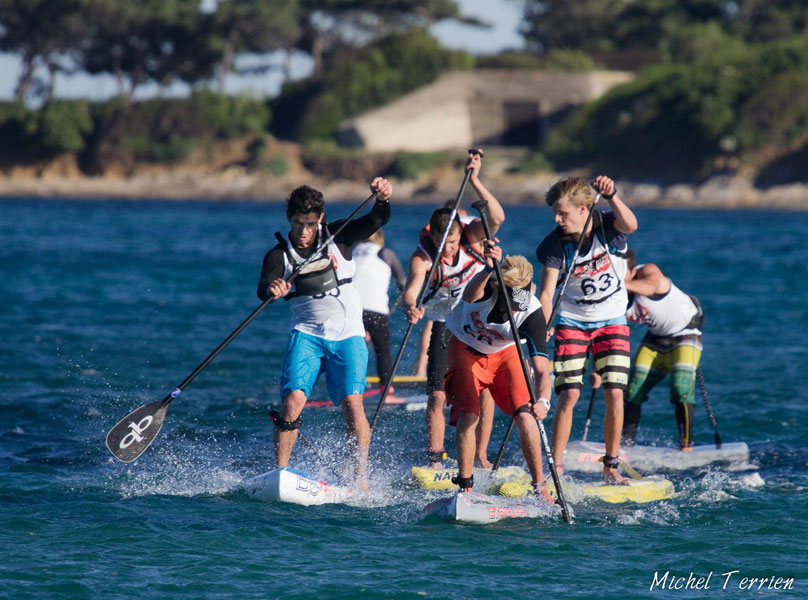 There's nothing quite like the Euro Tour. The annual series has become the most-followed, most-watched and surely the most successful tour in the history of stand up paddling. It's launched many paddling careers and probably helped end a few, too.
And it's certainly helped grow the sport in Europe.
Obscure locations across the continent have become paddling meccas thanks to its mere presence. And over the years, countless paddlers – from amateurs to superstars – have used the Euro Tour as the perfect excuse for a European summer holiday.
Equal parts paddling, partying and adventure, the Euro Tour is quite simply an icon.
After all the hype of 2013 we repeated the "tour" the following summer. It was still an informal series in 2014 but NSP signed back on with SUP Racer and we began officially calling it the NSP Euro Tour.
And it was hard to ignore the momentum that was building.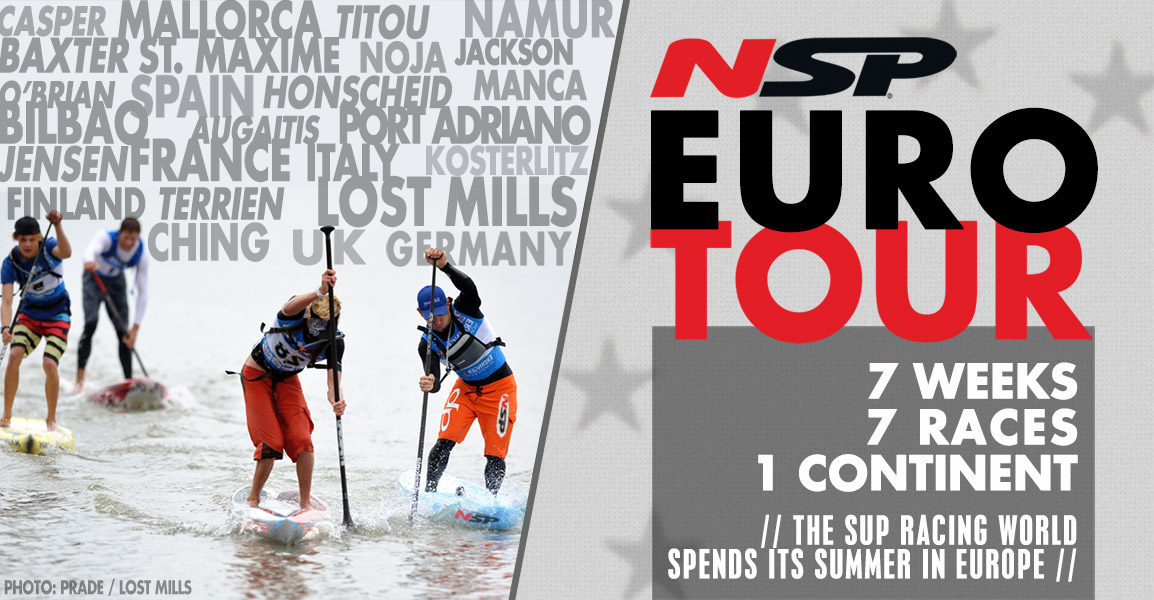 The 'Euro Tour' name stuck and that's when we probably realised a legitimate race series was starting to emerge organically. The summer of 2014 was again highlighted by the Lost Mills race in Germany though not without a bit of drama ("Lost at Lost Mills"), while Bilbao stepped up that year and became a major event on the European circuit.
But it was the summer of 2015 when the Euro Tour as we now know it began.
With all the momentum of '13 and '14, the natural progression was to form a real series and officially bring the big events together on a unified platform.
Belar had been a key figure since the early days in Europe and was involved with the Tour of 2014, so he and I started talking about ways to bring it to a new level. We planned all through the off-season and officially announced "The Euro Tour" on 21 February, 2015.
The 2015 Tour featured 8 events and, for the first time, dedicated Euro Tour rankings, social media and event photography that athletes and brands could share.
For the sanity of the athletes (and everyone else involved), we made the decision that every event must adopt 14′ as the standard board class if they wanted to be part of the Tour, which perhaps marked the beginning of the end for the 12'6.
Belar and I were joined in that first official year by Chase Kosterlitz, one of the first (and best) American athletes to start racing in Europe (he'd won the inaugural Lost Mills in 2012) and who had just created something called the SUP Athletes Association (SUPAA) to try to help guide the sport.
Our collective motivation was simple: We wanted to unify the big races, make it easier for athletes to travel and help events adopt a standard board class. We also wanted to keep roadtrippin' around Europe every summer…
The first official Euro Tour event was held on 23 May, 2015 – the Port Adriano SUP Race on the Spanish island of Mallorca – and fittingly won by Travis with his new model NSP race board. And in a beautiful piece of full-circle poetry, that very first event was the home race of a smiling young paddler named Duna Gordillo. Duna is now the 21-year-old star of Team NSP.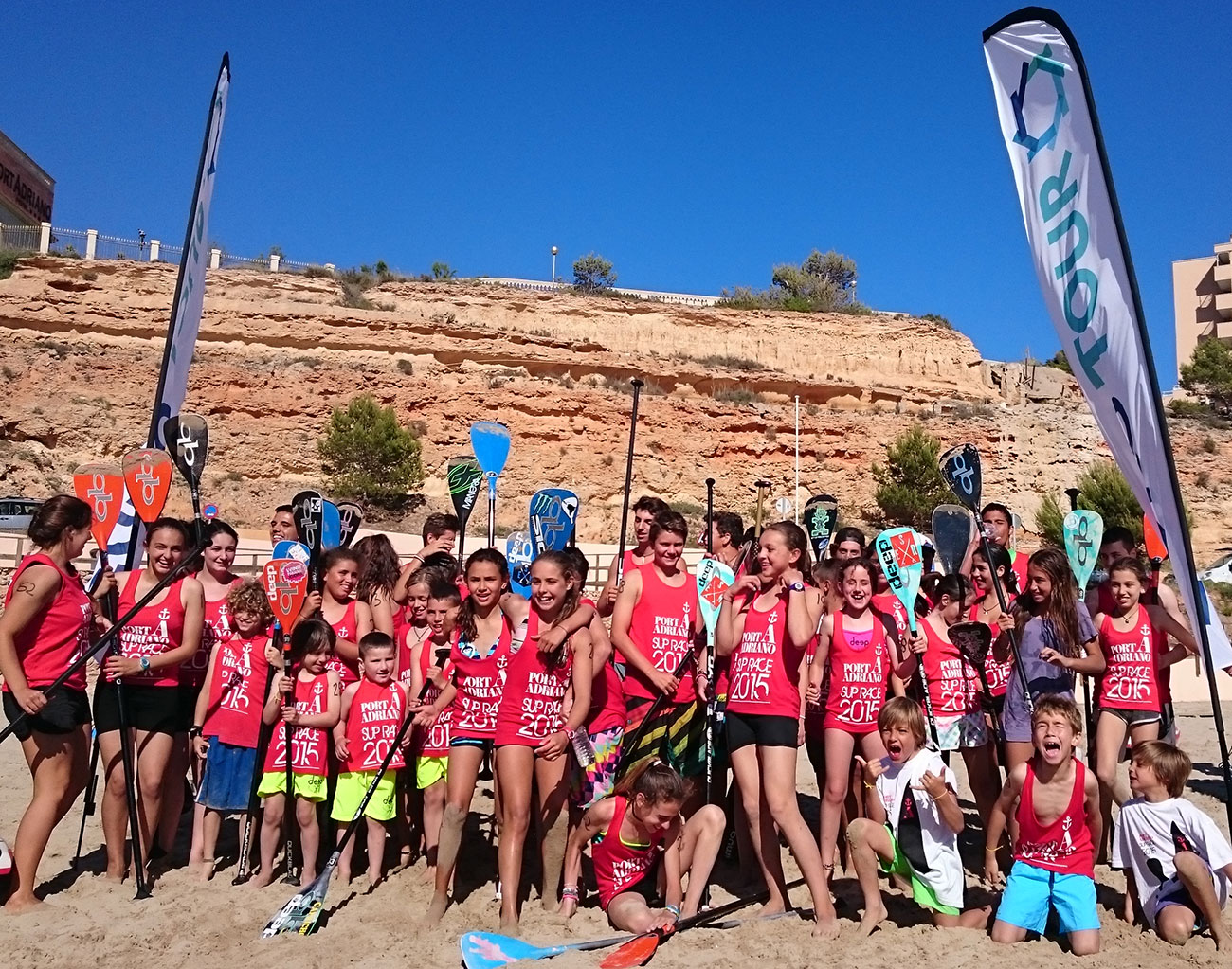 Following on from Mallorca was the SUP Race Cup in France, the St Ives Celtic Cup in the UK, the Lost Mills, Bilbao, Italy's Adriatic Crown, Spain's 'DEEP Race' and Belgium's Happy Summer SUP Race in Namur. Those were the eight original events of The Euro Tour (interestingly, the unassuming Namur race is the only one still going).
We winged our way through 2015 without much of a budget or any idea what we were doing. But the Euro Tour not only survived, it thrived, and by the end of that summer the momentum was undeniable.
After that first official season, Chase was more focused on SUPAA and I was more interested in exploring the new live streaming possibilities and managing the rankings. The fun stuff.
So that's when Belar put his hand up to take on all the responsibility. He's run the Tour ever since.
Like a roadtrip with good friends
The early days of the Euro Tour were just great fun. The whole thing felt like a roadtrip with good friends. There was intense racing, wild partying and more than a few random adventures in between each race.
And it was all done on a shoestring.
The original Euro Tour logo, which is still used today, was created by a talented graphic designer who I just happened to be dating at the time. Belar's partner acted as the head photographer each week. The events didn't even pay a sanctioning fee in the early years. The paddlers got free board transport, athletes would carpool and crash on couches, and scattered around Europe are a few unpaid bar tabs from nights that some paddlers certainly wouldn't remember (I'm looking at you, Jake Jensen).
Yet for all the people, places and ideas involved in its early days, the single biggest spark that helped ignite the Euro Tour was probably the simplest: Belar's decision to drive the boards between each event in his van.
It seems like a no-brainer today but it was groundbreaking at the time.
The Euro Tour van, which is still running today (though it's now a slightly newer model thank god) gave the Tour's formative years much-needed momentum to convince athletes, events and brands to join our cause at a time when the big U.S. races were still getting most of the attention and a fledgling 'European Cup' organised by the Stand Up World Series (now known as the APP) was competing to build a European tour of its own.
That big ol' van became a lead character in its own right.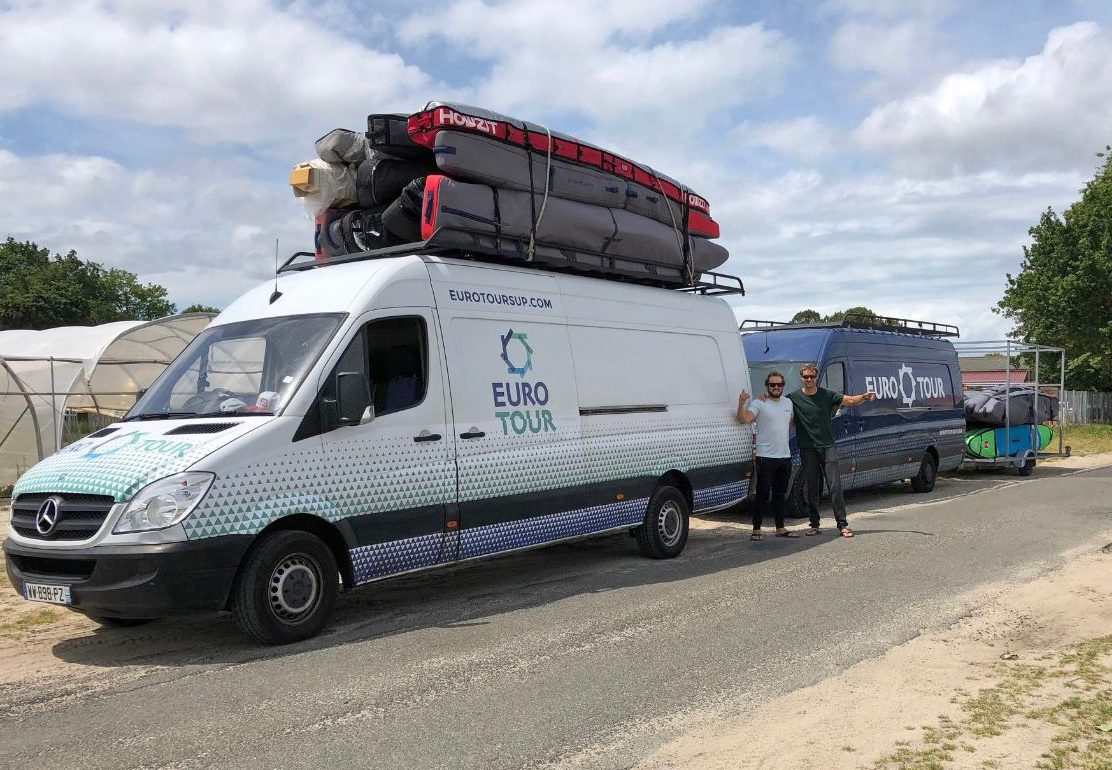 The Euro Tour looks a lot different these days. And a lot more professional.
By the summer of 2016 Belar had turned the Tour into a legitimate operation by requiring events to pay a promo fee and asking paddlers to fund the board transport.
Perhaps the most critical decision (in addition to "The Van") was when Belar took over responsibility for paying out prize money on behalf of the events to ensure athletes never got short-changed. Prize money payout was a serious problem in those days, not so much in Europe but a lot of international events had left athletes feeling unsure if they were going to get paid. The Euro Tour earned the trust of the athletes and that can still be seen today in the overwhelming support it receives every summer.
Belar the crazy, loveable Spaniard – equal parts mild manager and blunt dictator ("It's not a democracy!" is his famous war cry) – deserves huge credit for making the Euro Tour what it is today. The Tour has survived everything from rival series to pedantic paddlers, paddletics, pandemics and a decade of industry pandemonium. And it's come out the other side arguably stronger than ever.
Now a little older and wiser, Belar detailed the evolution of the Tour when we chatted this week.
"By the end of 2015 I returned to the Canary Islands after working for SIC and traveling intensively. I actually bought my first house there and was debating my next steps in life when I thought to focus my energy on EuroTour. My first idea, as I saw the year before, was offering board transport between the events. Of course many have had that idea before but nobody had actually done it. Long story short, and thanks to my managerial/business background, I drafted a plan to be able to finance the operation.
"This was the first time in my life that I was going to be working for myself, so I told myself that even if I didn't make much I would never lose money with it, and if I did I would stop before it got there. So in early 2016 contracts were drafted & signed with every venue, I bought a massive trailer and Starboard signed up as a presenting sponsor for the summer.
"My mantra at the time was to under-promise and over-deliver. We left the paddletics out of it and ignored nonsensical debates. We just tried to keep things simple. So many people gave us their unsolicited opinion right way but few actually tried to help. That quickly made me realize that having a vision was not such a bad thing through all that noise.
we left the paddletics out of it
"Additionally, we solved the prize money problems that unfortunately were so common back then by personally guaranteeing it at every EuroTour stop. We are very proud to say that in nine years we have never failed (and believe me sometimes it was very tough).
"I actually continued to have several roles in the SUP industry after SIC including with ECS, F-One & Sunova, but every summer the tour would take priority. With the help of many people, especially my good friend Fred Bonnef, every year we got bigger and better.
"These days, as a father of a young daughter, my entire professional focus is the Tour, and I consider myself lucky to be able to work with my passion. Next year we'll officially make it 10 tours, and while some partners unfortunately come and go, we are over the moon to have so many repeat supporters and see that every year the best athletes of the sport come back for it."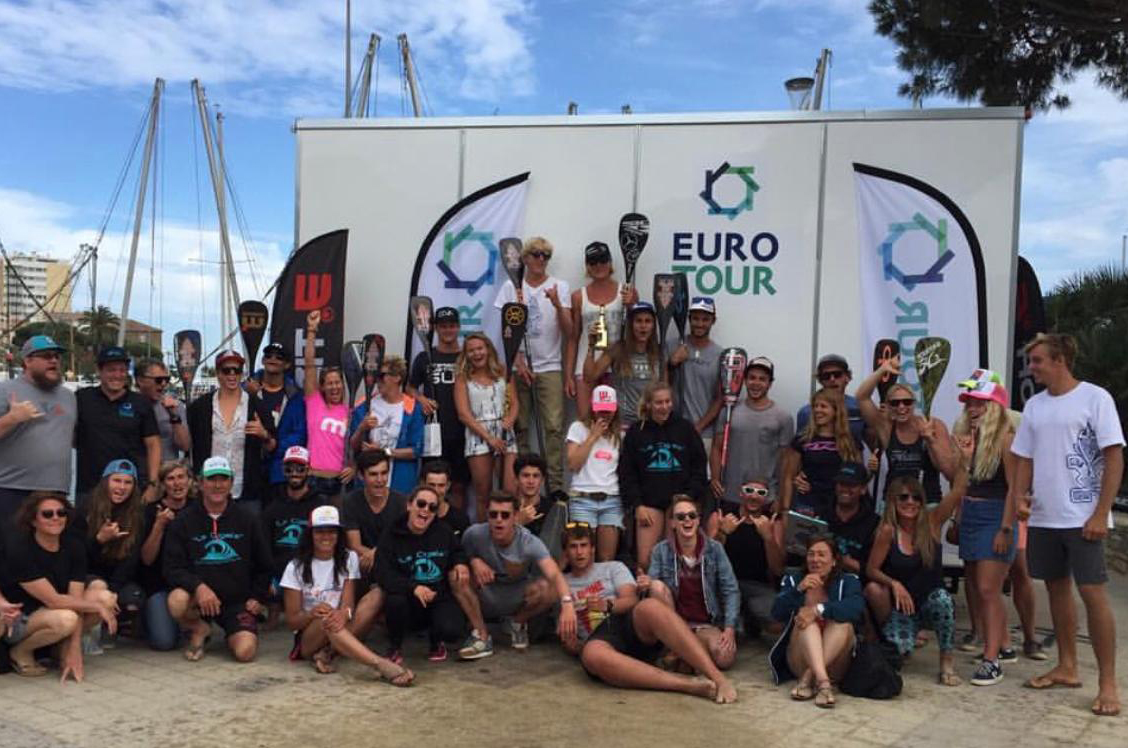 I think the reason the Euro Tour succeeded, apart from Belar's sheer stubbornness, is because it was started for the right reasons and is still run that way. The Euro Tour is for the sport. It's the people's tour. The first slogan we created in early 2015 summed it up:
"Whether you're an international athlete, a hometown hero or a first time paddler, the Euro Tour is for you."
Also deserving of a big mention is Belar's lieutenant, Fred, who's done a huge amount of the work behind the scenes over the past half a decade to ensure the Tour remains a well-oiled machine.
But it's those chaotic early days in 2013 and 2014 – traveling round like carnies and exploring new destinations, convincing brands to join our untested experiment, partying with paddlers no matter whether they were superstars or some local we'd met on the start line, and just generally having fun in the summer sun – that I'll remember when I think of the Euro Tour.
So in addition to everyone who's played a role over the years, I'd say we all owe a big thanks to NSP and Travis for embracing that little excuse concept ten years ago when we were standing on the shores of a creek in Australia. We had no idea what we were laying the foundation for, but the seeds that were sown that day have grown into an almighty forest.