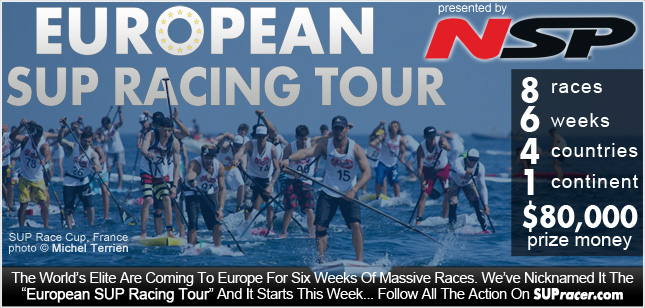 May 21, 2013
by Christopher Parker (@wheresbossman)
Introducing The European SUP Racing Tour Presented By NSP
It's going to be a BIG Summer of SUP racing in Europe…
Starting this weekend we're set for six straight weeks of massive races that'll feature an elite cast of international paddlers.
It's an exciting time for the sport of SUP racing in this part of the world; never before have so many big names competed in Europe at the same time. The SUP Race Cup, Lost Mills, the Stand Up World Series in Oleron, Bilbao World Paddle Challenge and many more… Every week from now until the end of June, Europe will play host to several of the world's best paddlers and several of the world's biggest events.
There are just so many big races happening in the next six weeks that we just had to give it a fun nickname, and as we mentioned a few months ago, the "European SUP Racing Tour" is what we came up with.
Well now thanks to the champs at NSP (the home of Travis Grant and Rico Leroy), SUPracer.com will be on the ground in Europe covering every event live and going behind the scenes with the international stars as they travel the continent.
In fact many of the world's best will be travelling around together to each event. Just some of the big names confirmed for Europe are: Jamie Mitchell, Connor Baxter, Travis Grant, Eric Terrien, Kai Lenny, Chase Kosterlitz, Jim Terrell, Paul & Angie Jackson, Jake Jensen, Krisztina Zur, Beau O'Brian, Bart de Zwart, Casper Steinfath and more…
It's going to be like a travelling circus, only with paddles.
The first big race is this weekend and then we'll be bringing you updates every single day until the end of June, so stay tuned to SUPracer.com for full coverage of the completely unofficial but totally awesome European SUP Racing Tour presented by NSP.
And while this isn't an officially sanctioned race series, if the NSP Euro Tour takes off then we might have to make it a recurring theme; I feel like Europe-in-the-summer is fast becoming one of the highlights of the international calendar!
---
WEEK 1
SUP Race Cup
25th & 26th May
St. Maxime, France
$15,000 prize money
WEEK 2
Lost Mills
29th May – 1st June
Brombachsee, Germany
$22,000 prize money
Week 2 alternative
Summer SUP Challenge
31st May – 1st June
Bandol, France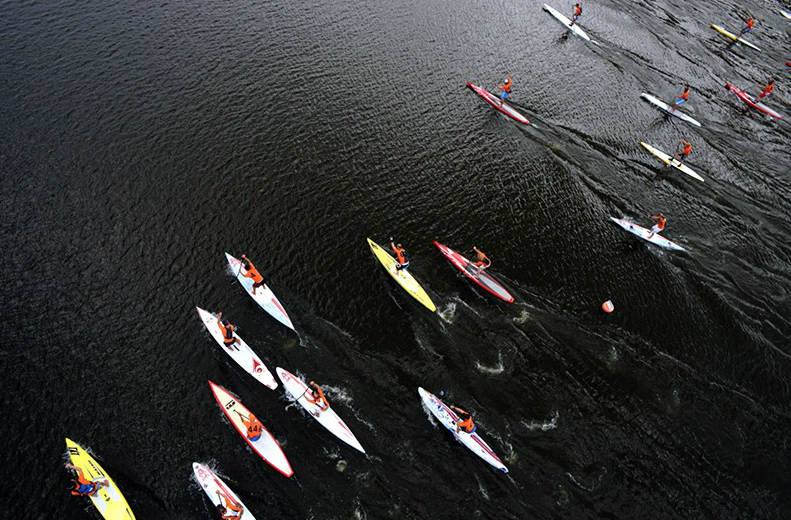 The Lost Mills will be one of the highlights for sure
WEEK 3
Oleron SUP Challenge
8th & 9th June
Oleron Island, France
$10,000 prize money
WEEK 4
No major events but plenty of regional races across Europe. Check out the Rogue SUP Race Calendar for details. We'll most likely be hitting up the III DEEP SUP Race Noja just down the road from Bilbao.
WEEK 5
Bilbao World Paddle Challenge
21st – 23rd June
Bilbao, Spain
$20,000 prize money
Week 5 alternative…
Happy Summer SUP Race
22nd June
Namur, Belgium
$10,000 prize money
WEEK 6
Massilia SUP Race
29th June
Marseille, France
$6,000 prize money
---
So there you go. Big Summer of racing coming up in Europe.
Hopefully we'll see you there, but if not you can enjoy wall-to-wall coverage of the European SUP Racing Tour presented by NSP right here on SUPracer.com.
(…did we mention it's going to be big?)