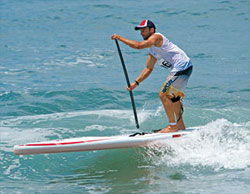 August 28, 2012
by Christopher Parker (@wheresbossman)
BIC Launches World's First "One Design" SUP Race Series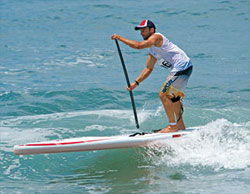 BIC SUP have just announced plans for a "One Design" Stand Up Paddle race series, which they're claiming is a world first.
The French outfit, best known in the SUP racing scene for sponsoring European #1 Eric Terrien, will be debuting their one design SUP race series at next week's surf trade show in Orlando, Florida.
All competitors in BIC One Design SUP races will use the exact same board: the new 12'6″ Wing. Each event will also feature the same course (roughly 800m long), with races consisting of short, knockout-style, one-lap sprints.
According to their North American head, Chris Decerbo:
"We've had great success with One Design events in windsurfing, surfing, and Jr. Sailing. SUP is a perfect sport for One Design and the new 12'6 WING is the ideal board. The WING is extremely durable and affordable, you shouldn't have to pay $2,500 or more for a fragile carbon-fiber race board to enjoy Stand Up Paddleboard racing"
The Wing SUP race board is 30 inches wide and weighs 15.5kg. Not exactly up there with the sub-10kg, ultra-narrow boards coming out of Starboard, Naish, Surftech, Fanatic and all the other top SUP race board manufacturers. But that's not the point. BIC SUP isn't going after the "hardcore" SUP market. Even their own website claims the Wing is for "recreational racers".
And that seems to be whole idea of this new One Design race series. BIC isn't trying to compete with the top brands, they're going after the much larger recreational, mainstream market.
But how successful is this SUP race series going to be? Could it become anything more than a pure novelty?
While BIC SUP has only just started getting into SUP racing, the brand is part of the massive Société Bic corporation, which earns roughly $2bn a year. So while they don't have the brand recognition of a Naish or Starboard, they've certainly got some cash behind them. BIC showed they were serious about SUP racing when they signed Eric Terrien on a lucrative deal, even though at the time they didn't have a single SUP race board available for retail sale. This BIC One Design SUP race series is another step in that direction, and while it may not appeal to the hardcore paddlers, it may just grab the attention of the recreational SUP racers.
We've also heard another major SUP brand is about to launch their own "one design" race series, but based on inflatable SUP race boards. So it'll be interesting to see if either of these series take off. They're obviously not directed towards the hardcore paddlers, but it could be a great way of getting paddlers to try SUP racing for the first time, which is pretty important for the future growth of the sport.