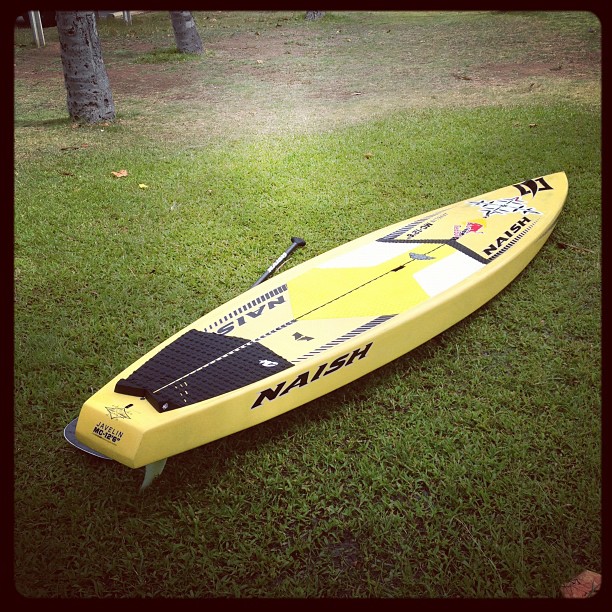 April 10, 2012
by Christopher Parker (@wheresbossman)
Naish Javelin MC12'6″ Spotted In The Wild…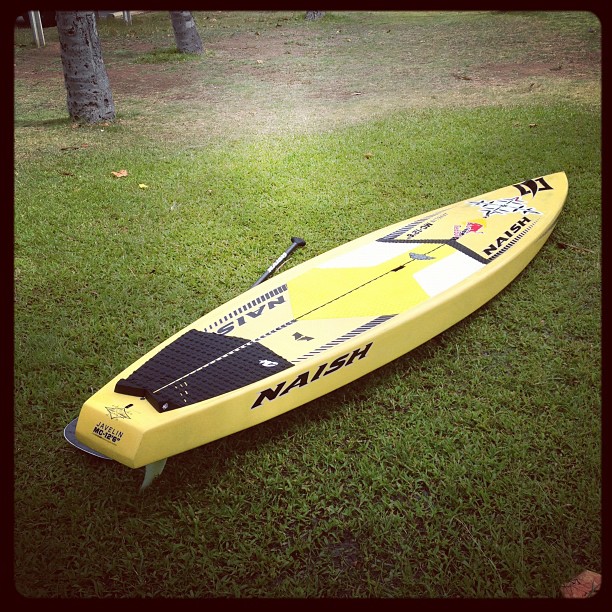 Here it is: first photo of the Naish Javelin MC12'6″ stand up paddle race board.
The Naish Javelin MC14 isn't even officially in stores yet, but we've already spotted its younger sibling, the MC12'6″, in the wild.
Kai Lenny posted this pic on Instagram today.
The Naish MC range is new in 2012. It basically takes their current Javelin designs and re-constructs them using hollow carbon, which obviously makes them much lighter (and in theory; faster).
The "MC" stands for Monocoque Carbon, which is just a fancy way of saying hollow core.
Naish's first MC board, the Javelin MC14, is on its way to retail stores as we speak. But up until now, nobody really knew if/when they were extending their hollow core range down to the stock 12'6″ class (which is the standard class for most Elite Races these days, especially Battle of the Paddle style racing).
Naish isn't the first, and certainly won't be the last manufacturer to introduce hollow-core carbon stand up paddle race boards. However the yellow brand from Hawaii has a habit of getting more than its fair share of attention, so this will no doubt help speed up the SUP race board arms race.
There's only one problem of course: price.
While no word is available on availability/price of the Javelin MC12'6″, it's older sibling, the Javelin MC14, is going to cost north of $4k, which puts it out of reach for most paddlers.
UPDATE: The MC 12'6″ will be hitting stores around the end of August (with the MC14 available by the end of this month).