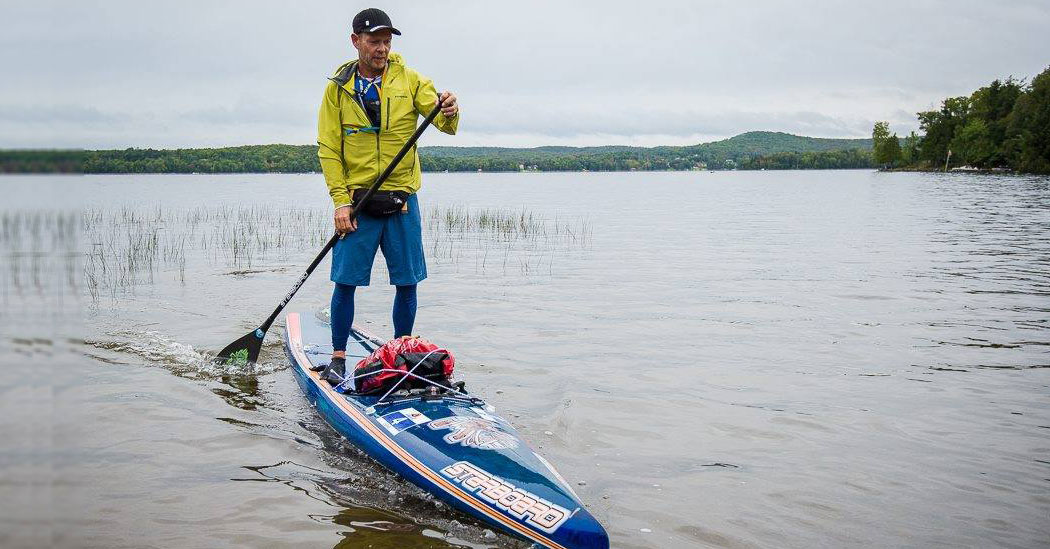 September 16, 2014
by Christopher Parker (@wheresbossman)
Bart de Zwart Sets Another Crazy Endurance Record: Wins The 'Muskoka River X' Race In 18 Hours, 23 Minutes

Fresh from reclaiming his 11 Cities title in the Netherlands last week, Bart de Zwart has chalked up yet another crazy endurance record: Winning the solo SUP division at the Muskoka River X race in Canada on the weekend. His winning time: 18 hours, 23 minutes. Yep…
Billed as the Longest Single Day Paddling Expedition In The World, the Muskoka River X sees competitors journey 130kms (80 miles) within a maximum time frame of 24 hours.
If that wasn't enough, the race is held in pretty much the middle of nowhere, with paddlers having to be completely self-sufficient as they journey through "four lakes and two river systems" with "up to 19 portages" and navigating "using only topographic maps, compass, and grid coordinates."
The official website paints a daunting picture for prospective entrants: "You will carry all equipment, nutrition, and hydration required for the entire race." and also warns paddlers that "No outside assistance. No support teams. No re-supplies." are allowed.
In other words: Standard procedure for Bart de Zwart.

If all that wasn't enough, apparently the weather was particularly brutal this year: Almost half the field (46%) failed to reach the finish line.
See that pic above? That's not a blurred lens: That's rain.
Plus most of those competitors had the benefit of sitting down – this is traditionally a canoe/kayak event – whereas Bart was up on his feet for almost an entire day (though my hats off to anyone that completes this race, no matter what craft you're paddling).

Five men and one woman were listed as having started in the SUP division: All but two of them hit the wall somewhere before the finish. Apart from Bart, the only other SUP finisher was Peter deMos, who crossed the line in 21 hours, 29 minutes.
The overall winning time was 13 hours, 17 minutes by a "C2" (two man canoe) team, however Bart's 18 hours, 23 minutes actually kept pace with many highly skilled canoe and kayak paddlers.
Oh and on a sidenote: Just to get to the start line, Bart had to fly from the Netherlands to New York (less than 72 hours after having finished 200+ kilometers of racing) and then drive for 1,000 kilometres (620 miles) to the starting point in Huntsville, Ontario, because none of the regional airlines could take his race board.
So once again I salute you Bart: You truly are the craziest/most amazing paddler I've ever met.
If you're interested, there are more pics of this epic race over on the official Facebook page.