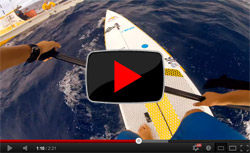 Molokai-2-Oahu GoPro Vid
Here's some cool footage from the 2012 Molokai-2-Oahu SUP race. Get an onboard view of the channel crossing with the likes of Chuck Patterson, Tucker Ingalls and Jamie Sterling.
This year's race enjoyed epic conditions, with plenty of records smashed as well as the closest finish in race history. Connor Baxter took out the unlimited SUP division, finishing just half a minute ahead of Dave Kalama over the four hour plus course.
(relive the full Molokai results after you watch the clip below)