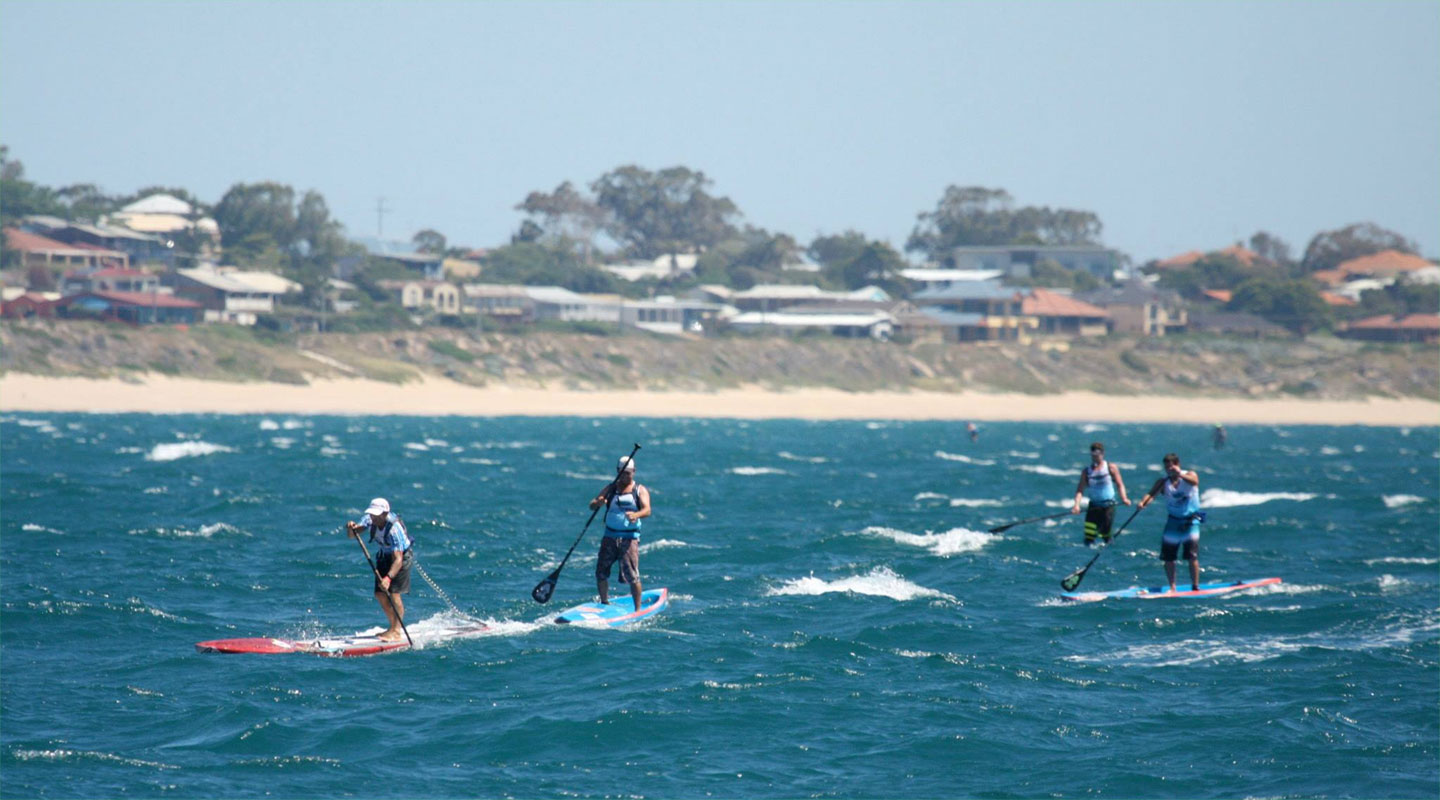 December 6, 2014
by Christopher Parker (@wheresbossman)
FULL RESULTS: Beau O'Brian, Angie Jackson Win 'King Of The Cut' To Claim Aussie Downwind Week Double
Beau O'Brian and Angie Jackson have taken out the Aussie Downwind Week Double, winning today's King of the Cut race to go with their respective victories at The Doctor last weekend.
Once again Beau defeated Travis Grant to claim the win, this time by a slightly wider margin (1 minute 23 seconds). Actually the men's podium was identical to what we saw seven days ago, with Jake Jensen finishing 3rd again.
In the women's it was a super tight race, with Karla Gilbert crossing the line just 14 seconds behind Angie. 2013 M2O champion Terrene Black was 3rd.
Sounds/looks like it was an awesome downwinder along the 24km King of the Cut run near Perth, Western Australia. You can relive the live blog replay below – big thanks to Damo, Matt and Carole for giving us a glimpse into this great race.
The King of the Cut scored 18% on the Race Index, which means this event qualifies for the SUP RACER WORLD RANKINGS and the Top 50 in the main division (men's 14′) score points. The women's race did not qualify.
Here are the full results. More pics on Facebook thanks to VMB Blades.
---
RESULTS: 2014 Stand Up Surf Shop King Of The Cut
POINTS: This event qualified for the SUP RACER WORLD RANKINGS with a Race Index of 18%
Course: 24km downwind
Click "Division" to sort between men's, women's and age division results
| # | Name | Time | Difference | Division | # | POINTS |
| --- | --- | --- | --- | --- | --- | --- |
| 1 | Beau O'Brian | 1:53:50 | 0:00:00 | Men's Pro | 1 | 18.00 |
| 2 | Travis Grant | 1:55:14 | 0:01:24 | Men's Pro | 2 | 13.50 |
| 3 | Jake Jensen | 1:57:01 | 0:03:11 | Men's Pro | 3 | 10.80 |
| 4 | Matt Nottage | 1:58:14 | 0:04:24 | Men's Pro | 4 | 9.00 |
| 5 | Paul Jackson | 1:59:17 | 0:05:27 | Men's Pro | 5 | 7.65 |
| 6 | Ben Tardrew | 2:00:39 | 0:06:49 | Men's Pro | 6 | 6.30 |
| 7 | Marcus Tardrew | 2:00:59 | 0:07:09 | Men's Pro | 7 | 5.40 |
| 8 | Michael Hastie | 2:01:10 | 0:07:20 | Men's Pro | 8 | 4.50 |
| 9 | William Lee | 2:01:57 | 0:08:07 | Men's Pro | 9 | 4.05 |
| 10 | Sam Parker | 2:03:16 | 0:09:26 | Men's Pro | 10 | 3.60 |
| 11 | Ryan Keck | 2:04:21 | 0:10:31 | Men's Pro | 11 | 3.24 |
| 12 | Wes Fry | 2:05:24 | 0:11:34 | Men's Pro | 12 | 2.88 |
| 13 | Michael Booth | 2:05:44 | 0:11:54 | Men's Pro | 13 | 2.70 |
| 14 | Ben Mardon | 2:06:04 | 0:12:14 | Unlimited | 1 | - |
| 15 | Tomoyasu Murabayashi | 2:08:17 | 0:14:27 | Men's Pro | 14 | 2.52 |
| 16 | Zane Schweitzer | 2:08:47 | 0:14:57 | Men's Pro | 15 | 2.34 |
| 17 | Dale Chapman | 2:09:06 | 0:15:16 | Men's 40+ | 1 | 2.16 |
| 18 | Paul Simmons | 2:10:06 | 0:16:16 | Men's Pro | 16 | 1.98 |
| 19 | Rory Chapman | 2:10:10 | 0:16:19 | Men's Pro | 17 | 1.80 |
| 20 | Cam Mckay | 2:10:15 | 0:16:24 | Men's Pro | 18 | 1.62 |
| 21 | Belar Diaz | 2:10:32 | 0:16:42 | Men's Pro | 19 | 1.44 |
| 22 | James Casey | 2:10:46 | 0:16:55 | Men's Pro | 20 | 1.35 |
| 23 | Angela Jackson | 2:11:20 | 0:17:29 | Women's Pro | 1 | - |
| 24 | Karla Gilbert | 2:11:26 | 0:17:36 | Women's Pro | 2 | - |
| 25 | Andy Davies | 2:12:45 | 0:18:55 | Men's Pro | 21 | 1.26 |
| 26 | Kevin Kemp Smith | 2:13:39 | 0:19:48 | Men's 50+ | 1 | 1.17 |
| 27 | Felipe Dos Santos | 2:15:21 | 0:21:31 | Men's Pro | 22 | 1.08 |
| 28 | Scott Mccluskey | 2:16:44 | 0:22:54 | Unlimited | 2 | - |
| 29 | Leo Beyers - Pirates | 2:16:47 | 0:22:57 | Men's Open | 1 | 0.99 |
| 30 | Terrene Black | 2:16:55 | 0:23:05 | Women's Pro | 3 | - |
| 31 | Roger Goodwin | 2:18:52 | 0:25:02 | Men's 40+ | 2 | 0.94 |
| 32 | Scott Hardiman | 2:20:03 | 0:26:13 | Men's Open | 2 | 0.88 |
| 33 | Trent Jones | 2:20:08 | 0:26:17 | Men's Pro | 23 | 0.83 |
| 34 | Marie Buchanan | 2:22:59 | 0:29:09 | Women's Pro | 4 | - |
| 36 | Darren Marshall | 2:24:40 | 0:30:50 | Men's 40+ | 3 | 0.77 |
| 37 | Luke Jenkins - Fremantle | 2:26:07 | 0:32:17 | Men's 40+ | 4 | 0.72 |
| 38 | Jackson Shaw | 2:26:17 | 0:32:27 | Men's Open | 3 | 0.68 |
| 39 | Brad Gaul | 2:26:35 | 0:32:45 | Men's Pro | 24 | 0.65 |
| 40 | Peter Baldwin | 2:27:46 | 0:33:56 | Men's Open | 4 | 0.61 |
| 41 | Gordon Stimson | 2:29:14 | 0:35:24 | Men's 40+ | 5 | 0.58 |
| 42 | Craig Mclaren | 2:29:20 | 0:35:30 | Men's Open | 5 | 0.54 |
| 43 | Gordon Salvage | 2:30:01 | 0:36:11 | Men's 40+ | 6 | 0.50 |
| 44 | Ben De Chaneet | 2:30:14 | 0:36:24 | Men's 40+ | 7 | 0.47 |
| 45 | Brad Kidd | 2:34:25 | 0:40:34 | Men's 40+ | 8 | 0.43 |
| 46 | Kieran Oriordan | 2:35:24 | 0:41:34 | Men's Open | 6 | 0.40 |
| 47 | David Slater | 2:36:37 | 0:42:46 | Men's Open | 7 | 0.36 |
| 48 | Steve Mccollough | 2:38:28 | 0:44:38 | Men's 40+ | 9 | 0.34 |
| 49 | Peter Shepherd | 2:39:59 | 0:46:09 | Unlimited | 3 | - |
| 50 | Greg Kerr | 2:40:03 | 0:46:12 | Men's 40+ | 10 | 0.32 |
| 51 | Cristiana Chessa | 2:43:10 | 0:49:20 | Women's 40+ | 1 | - |
| 52 | Drew Malcom | 2:43:57 | 0:50:06 | Men's Open | 8 | 0.31 |
| 53 | Kent Wright | 2:44:52 | 0:51:02 | Men's 50+ | 2 | 0.29 |
| 54 | Peter Hayes | 2:47:53 | 0:54:03 | Men's 40+ | 11 | 0.27 |
| 55 | Jun Hao Lo | 2:48:18 | 0:54:27 | Men's Open | 9 | 0.25 |
| 56 | Mark Hall | 2:50:33 | 0:56:43 | Men's 40+ | 12 | 0.23 |
| 57 | Gordon Mckercher | 2:50:49 | 0:56:59 | Men's 50+ | 3 | 0.22 |
| 58 | Peter Brereton | 2:53:35 | 0:59:45 | Unlimited | 4 | - |
| 59 | Rick Maxwell | 2:54:44 | 1:00:54 | Men's 50+ | 4 | 0.20 |
| 60 | Nicole Jones | 2:56:44 | 1:02:54 | Women's 40+ | 2 | - |
| 61 | Paul Matthews | 3:00:21 | 1:06:31 | Unlimited | 5 | - |
| 62 | Tim Calder | 3:02:16 | 1:08:25 | Men's 50+ | 5 | 0.18 |
| 63 | Mark Kidd | 3:02:50 | 1:09:00 | Unlimited | 6 | - |
| 64 | Chris Gage | 3:03:58 | 1:10:08 | Men's 40+ | 13 | 0 |
| 65 | Ben Herangi | 3:05:40 | 1:11:50 | Men's Open | 10 | 0 |
| 66 | Louis De Plessis | 3:06:36 | 1:12:46 | Men's 50+ | 6 | 0 |
| 67 | Chris Ting | 3:07:58 | 1:14:07 | Men's 40+ | 14 | 0 |
| 68 | Chris Le Messurier | 4:07:39 | 2:13:49 | Men's 50+ | 7 | 0 |
Men's Top 10
1st: Beau O'Brian (1:53:50)
2nd: Travis Grant (1:55:13)
3rd: Jake Jensen (1:57:01)
4th: Matt Nottage (1:58:14)
5th: Paul Jackson (1:59:16)
6th: Ben Tardrew (2:00:39)
7th: Marcus Tardrew (2:00:59)
8th: Michael Hastie (2:01:09)
9th: Will Lee (2:01:56)
10th: Sam Parker (2:03:16)
Women's Top 5
1st: Angie Jackson (2:11:19)
2nd: Karla Gilbert (2:11:25)
3rd: Terrene Black (2:16:55)
4th: Marie Buchanan (2:22:59)
5th: Christiana Chessa (2:43:09)
http://instagram.com/p/wQ-kMzGSM6/