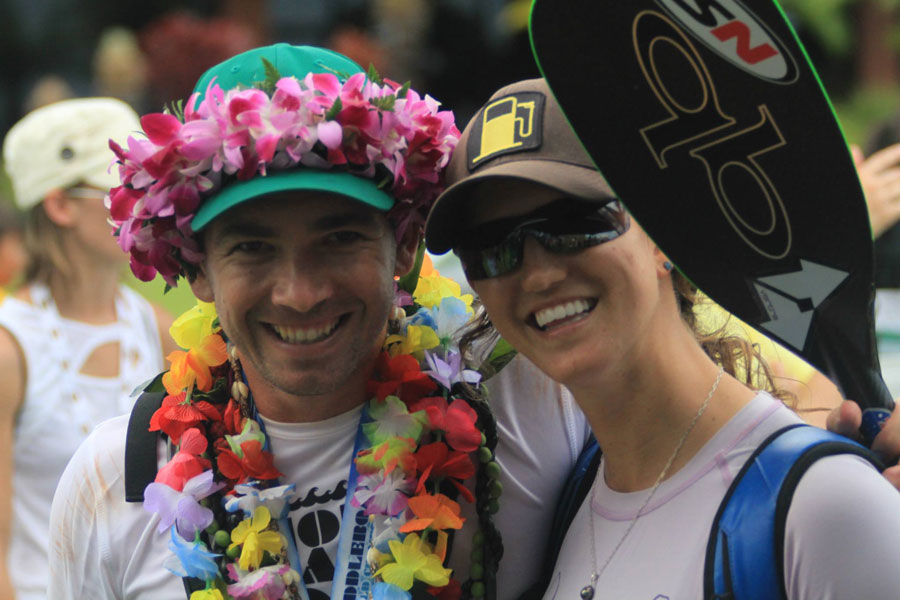 August 1, 2013
by Christopher Parker (@wheresbossman)
Listen To Your Heart
Molokai 2013 was epic. It had everything… The record entrants. The hype and buzz surrounding the build up. The excitement of Kai v Connor. The drama of Danny's withdrawal. And then of course Travis Grant's spirited, determined effort that delivered him the crown and a spot on the podium alongside good friend Scott Gamble. And that was just the men's race…
This year's Molokai 2 Oahu Paddleboard World Championships won't be forgotten any time soon. But now that our Facebook and Instagram feeds are slowly returning to normal, I thought I'd reflect on the pre-race predictions I made, which were summed up with:
"My heart says Travis or Scott, my head says Kai or Connor, while my gut says Danny."
I really wanted Travis or Scott to win but wasn't sure they would. But I figured that even though Connor had the experience, Kai had the training and Danny had the power, both Trav and Scotty had the talent that meant they were in with a genuine shot. Basically Travis and Scott were my sentimental favourites; a feeling shared by many paddlers around the world.
There was just the small matter of 32 miles and five hours of grueling work standing in their way…
So onto the race itself: The official M2O Facebook feed, which was posting regular race updates, was silent on Travis and Scott almost the entire race. The boats carrying the race organisers and official camera crew were focused almost exclusively on the intense duel between Kai and Connor, while even the beach announcers were confused when they saw Travis in sight of the finish.
Fortunately during our live Molokai coverage we were getting constant updates on several paddlers. We had Trav's wife Blair on his boat texting us excellent updates every 10 minutes (Blair: you carried our live coverage) and phoning in detailed reports every hour or so.
I was also regularly on the phone to Karen Baxter on Connor's boat and Dave Kalama on Kai's, getting updates and trying to figure out who was actually winning this whole thing…
The beauty of Molokai is that you can take very different lines across the same "course", meaning you'll often have paddlers spread out for several miles in a North-South direction, even though they all started at the same spot and are all heading to the same point in the same East-West direction… and that's exactly what happened on the weekend.
Kai and Connor went South. Way South. They were over a mile and a half South of the "Rhumb Line" (which is more or less the straight line between the start and finish of the race), while Travis and Scott were slightly to the North of it. That meant the front runners were paddling two miles apart from each other, making it very difficult for anyone to know what was going on, including not only the race organisers but also the paddlers themselves.
For a couple of hours I was calling that it was "roughly even" between Kai, Connor and Travis, though in reality nobody was sure who was in front. It wasn't until the final 45 minutes that things started to become clear and we saw just how far ahead Travis was.
At one point I phoned Connor's boat for an update and heard they were 4.3 nautical miles from the finish line, battling with Team Kai for what they thought was the race lead. Then I talked to Trav's wife a few minutes later and heard they were only 3 nautical miles out… I couldn't believe the numbers. I knew Trav was right up there and in with a shot at victory, but how on earth could he be a OVER A MILE in front of the two favourites?!?
This is how it played out on our live Molokai coverage (the bottom entry was posted first).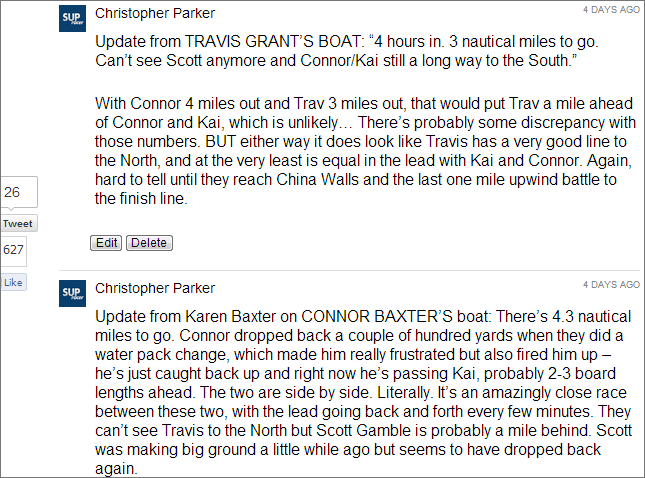 Could Travis really be that far ahead? Was he about to claim Australia's first ever Molokai SUP title?!
It turned out the numbers weren't wrong. Travis really was that far ahead… This became very apparent when the Aussie hit China Walls and his support crew couldn't see Kai's or Connor's boat at all (this is around the same time the official camera crew got a radio message that they'd better double back to Hawaii Kai and record the actual race finish…).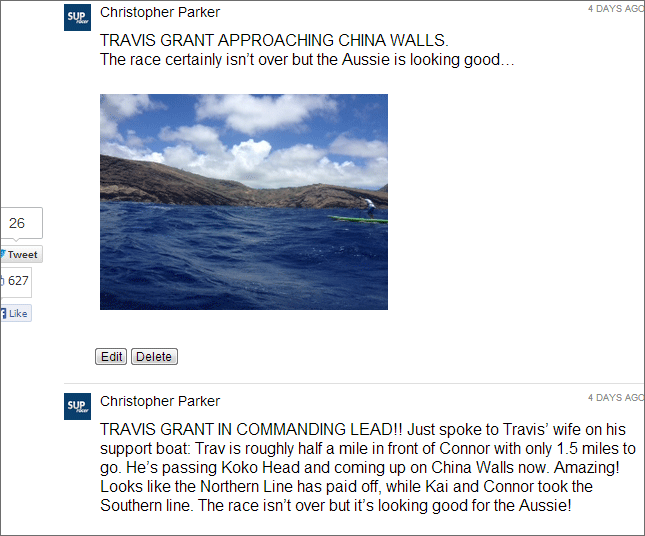 So Travis obviously put in an amazing performance. And keep in mind Kai and Connor were neck-and-neck, they were literally side-by-side for much of the five hours, meaning they would have been forcing each other to paddle harder and faster as they tried to outdo each other. Travis, meanwhile, was steadily paddling away on his own for most of the crossing. Think about how hard you train on your own vs. training in a group – having somebody beside you always makes you go faster.
So while Kai and Connor had the virtual carrot in front of them, Travis, under the supreme navigational guidance of Billy Robello and Marshall Rosa, had to set his own pace. And what a pace it was…
I've gotten to know Trav pretty well over the past few years, working with him, training with him, competing with him and traveling with him. Every time I hang out with the guy I walk away impressed. I've also gotten the same impression the few times I've met Scott. Both of them are not only exceptional (and highly under rated) paddlers, they're also very cool and humble guys.
Everyone that meets Travis Grant says the same thing, that they can't believe how much of a regular bloke he is. Despite winning the Battle of the Paddle, ISA Worlds and now Molokai (the only paddler with the trifecta!), Travis is one of the most laid-back and humble guys you'll ever meet. I think he continually surprises himself with how well he paddles, how many races he wins and how many people he inspires.
Scott, meanwhile, doesn't have nearly the same name recognition as Danny, Connor and Kai outside of Hawaii, though everyone inside of Hawaii, especially on his home island of Oahu, knows exactly how dangerous he can be in a paddle race, whether it be outrigger or stand up. The past two years Scott has been close to winning Molokai, falling just short in 2011 while being forced out through in injury after leading the early stages of Molokai 2012. On the weekend Scott was very close to victory for the third time in a row, but for the third time in a row had to watch somebody else take the title. This time, however, I don't think Scott was so worried about settling for second…
While both Trav and Scott were super pumped with their respective performances on the weekend, I get the impression they were even more stoked to see the other one standing on the podium beside them.
So while the sport of Stand Up Paddling continues to blow up and become more mainstream, with the leading names being seen everywhere from cable TV to the pages of GQ magazine, it's very cool to see guys like Trav and Scott at the top of one of the biggest and most prestigious races we've ever seen. The young guns will have their day many times in the years to come, but for now the sentimental favourites get to bask in the glory of winning Molokai.
…oh and if you ever wanna pick a SUP race winner, just listen to your heart.