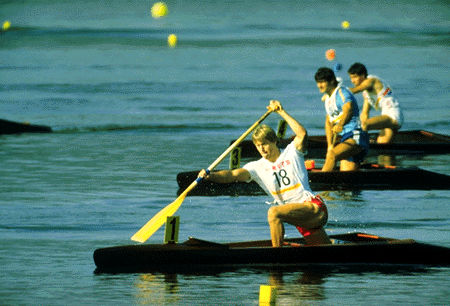 February 21, 2012
by Christopher Parker (@wheresbossman)
SUP Racing Fitness With Olympic Paddler Larry Cain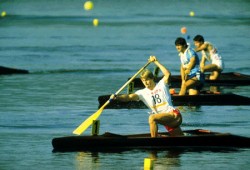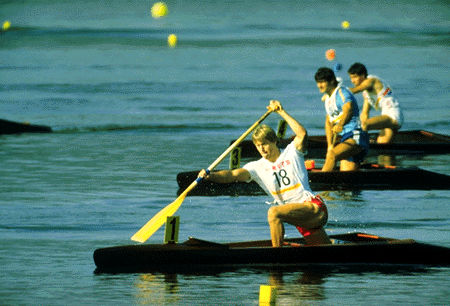 The crew from Thorfinn Expeditions have done a great interview with Team Quickblade's Larry Cain.
Cain represented his country at three Olympic games in sprint canoeing, winning gold @ Los Angeles '84.
After having long since retired from races, the sport of stand up paddling reignited his competitive edge and now the Canadian trains regularly for SUP events, but also just to stay fit in general.
Check out Larry's thoughts on SUP racing and paddling fitness – highlights are below and the whole interview is right here.
Thorfinn: What kind of advice can you share for the new and intermediate paddlers who are looking to step up their training and want to become more competitive?

Larry: Beyond having fun? I'd say spend some time on flat water first getting comfortable using your paddle to move your board. Gathering water behind your blade and getting your body weight off the board and onto your paddle to me the two most critical issues of technique. I think it is impossible for a novice to learn how to do that when they are struggling for balance in rough water. Go to a lake, river or harbor and get comfortable with the feeling of the paddle supporting your body weight before trying to rip it up in big water.
A lot of stand up paddlers only exercise on the water, but most of the elite racers mix things up with gym, cardio and other paddling sports. Here's what Larry has to say about cross training…
Larry: Lots of weights. Some strength weights but a lot of power and endurance weights. Upper body, legs and core. A lot of plyometric work. I also do a lot of balance and agility training in the gym. It is amazing what an effective piece of equipment an 8 foot 2 x 4 is for SUP, especially when combined with a couple of BOSU domes or balance pads.

I also do a fair bit of running – lots of intervals and hills most recently, and if it is lousy outside I can do some pretty hard intervals on a stationary bike.

Stretching has always been something I should do more of but never seem to do. Lately I've been making a real effort on it but it is hard to maintain when you are trying to fit everything into a busy life.
In response to what was his favourite race, here's what Cain had to say…
Larry: Wow….tough call. I have had fun at every event I've been to. I guess the BOP California has been the most fun and most challenging. It's also where I did the worst, but it was so much fun. I'd really like to improve in that race. I love the Carolina races as well. I have made a lot of friends in Carolina and the place feels like home so I love that.
Click here to check out the entire interview.
Also check out Thorfinn's interview with the Mad Scientist of Quickblade himself >> Jim Terrell.