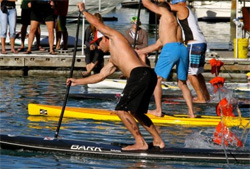 February 8, 2012
by Christopher Parker (@wheresbossman)
Interview With Quickblade's Mad Scientist, Jim Terrell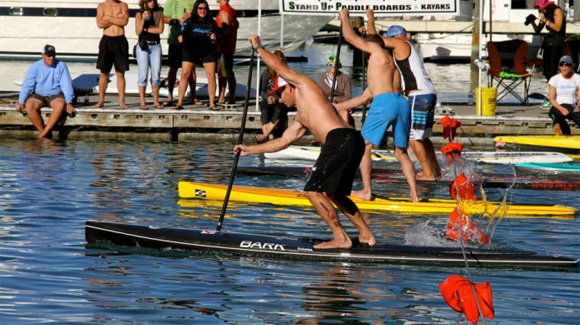 Check out this great interview with Quickblade's Jim Terrell, thanks to the crew at Thorfinn Expeditions.
If you want some insight into the pioneering days of SUP equipment, Jim Terrell is one man you should listen to. He was sending guys like Laird Hamilton and Dave Kalama some of the very first paddles almost a decade ago, before SUP was even a real sport.
Quickblade have been a pioneer of paddle design over the years, and this interview has some great comments from the company's mad scientist about everything from early blade design to the future of the sport.
I won't repost the whole interview – you can check it out here – but these are a couple of the highlights.
On the paddlers influencing the early Quickblade designs…
Jim: …Drew Aiello was the first to find my website and order some, and he referred my paddles to Laird Hamilton and shortly after Dave Kalama. I was quite interested in what they were doing, even though I was not a frequent surfer at the time.
On the surprisingly strong appeal of Stand Up Paddle racing…
Jim: The racing side of this sport is what I love. I was somewhat retired from canoe racing when I was introduced to SUP. I knew the racing would be popular after my first couple SUP races in 2006. It is just too fun. I find that I can be competitive now at the age of 46 – yet I know the level of competition is improving fast and when the European flat water paddlers get into it you will see a new bar raised for sure. Paddlers in Europe train like professionals and have years of scientific experience and knowledgeable paddling coaches to help them get there. What they lack is surf experience, which will take time to learn, but for river and lake races etc. watch out for them on podiums in the next two years.
Pretty cool that Europe gets a mention. Most of the focus of SUP racing is on Australia/California/Hawaii. But having spent most of the past five years living over there, I know first-hand just how fast Stand Up Paddling is growing in places like Germany, France, Spain and Scandinavia. Pretty much all we have over there is flat water paddling, so I think in 10-15 years you might see Europeans start to dominate those types of races.
Anyway just click here to read the entire interview, it's a good one.