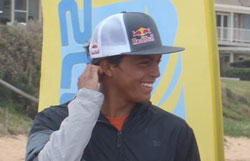 November 3, 2012
by Christopher Parker (@wheresbossman)
[RESULTS] Kai Lenny Wins The Sydney Downwinder-That-Wasn't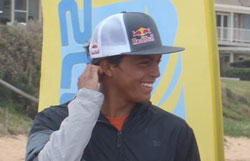 Kai Lenny has just taken out the Narrabeen Downwind race, which was event #4 of the 2012 Sydney Ocean Series.
On day two of his whirlwind Aussie promo tour, the newly minted SUP World Series champion overcame a determined local field to claim victory on the modified course. The event was originally set to be an 18km downwinder, but unfavourable winds forced organisers to set up an impromptu circuit race instead.
The young gun from Maui survived a couple of scares and fought off a determined local contingent to take the win in just over an hour.
Kai heads to the Gold Coast tomorrow (Sunday) where he'll be doing paddle demos for a few days, before heading down to Melbourne next weekend to race the Jetty To Jetty. If you want to stalk meet the boy wonder yourself, check out Kai Lenny's Aussie SUP Tour schedule.
Here's a recap of today's action thanks to event organiser and runner-up Dave Kissane (via the Breeze).
"Conditions were kinda scary at times with some solid 6 footers coming through. The beach start sorted the field out and it was Kai Lenny and Stu Murray who led the pack out the back.

Some of the usual super fast starters (including Big Ben Brown, Sammy Parker and Andy Davies) got caught up in the pack and waves to drop 50 or so metres off the lead by the time they got to the back break.

Pretty soon the form paddler, and previous race winner, Steve Morrison took over the lead from Kai. I was sitting just behind them and could see that Steve was flying. Also couldn't help but notice a couple of sideways glances from Kai, as he realised it might be a bit more than a simple cruise to victory. Unfortunately for Steve, a wrong buoy turn cost him the lead. That seemed to upset his dominant frame of mind and a couple of falls later he was a 100m behind Kai.

Kai basically sealed his win with flawless transition work as he navigated his way through the waves, put in a blistering BoP-style transition and then flew back out the back."
Despite the last-minute change of format, sounds like it was still a really fun race, plus it's cool to see the Sydney locals giving Kai something to chase. Very impressive time from runner-up Dave Kissane. The man is known more for his downwind prowess, so to stay within a minute of one of the world's fastest paddlers over a 70 minute course race is pretty slick.
*****
2012 Sydney Ocean Series: Narrabeen Downwind (aka Course Race) RESULTS
Men's Winner: Kai Lenny
Women's Winner: Michelle English
Over 40's Winner: Steve Floyd
Over 50's Winner: Peter Shepherd
Overall results…
1st: Kai Lenny (70 minutes, 54 seconds)
2nd: Dave Kissane (71:52)
3rd: Steve Morrison (73:06)
4th: Sam Parker (73:33)
5th: Andy Davies (76:37)
6th: Ben Brown (78:52)
7th: Steve Floyd (80:00) // Over 40's Winner
8th: Stewart Murray (81:16)
9th: Brian Logie (82:33)
10th: Michelle English (82:50) // Women's Winner
11th: Luke Rack (83:08)
12th: Neelie Brown (83:19)
13th: John Engel (83:35)
14th: Alison Fullagar (85:25)
15th: Ben Chin (87:13)
16th: Sebastion Hartel (88:54)
17th: Mal Sawer (89:00)
18th: Baby Cakes Evan (90:20)
19th: Alex Fraser (91:40)
20th: Jeremy Corn (92:25)
21th: Peter Shepherd (92:57) // Over 50's Winner
22th: Angela Sawer (94:26)
23th: Duncan Robbo (94:48)
24th: Vanessa Smith (96.01)
25th: Mark Mitchell (96:12)
26th: Kevin Claret (96:12)