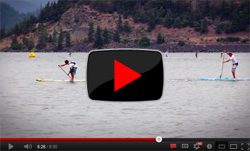 [VIDEO] Kai Lenny's Gorge Paddle Challenge SUP Race Highlights
Check out some slick action from last month's Naish Gorge Paddle Challenge in Oregon, which was dominated by young gun Kai Lenny.
In the latest installment of Positively Kai, we get some insights into what it takes to win an elite SUP race. Kai took out both the Elite Course Race as well as the downwinder, beating an absolutely stacked field that included the likes of Connor Baxter and Jamie Mitchell (relive the full Gorge Paddle Challenge results).