December 14, 2013
by Christopher Parker (@wheresbossman)
Yeah So I Don't Think Kai Lenny Will Be Paddling For A While… (Warning: Graphic Content)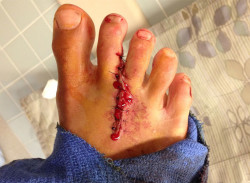 Good thing the SUP racing season is over for the year, because BOP and World Series champ Kai Lenny would be struggling to compete right now. The young champ from Maui took a particularly gnarly fin gash while surfing Pe'ahi (Jaws) today.
The carnage went down at Pe'ahi this afternoon. After one particularly brutal wipeout, Kai surfaced with a huge hole in his right foot, courtesy of his fin. The young star posted this pic on Facebook this evening (with the post getting hundreds of comments, shares and, ironically, close to 2,000 "likes" as well).
Kai was actually plucked out of the ocean by a chopper and flown to hospital after this happened, just to add even more drama to the incident. Until his session was cut short (no pun intended) the Naish poster boy was one of many well known SUP racers who'd been charging Jaws all week. Big wave stalwart Jamie Mitchell was out there the same session, while the likes of Zane Schweitzer and Connor Baxter are Pe'ahi regulars as well (a break that was actually pioneered by another SUP racing supremo: Dave Kalama).
SUP racing, despite a few gnarly crashes at the Battle of the Paddle, is a relatively safe and easy sport. So it's interesting to watch these guys ditch their 12'6s and take on huge waves in the off season.
So there you go, the reigning BOP California Elite Race champ won't be in the water for the next couple of weeks. It's not like there's any big races coming up, but it'll still be a tough ask because there's a huge swell hitting Maui in four or five days.
Oh and here's the shot from right before the stitches went in, just in case you wanted an ugly closeup…