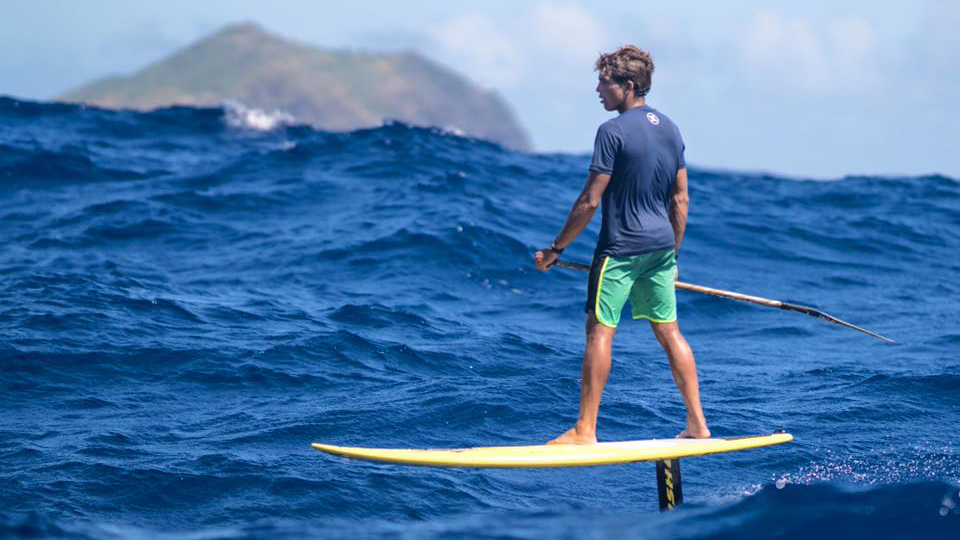 April 5, 2017
by Christopher Parker (@wheresbossman)
Kai Lenny Foils His Way to a New Molokai-Oahu Channel Crossing Record (Updated with Insights from Kai)
https://www.instagram.com/p/BST_AoJg-Pv/
SUP superstar and pioneering ocean athlete Kai Lenny has chalked up yet another landmark achievement, smashing his own Molokai to Oahu record in a solo attempt that saw him complete the iconic channel crossing on a SUP in less than three and a half hours.
Kai set the official record during last year's Molokai-2-Oahu race, claiming the elusive and highly prestigious title after outlasting defending champ Travis Grant in a 4 hour 7 minute battle.
But in an out-of-competition foilboard crossing last week, Kai absolutely smashed that mark by 41 minutes to set a new best time of 3 hours 26 minutes. And according to the young man himself, that mark could easily be beaten.
Of course there's an obvious asterisk here: Foils aren't allowed in the M2O race, at least not yet, which means this will go down as an unofficial record for now. But either way, Kai still had a paddle in his hands, which means this is still a SUP record of some sort.
And asterisk or not, this effort proves once again that Kai Lenny is not of this world.
Riding his signature Naish Malolo foil, Kai smashed the Molokai record of not only SUP but also prone and OC-1. In fact this new time of 3:26:00 is only four minutes off the all-time record from the Molokai to Oahu surf ski race, which has always been the quickest way to paddle the channel. Or at least it was until foils came along.
To add to the achievement: Kai did this as part of his "Downwind Voyage for Change" goodwill mission through the Hawaiian Islands, a special project with Red Bull that saw him lead beach clean up missions on from the Big Island in the south to Kauai in the north while raising awareness of ocean pollution.
As part of this mission, Kai decided to foil between each island rather than, you know, take a plane or something.
https://www.instagram.com/p/BSZUCDqAtgQ/
I chatted with Kai to get his insights on this epic voyage and to ask just how far he thinks the foilboard revolution will go in regards to channel crossing records.
Turns out he was meticulous in his approach to the M2O SUP crossing, taking the exact same course at the exact same start time as the official race in order to gauge just how much faster a foilboard can be. Conditions were actually slower than during the 2016 race due to tidal currents, which means he or someone else on a foilboard could realistically push the record down towards the three hour mark.
It wasn't too long ago that five hours was considered the "four minute mile" for paddleboarding across the Ka'iwi Channel, but now here we are suddenly contemplating the possibility of sub-three hour times.
"Hi Chris, yeah so to give you a quick run down on the crossing: I did the exact course of the M2O race at the exact same start time of 8am. Conditions were really similar to last year with the same amount of wind (~15 knots), only this time there was a 6 knot outgoing tide coming out of Hawaii Kai that made it pretty tough.

The whole thing came about because I was doing this project with Red Bull called the "Downwind Voyage for Change" to bring awareness to ocean plastics polluting our oceans – something I've been passionate about since my life revolves around the sea.

I learned a lot and crossed all the major islands via hydrofoil (except for the Kauai leg). From Big Island to Maui I was on my surfing hydrofoil, Maui to Lanai and Lanai to Molokai I was on my kite hydrofoil, while Molokai to Oahu I was on my SUP hydrofoil.

For the Oahu-Kauai leg I sailed on a 42 foot mono-hull, and we collected samples of ocean trash for the scientists at 5 Gyres to analyze. On every island we did a beach clean up and collected upwards of 3 tons of trash with Sustainable Coastlines.

The whole experience was mind opening.

The reason I wanted to do the M2O on the foil was to see, first of all, if it was possible, and second of all how fast I could do it. I was blown away by its potential, and the time I set could easily be broken.

With the right conditions, training and equipment, 3:26:00 will be smashed down towards the 3 hour mark I would say. We will have to wait and see how it all develops!"
So there you go. This guy just set a massive Molokai record and he's already considering how much faster he could go.
Kai Lenny you are a freak, and we salute you.
https://www.instagram.com/p/BSOzsSigVno/
https://www.instagram.com/p/BSOyH-_gACp/
Footnote: In a crazy slice of random luck, I got to surf Cloudbreak with Kelly Slater and one other guy during the ISA Worlds in Fiji last November (I'm still trying to figure out how I managed that…).
Anyway, I got chatting about SUP racing and foil surfing with Kelly, and The King casually mentioned how he thinks his friend Kai is "The best all-round surfer in the world right now, hands down."
Not a bad compliment… And it just goes to show the level Kai is on these days.