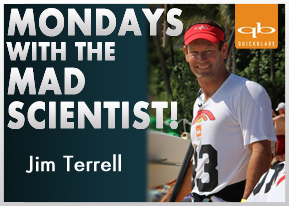 April 30, 2012
by Jim Terrell
Jim Terrell's Race Insights From The Carolina Cup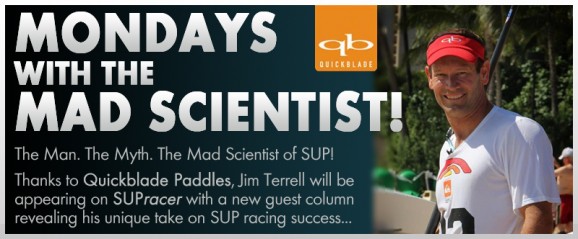 So the 2012 Carolina Cup Stand Up Paddle race was again a great event! I heard over 300 competitors plus another 300 demo'ing boards, so it was a huge weekend all round.
I woke up to a nice breakfast buffett at the Blockade Runner Hotel, which was also the race headquarters. The hotel ball room served as storage rooms for the weekend with over 100 race boards from at least 15 different manufacturers, for racers from at least 10 different states.
The weather was perfect for paddling, with slightly overcast conditions that cleared a bit as the race got underway. Not too hot, not too cold.
It was a very strong field with stand up paddle racing stars like Danny Ching, Candice Appleby, Chase Kosterlitz, Brandi Baksic, Anthony Vela, Heather Baus, Matt Becker, Larry Cain, Dan Gavere, Bryan Kurt and many others…
The elite race course was tough and challenging. We had light surf for the start and finish, with some diagonal wind swell once we got into open ocean. The course was a 12.5 mile loop that had wind coming at you from almost every angle at some point.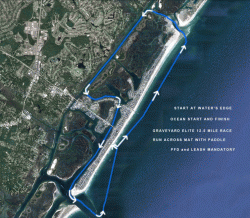 The race started off with a 500 yard paddle straight off the beach and then headed South with some bumpy conditions and light runners. We then rounded the jetty and headed into the inter-coastal waterway.
That's where drafting became a big part of the strategy, as we all tried to gain positions in the flat.
Danny Ching (California) had the lead followed by Chase Kosterlitz (Florida), while Matt Becker (California) and Nick Leason (Puerto Rico) worked together for a while to try and close the gap.
Larry Cain (Canada) and myself also teamed up and eventually managed to gain some ground back on Matt and Nick by the end of the flat stage, before entering back into the ocean.
For my race strategy, I planned on getting a good enough start to stay with (or ahead) of Larry or Chase, as I know how strong and fit both those guys are in the flats. I also knew they'd be great engines for a draft train should one form (as it inevitably did).
Halfway through the race and while we were still on the flats, I ended up in the lead of a five-man group featuring Larry, Anthony, Byron and Matt. After a couple of miles into a solid headwind, this drafting train narrowed down to just Larry and myself.
Once we got back out into the open ocean it was just a straight fight to the finish, with some challenging wind chop and swell not making it any easier. Hydration was also critical as many people were quite fatigued after the 2 hour plus race.
By the finish it ended up with Danny in first, Chase second, Matt third, Nick 4th, myself 5th, and Larry 6th.
My goal was top 5 so I just made it.
– Jim
*****
Big thanks as always to Quickblade Paddles for letting their Mad Scientist out of the lab to share his great race insights with us.
Coming up next on Mondays With The Mad Scientist! – Jim Terrell on location in Hawaii, the Waikiki Paddle Festival and more.
*****
Carolina Cup Elite SUP Race Results
1st: Danny Ching
2nd: Chase Kosterlitz
3rd: Matt Becker
4th: Nick Leason
5th: Jim Terrell
1st: Heather Baus
2nd: Brandi Baksic
3rd: Candice Appleby
4th: Helga Goebel
5th: Karen Wrenn
(Want to see the full results? Click here: 2012 Carolina Cup Results and Photos)