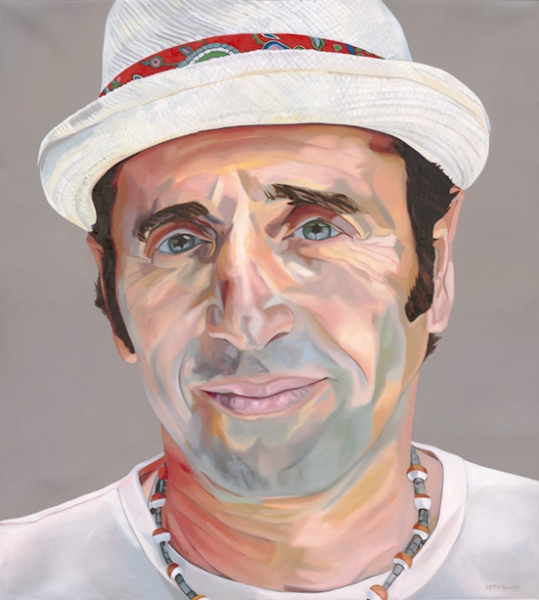 February 22, 2013
by Christopher Parker (@wheresbossman)
The Fernando Aguerre Interview, Part I: "Why Do You Like Paddleboarding?"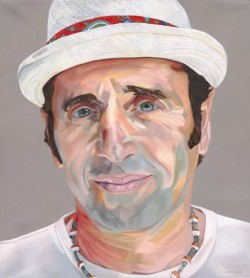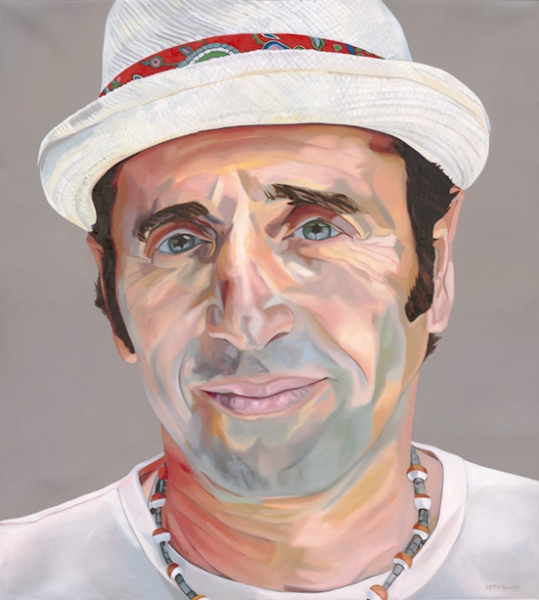 The 2013 ISA Worlds are just a couple of days away. There are 23 different nations starting to fill up the beaches of Miraflores, Peru, and on Sunday it all kicks off. This is the second year the International Surfing Association has hosted the World Standup Paddle and Paddleboard Championship, after the inaugural event in 2012, and the driving force behind it has been ISA President Fernando Aguerre.
Fernando has worked for the ISA for almost 20 years and has been involved in the surf industry for even longer. With his brother, he established the world famous Reef sandals brand in the 80's, before selling the company in 2004. These days he actively campaigns, with trademark enthusiasm and charisma for the development of surfing and paddleboarding around the world.
With the World Paddleboard Champs coming up, I sat down with Fernando in La Jolla last week for a chat. Apart from being suitably impressed with his massive surfboard collection (everything from Kelly Slater shortboards to Tom Blake paddleboards, even a few pieces from the 1800s…) the main thing I walked away with is that Fernando Aguerre is passionate about this sport.
Anyone that's spent five minutes with the flamboyant ISA President will know what I mean. "Enthusiastic" is an understatement… so check out Part I of our interview below and hear why the ISA got involved with SUP, what role it has to play in the world of paddleboarding, and what makes this event so unique.
<< SUP Champions Tour />
The Fernando Aguerre Interview, Part I 
Why do you like paddleboarding?
Paddleboarding for me is a very ancient and pure form of surfing. From very early on almost every culture had some sort of paddleboarding or stand up paddling. It wasn't SUP as we know it today, but there is still that connection.
I have photos from very remote areas of China, where they're standing and paddling on small fishing boats in the rivers. When we think of "boats" we think of these big modern craft, but originally, the first people who went into the ocean went on boats made out of tree trunks.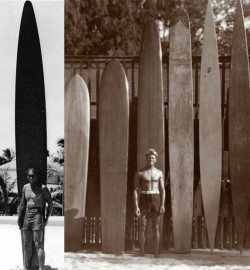 So for me it's a very ancient way of relating to the ocean. It's very basic.
I love history as well. When we say surfing we think of riding waves on a surfboard, but you only have to go back 70 or 80 years and you see that surfing means riding waves, period, not necessarily on a surfboard. You can surf waves with your body, on a longboard, bodyboard, a paddleboard, or even a traditional boat. Imagine in the early times, when people came back from their ocean fishing trips, the last part of their journey would have been surfing the waves!
As for the modern version of SUP, I know Laird Hamilton and Dave Kalama quite well and so when I saw them playing around with stand up paddle boards early on, I got very excited about it. My brother, my friends and I started practicing, getting out there on these big old SUP boards. It was really exciting, though we never thought it was going to catch on fire like it has. For us it was a pastime between swells.
But eventually I ended up really appreciating it. In Argentina we started doing it on lakes and rivers, though the first time I really took it seriously was in Hawaii. It wasn't in the ocean either, we just hired boards and paddled up the Haleiwa river, as far up as you can go. That moment was what got me really excited about stand up paddling.
When did the ISA become involved with stand up and prone paddleboarding, and why did you choose Peru for the first two years?
I first tried to do something with SUP in 2009, but there were just too many things happening at the ISA to make it happen. We kept working on it during 2010 and 2011 and of course it eventually happened in 2012 in Peru.
A lot of people think that we have been to Peru two years in a row because we like Peru more than any other country, but that's not it. I've seen comments saying "Oh you guys should bring it to Australia or the USA". We'd love to bring it to America or Australia! But we need a host that's willing to invest.
In Peru we have a great promoter and organiser that hosts the event. But it's not only that, we also have the government, the ministry of sport, the national Olympic committee and the tourism board all willing to invest money. These are countries, cities and governments that see the benefit of promoting a sport they love. While in some other countries maybe it isn't seen the same way.
As said, my light went on in 2009. We actually almost had it early on in Dubai, where there is very dedicated bunch of SUP'ers, but we just couldn't make it happen. We also spoke to the Chinese and they are probably ready, but then Peru said they wanted to do it and they were ready.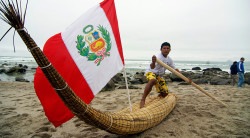 Peru has a long tradition of prone paddling, which is one of the oldest forms of surfing competition, going back even before wave surfing contests. So for us, Peru was a logical place. And then having Club Waikiki involved was a big thing. That place is the cradle of Latin American surfing and they have a strong tradition of waterman events, paddling, racing, swimming, surfing, big waves, tandem, etc. So for me it was a logical choice.
I would love to host it in other countries as well but I think it's very important for SUP fans to know: This is not a decision by the ISA against or for any country. It's a matter of opportunity. We would be happy to go to any country that can host this event, but an event like this is not easy. The local organisers need a budget of half a million plus, so most surfing federations and organisers are not interested.
What's the role of the ISA in the world of paddleboarding?
The whole format of the ISA isn't to be like a contest organiser or event promoter. We're an international federation, so we've got a couple of basic goals.
First, to take what we believe are great sports to places that don't already have them. Maybe because of socioeconomic conditions or maybe because they were simply never introduced to it. I come from a young surfing nation; surfing in Argentina started in the 60s, so by then there was already a huge culture in Hawaii, California and Australia. The introduction of surfing in Argentina sort of happened by chance, but I think if we do it in a more proactive way there's huge potential, as we're now seeing all over Asia, Africa, Europe and Latin America.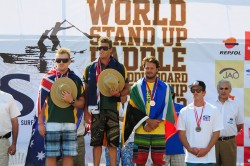 So what the ISA brings is totally different to what a pro tour will bring. We're not interested in running a series with prize money, that's something the promoters can do, in the same way the ASP runs their surfing world title and we run the World Surfing Games. We aim to be the Olympics of surfing and paddling.
An ISA event like the World Standup Paddle and Paddleboard Championship brings a different aspect to the sport; a competition with team camaraderie, but also cultural interaction. Sort of like what would happen if you're ever lucky enough to be an Olympian. I was talking to Jamie Mitchell and some of those guys, and the ISA events become tattoos in their hearts forever, because it's just such a good feeling that you take home. It's very, very special. We think that has a huge value for anyone in the competitive world.
So what can we look forward to in Peru (apart from the paddling) especially for those of us who've never been?
The first thing: there's going to be waves every day, which is wonderful. That's a very nice thing about Peru.
Second thing: Peru is a very friendly country with very welcoming people. Also Peru has become very famous in the past 10 years for its food. Some of the best restaurants in the world are now in Peru. I fast before I go to Peru because there is so much amazing food!
Plus Peru has such an amazing ancient culture. There have been civilisations living there for thousands and thousands of years. Places like Cusco and Machu Pichu are absolutely amazing. People that go to Peru and don't visit that area are missing out; it would be like visiting Egypt and not seeing the pyramids!
Who's your dark horse bet for this event?
My heart is in Argentina of course, but I just like the underdog having fun, we always love the underdog giving a hard time to the champions. I think just seeing the developing countries competing alongside the strong paddling nations will be amazing.
There's probably going to be a race between the top eight to ten competitors in each event, but then we will also have another battle between some of the newer countries. Hopefully some of those underdogs can come up and win some medals as well. For example Spain last year surprised a lot of people by taking the team Copper Medal.
Everyone loves an underdog, so that will be a really exciting part of the event!
Coming up in Part 2 of the Fernando Aguerre Interview…
What makes the ISA World Paddle Champs so special, not only for the sport but for the competitors themselves; the love/hate relationship between SUP and surfing; the opportunities & issues of national surfing federations taking SUP under their wings; the best way forward for the sport; and the possibility of Stand Up Paddling becoming part of the Olympics.
>>> Follow the event live with our 2013 ISA SUP World Champ mini-site