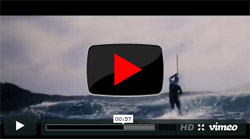 40 Knots In The South Of France: New "ION Downwind Experience" Teaser Video
Here's another video promoting what is perhaps the coolest sounding (and definitely the most mysterious) SUP race/event/thing of 2013: the ION Downwind Experience.
We posted the first ION Downwind Experience video the other week and now the second teaser trailer has been released. The whole thing is still pretty sketchy as far as details go, but the basic idea is this: Wait for some crazy fast winds (40 knots plus) to start blowing in the South of France, go do an open ocean downwinder with a bunch of good stand up paddlers, then film the whole thing and release the video online.
Sounds (and looks) like good fun, and the waiting period starts in just a week or two (March), so we'll keep you posted with how it goes. Until then, enjoy the teaser…