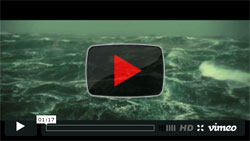 February 8, 2013
by Christopher Parker (@wheresbossman)
Beaufort 12 Downwinder, Anyone?
According to this video, something's happening somewhere in France that's got something to do with downwind paddling and crazy winds. Or something…
Our dodgy translations of the French updates on the official Facebook page, the ION Downwind Experience is some sort of ultra-endurance ocean SUP journey.
The video below suggests the goal is to paddle in the wildest winds possible, though from what we can tell the Downwind Experience seems to be a long-distance ocean adventure on the Mediterranean. Though either way, it would be pretty cool to see a Stand Up Paddler riding Beaufort 12 bumps…
Watch the teaser below and we'll keep you posted if anything else pops up.