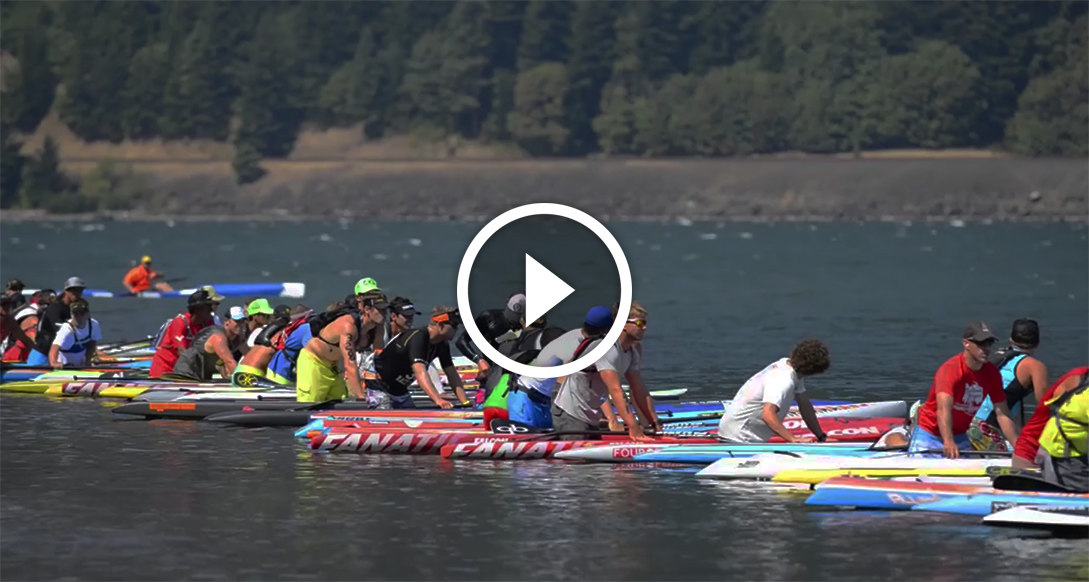 August 10, 2015
by Christopher Parker (@wheresbossman)
Countdown To The Gorge: Relive Last Year's Classic With This Great Highlights Reel
Twelve days and counting til one of the biggest races of the year: The Naish Columbia Gorge Paddle Challenge in Hood River, Oregon. It's set to be a classic, with a sizeable chunk of the world's top international paddlers joining a big group of local and domestic wildcards for an awesome weekend of racing.
The Gorge is a top event, not only because of its unique conditions (inland downwinder) but also the great local paddling community and the laidback vibe of Hood River in general. It's definitely one of my favourite stops on the international calendar.
And thanks to the help of SIC, we'll be able to bring you a live blog of the action all weekend. It's happening on August 22nd & 23rd, and to get you in the mood here's a great clip from last year's showdown. Courtesy of photog extraordinaire Andrew Welker, this highlights reel gives you a good glimpse of the Elite Course Race and then the main event: The Double Downwinder.
Look closely at the 29 second mark and you'll see Connor Baxter/Slater Trout suffering the worst possible start to the Course Race. The two stars lined up side by side, proceeded to bump each other off in the first few seconds of the race and had to fight back through the pack. Slater recovered for a top 10 finish, coming home just ahead of Kai Lenny (1:47), while Connor put in an incredible surge on the opening lap to rejoin the lead pack and eventually steal the victory (1:31).
Other big performances came from Georges Cronsteadt, Travis Grant, Danny Ching, Jake Jensen, Kody Kerbox, Arthur Daniel, the list goes on. In the women's it was Annabel, Angie, Fiona, Candice, Sonni, Andrea, and more. Yep, there were a lot of big names at the Gorge last year. In fact the event was the third-highest ranking men's and second-highest ranking women's race of 2014, at least according to our Race Index leaderboard.
This year's edition looks set to be just as big, perhaps even bigger.
Based on results from the 2015 season so far, I'd rate Travis Grant, Connor Baxter, Danny Ching, Titouan Puyo, Kai Lenny and Mo Freitas as the best half a dozen paddlers in the world right now (in that order). I can confirm that Travis, Connor, Danny, Titou and Mo will all be in Hood River, while I assume Kai will return as it's his sponsor's headline event. They'll be joined by many of the world's top 10 women, dozens of other world ranked athletes and a big contingent of local pros and amateurs that help make this one of the best races of the year.
Long story short: We should be in for another classic showdown up at the Gorge.
Anyway enjoy the clip up top, and if you're curious, here are the Top 10 finishers from 2014 in both the Course Race and Double Downwinder…
ELITE MEN'S DOUBLE DOWNWINDER
| # | Name | Downwind 1 | Downwind 2 | Overall |
| --- | --- | --- | --- | --- |
| 1 | Connor Baxter | 1:02:39 | 1:09:03 | 2:11:42 |
| 2 | Georges Cronsteadt | 1:03:32 | 1:09:41 | 2:13:13 |
| 3 | Travis Grant | 1:03:36 | 1:10:16 | 2:13:52 |
| 4 | Jake Jensen | 1:04:55 | 1:11:26 | 2:16:21 |
| 5 | Danny Ching | 1:04:23 | 1:12:07 | 2:16:30 |
| 6 | Bruno Tauhiro | 1:05:37 | 1:13:14 | 2:18:51 |
| 7 | Andrew Logreco | 1:06:00 | 1:14:44 | 2:20:44 |
| 8 | Chase Kosterlitz | 1:07:23 | 1:13:49 | 2:21:12 |
| 9 | Travis Baptiste | 1:06:45 | 1:15:18 | 2:22:03 |
| 10 | Slater Trout | 1:07:49 | 1:16:01 | 2:23:50 |
ELITE WOMEN'S DOUBLE DOWNWINDER
| # | Name | Downwind 1 | Downwind 2 | Overall |
| --- | --- | --- | --- | --- |
| 1 | Annabel Anderson | 1:15:01 | 1:20:48 | 2:35:49 |
| 2 | Angela Jackson | 1:17:25 | 1:22:02 | 2:39:27 |
| 3 | Fiona Wylde | 1:16:29 | 1:23:39 | 2:40:08 |
| 4 | Candice Appleby | 1:16:36 | 1:25:01 | 2:41:37 |
| 5 | Sonni Hönscheid | 1:19:34 | 1:23:12 | 2:42:46 |
| 6 | Andrea Moller | 1:17:42 | 1:28:01 | 2:45:43 |
| 7 | Lina Augaitis | 1:21:41 | 1:25:07 | 2:46:48 |
| 8 | Shae Foudy | 1:21:58 | 1:29:28 | 2:51:26 |
| 9 | Shannon Bell | 1:23:15 | 1:28:13 | 2:51:28 |
| 10 | Devin Blish | 1:22:11 | 1:29:18 | 2:51:29 |
ELITE MEN'S COURSE RACE
| # | Name | Time | Age |
| --- | --- | --- | --- |
| 1 | Connor Baxter | 0:56:02 | 19 |
| 2 | Travis Grant | 0:56:11 | 31 |
| 3 | Danny Ching | 0:56:15 | 31 |
| 4 | Georges Cronsteadt | 0:56:22 | 34 |
| 5 | Kody Kerbox | 0:56:31 | 20 |
| 6 | Jake Jensen | 0:57:10 | 19 |
| 7 | Arthur Daniel | 0:57:22 | 18 |
| 8 | Chase Kosterlitz | 0:58:03 | 28 |
| 9 | Slater Trout | 0:58:16 | 19 |
| 10 | Kai Lenny | 0:58:18 | 21 |
ELITE WOMEN'S COURSE RACE
| # | Name | Time | Age |
| --- | --- | --- | --- |
| 1 | Annabel Anderson | 1:01:53 | 33 |
| 2 | Lina Augaitis | 1:02:21 | 33 |
| 3 | Candice Appleby | 1:03:20 | 28 |
| 4 | Sonni Hönscheid | 1:04:18 | 33 |
| 5 | Angela Jackson | 1:04:21 | 38 |
| 6 | Shae Foudy | 1:05:00 | 15 |
| 7 | Fiona Wylde | 1:05:47 | 17 |
| 8 | Shannon Bell | 1:05:54 | 40 |
| 9 | Alyson Fromm | 1:08:01 | 20 |
| 10 | Jennifer Lee | 1:08:08 | 33 |
---
Want more great stand up paddle videos? Check out the SIC Showreel for hundreds more top picks: