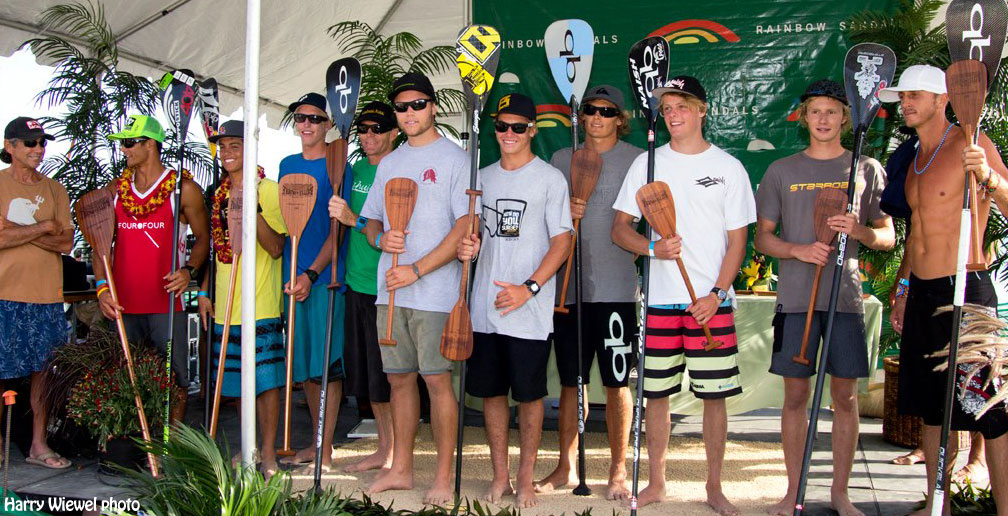 October 24, 2012
by Christopher Parker (@wheresbossman)
Where Are All The 20-Somethings…?
Here's a random, kinda weird stat from last month's Battle of the Paddle: Nobody in the Top 18 of the Men's Elite Race was between the ages of 20 and 28 (aka the prime age for competitiveness in most sports…).
To make things even more odd, there was a perfectly even split on either side; virtually half the top finishers were under 20, while half were over 30. So where's the missing generation of 20-somethings in our sport…?
Here are the numbers:
– In the Men's Elite Race final there was only 1x 20-something in the Top 10. Granted he was at #1, Danny Ching, but Danny is 29 years old, so he barely counts.
– If you go all the way down and include the Top 18, there was only one more 20-something, Beau O'Brian, and he's 29 as well.
– So that means out of the 18 best paddlers in the world last month, none of them were between the ages of 20 and 28, which is pretty much seen as the prime age for competitiveness in almost all other sports.
Plus there's a perfect balance to the numbers…
Under 20 years: 8x paddlers in the Top 18
20-29 years: 2x paddlers in the Top 18 (and they were both 29 years old)
Over 30 years: 8x paddlers in the Top 18
So while there were no paddlers in their mid-twenties at the top end of the Battle of the Paddle results, there was an even amount on both sides. Eight youngsters made the Top 18, and they were joined by eight members of the older guard.
To be fair, there are a few elite SUP racers in their mid-twenties, for example Chase Kosterlitz is 26 and Fernando Stalla 25. But still, when you consider that the "mid-twenties" crowd dominates a lot of other athletic sports, this seems like a bit of an anomaly.
So how has this happened? Were the results from the Battle a total anomaly or is there really a missing generation of stand up paddler racers?
I figure that in the beginning (say five years ago), SUP racing wasn't being picked up by many young kids (the 15-20 year olds). Maybe it wasn't cool enough, it was too expensive, or it just wasn't mainstream enough for them to take notice. The main people racing competitively back then were in their late twenties, thirties or forties.
So fast forward five years later and there's pretty much a whole missing generation in our sport: Very few paddlers in their early to mid twenties are at the top of the SUP racing ranks right now.
Of course that's going to start changing soon, thanks the massive influx of talented youngsters (8x of the Top 18 were under 20 years of age, and 6x of those guys made the Top 10). The first wave of youngsters are about to hit their twenties; Kai Lenny turned 20 two weeks ago, and guys like Connor Baxter, Slater Trout, Casper Steinfath, etc are only a year or two behind.
But still, I think it's kinda weird, and kinda cool that very few paddlers in their mid-twenties are at the top of our sport right now. It's almost like a changing of the guard; there's the 30+ (and 40+) crowd that pioneered the sport the past five years, and then there's the youngsters who are starting to really step things up. There's just not many paddlers in between…
*****
2012 Battle of the Paddle, Men's Elite Race Top 18
1st: Danny CHING // 29 years old
2nd: Kai LENNY // 19
3rd: Connor BAXTER // 18
4th: Kelly MARGETTS // 40
5th: Slater TROUT// 17
6th: Mo FREITAS // 15
7th: Jamie MITCHELL // 35
8th: Casper STEINFATH // 19
9th: Lincoln DEWS // 16
10th: Ryan HELM // 38
11th: Paul JACKSON // 35
12th: George CRONSTEADT // 32
13th: Jake JENSEN // 17
14th: Anthony VELA // 38
15th: Beau O'BRIAN // 29
16th: Kody KERBOX // 18
17th: Eric TERRIEN // 30
18th: Jay WILD // 32
Under 20 years old: 8x paddlers
20-28 years: NONE
29 years: 2x paddlers
Over 30 years: 8x paddlers
See the full results >>> 2012 Battle of the Paddle Elite Race RESULTS 
[Thanks to Jim Terrell from Quickblade Paddles for the heads up on this topic]