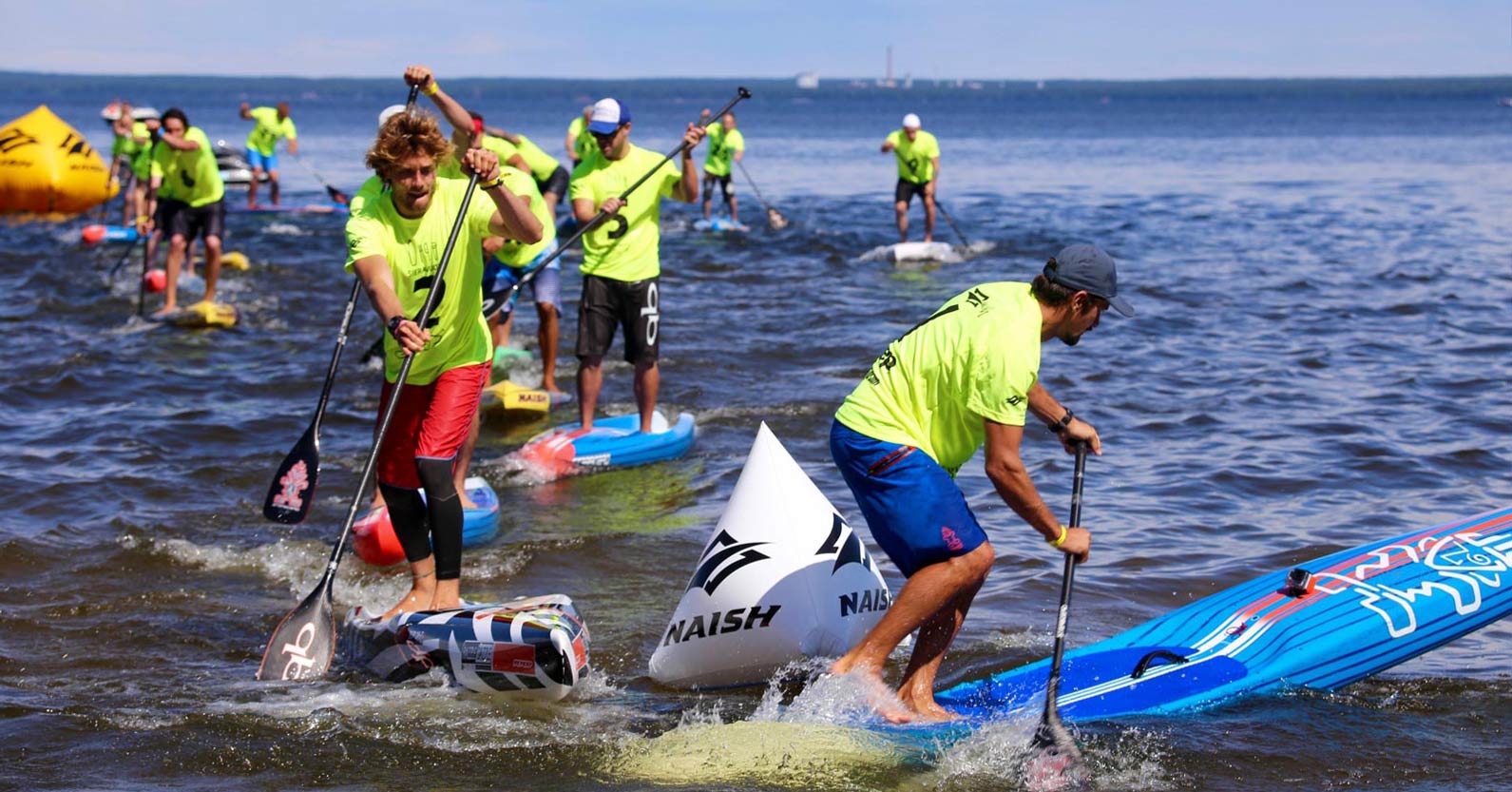 July 10, 2016
by Christopher Parker (@wheresbossman)
Fun Times in Finland: One Week in the Land of Lakes, Saunas and SUP Racing
As we drove from Helsinki Airport north into the Finnish countryside, and as the city buildings gave way first to regional towns and then to nothing at all, I wondered: Why on earth are we coming here for a SUP race?
By the end of the week I didn't want to leave…
Lomakeskus Sieravuori, or just Sieravuori, is a lakeside retreat sparsely dotted with campsites and cottages in the middle of absolutely nowhere, and the only thing that matches the scale of its wide open expanse is its magical natural beauty and extremely welcoming hosts.
They call Finland the "Land of a Thousand Lakes," however that's a gross understatement — there are actually 187,888 of them. Finland's other national treasure, apart from Formula 1 drivers and, at least a decade or two ago, Nokia phones, is the traditional wooden sauna.
To visit Finland and not enjoy a sauna would be like traveling to Maui and not going paddling. Saunas are a way of life in this country, and Sieravuori is no exception: Many of its cottages have their very own built in, while there are three larger ones that all sit within a stone's throw of the lake, perfect for a cold water plunge (naked, of course) to balance out the sweltering heat of the sauna itself.
There are few things in life as relaxing as a good sauna, and that pretty much sums up my week out here in the Finnish countryside for the 4th annual Sieravuori SUP Masters, aka Week 10 of the 2016 EuroTour. Relaxing.
It also helps when it literally never gets dark; The sun sets at 11pm at this latitude, however it doesn't drop too far below the horizon, with the early morning hours offering a lingering sense that the weather gods can't decide between day and night. It's not quite a true "Midnight Sun" but it's mighty close. I snapped this photo a few minutes before 12am…
However, all that late-night lazing about in saunas (along with some possibly-excessive consumption at the campsite bar) was interrupted by what we were primarily here for, but which had almost become an afterthought amid the grand serenity of this beautiful location: Racing.
But if Sieravuori's beauty was magic, so was the racing, with an unexpectedly-fun two days of paddling that put a smile on all our faces.
At first I assumed we'd be in for the standard flat water race on a lake, but instead we were greeted with great conditions for a "surprise downwinder" on Friday and an entertaining JM Survivor Race on Saturday.
It was far from perfect on the eve of the race though, with the mercury hovering around 13°C (57°F) on Thursday and a constant drizzle sapping our energy. Not the exciting, torrential rain that makes you stare out the window or go for an intense, stormy paddle, but the kind of light rain that makes you wonder why you left the 32°C (90°F) paradise of Mallorca a few days earlier. If the weather was going to stay like this, I was seriously considering retreating to the sauna and letting the others battle it out in the cold.
But we awoke on Friday to a new season, one that you'd expect at this time of year but which is never a guarantee in the Nordics: Summer.
The sun was out in force on Friday morning, and so too was the wind. So instead of the usual flat water course (which would have included a painful headwind section given the conditions), our always-positive, always-helpful and fearless host from Sieravuori, Jari Laakso, who seems to pretty much run the sport of stand up paddling in Finland, and Belar from the EuroTour made the call to hold a downwinder, with the bumps blowing down the lake on a near-perfect angle all the way from Sieravuori to the south shore.
It was Finland's first ever downwind race.
The run was roughly 14kms, including a 700m dash from the beach out to a turning buoy before a straight line paddle all the way home.
As expected, the "Italian Mafia" were quick off the line and soon in control of the race, with Leo Nika and Paolo Marconi setting a strong pace out front, while Leo's brother and future prospect, Claudio, along with Italian dark horse Leonardo Toso tustled all the way for 3rd and 4th.
Behind them I was enjoying a good battle with Belar Diaz. I was also enjoying the fact I was ahead of at least half a dozen paddlers that definitely would have beaten me had this been a pure flat water race.
In the end, Leo was too strong for Paolo, crossing almost three minutes clear thanks in part to his superior strength — Leo sits 4th on the EuroTour Leaderboard behind only Connor, Boothy and Titou — and also his superior board choice; Leo was paddling the Starboard Ace, which is hard to match in moderate downwind bumps such as these.
The junior Nika, Claudio, was impressive in third, showing that if he spends as much time on the water as his older brother, he'll be right up there at the big races in the next few years.
In the women's race, Spaniard turned Italian Susak Molinero was in a race of her own, finishing not only on top of the women's field but top 10 in the men's. Susak cruised through the bumps on her unmissable "Razzle Dazzle" board from RRD to claim victory, going one better than her boyfriend Paolo.
It was an impressive runner-up effort from local youngster Elle Laakso, who showed maturity beyond her years in conditions that would surely have intimidated most flat water paddlers. It was also a fighting performance from Emmi Prykari, who doubted the distance before the race but made it all the way to the line with a smile.
There were a few DNFs after the wind started blowing paddlers too far left in the final couple of kms, along with the most innovative jetski-assisted rescue of a raceboard I've ever seen, but I'd say everyone that arrived at the finish was happy with the race, even if it was a huge challenge for those that have never ventured outside flat water before. The field was small but spirited.
Oh and everybody gets to claim they were part of the first ever downwind race in the Land of a Thousand Lakes.
Apart from the familiar names, it was great to see many fresh faces from the Baltic region. That included Latvian brothers Dagnis and Arvis Iljins, members of their national Olympic C1 training squad that have crossed over into SUP recently.
Special mention also goes to Marti Viilu, who like many others had taken the ferry across the sea from the Baltics. Just like many others in the race, Marti had never done a downwinder before, spending most of his time either kneeling or in the water. But he never gave up, and although he took more than double the winner's time to finish, he finished. (Marti also brought a case of champagne with him from the ferry, which was greatly appreciated at the after party.)
---
For the less serious athletes among us, Friday night was a mix of bar-side festivities and another late-night sauna session — a double dose of dehydration that was a lot of fun but also the worst possible prepration for the following day's racing.
Saturday morning we awoke – some of us later than others – to even better weather, with barely a cloud in the sky and no more than a breath of wind. This was the kind of Nordic, lakeside summer day you see in the postcards.
That set us up for a super fun JM Survivor Race, which once again proved it's one of the best race formats in the sport.
The knockout format, which involves 5x one-lap races held back-to-back with only two minutes rest in between, and which drops the last few paddlers each round, only lasted for about 30 minutes but felt like a marathon.
Leo was once again too good for the small but excited field assembled on the beach at Sieravuori. The Starboard team rider had perfected the running start, hitting the first buoy (and the last) in first place on pretty much every round, including the all important final lap.
His victory here in Finland makes Leo the winningest male athlete on the EuroTour, with three wins (Portugal, Greece and Finland) trumping the two wins of both Connor Baxter and Michael Booth (Sonni Honscheid has three wins on the women's leaderboard).
Right on Leo's tail for the second day in a row was Paolo, with Claudio not too far off the pace.
The unlucky one was Leonardo, who was relegated in the penultimate round by a fraction of a second, sending his hopes of claiming top five prize money out the sauna window.
The "dark horse of the day" award went to Arvis Iljins, who was a DNF on Friday but powered around the short course to secure a place in the final six. The C1 paddler lost valuable seconds around each buoy but more than made up for it by charging through the straights. Look out for these guys – and the rest of the European C1 community – if they take stand up paddling more seriously over the next few years.
In the women's Survivor, Susak was once again too strong, though Elle showed some of the skills she honed at the Junior SUP Fiesta a couple of months ago to earn a well deserved runner-up spot for the weekend.
Despite the very short course – perhaps 500 metres – Survivor racing is an interesting mix of skill, strategy and endurance.
And I'm speaking from personal experience. By the end of the race, and after somehow lucking my way through to the final, I felt more exhausted than I have been in a long time (and was reminded that I probably need to train a little more seriously before the 11 City Tour in September).
https://www.instagram.com/p/BHsd32EgY36/
After the now-mandatory post-race champagne podium shower, everybody, the serious athletes included, had a chance to relax and soak in the serentiy.
Saturday night was a mix of Finnish rock – Sieravuori hosts live music every weekend, which helps make the SUP Masters a particularly unique stop on the racing circuit – and more late night (or was it early morning?) saunas.
Finland has been full of surprises. What started as an unknown trip into the countryside – this is the first time I've been to this event – ended with a unique sense of fulfillment.
Thanks to Jeep for sponsoring the event and giving us some shiny new wheels for the week, and thanks to Naish for being the country host for this week's edition of the EuroTour.
And a huge thanks to Jari, Milja, Hanne, Pasi, Esa and all the volunteer crew from Sieravuori. What a magical spot. Thanks also to the EuroTour crew and of course the paddlers themselves for making this such a great weekend — this will surely go down as my funnest race of the year.
If you want to enjoy this special part of the world for yourself, pencil in the 5th annual Sieravuori SUP Masters for July 2017. You'll come for the SUP, you'll stay for the saunas…
Below: Some great videos from Stuart Howells, photos from Kerry Powell/EuroTour, and the full results. There are hundreds more photos in the official EuroTour Dropbox.
---
Day One (The Surprise Downwinder)
[notdevice][fbvideo link="https://www.facebook.com/supracerr/videos/1056382581112459/" width="645″ height="363″ onlyvideo="1″][/notdevice][device][fbvideo link="https://www.facebook.com/supracerr/videos/1056382581112459/" width="322″ height="181″ onlyvideo="1″][/device]

Day Two (The JM Survivor Race)
[notdevice][fbvideo link="https://www.facebook.com/supracerr/videos/1056826844401366/" width="645″ height="363″ onlyvideo="1″][/notdevice][device][fbvideo link="https://www.facebook.com/supracerr/videos/1056826844401366/" width="322″ height="181″ onlyvideo="1″][/device]
Video credit: Stuart Howells
---
Sieravuori SUP Masters – Elite Men
(* The downwinder was the tie-breaker)

| # | Athlete | Downwind | Time | Survivor | Overall |
| --- | --- | --- | --- | --- | --- |
| 1 | Leo Nika | 1 | 1:21:48 | 1 | 2 |
| 2 | Paolo Marconi | 2 | 1:24:44 | 2 | 4 |
| 3 | Claudio Nika | 3 | 1:31:28 | 3 | 6 |
| 4 | Belar Diaz | 5 | 1:35:06 | 5 | 10 |
| 5 | Christopher Parker | 6 | 1:43:22 | 4 | 10 |
| 6 | Leonardo Toso | 4 | 1:31:55 | 7 | 11 |
| 7 | Tomas Lelovits | 7 | 1:46:27 | 8 | 15 |
| 8 | Dagnis Iljins | 9 | 1:56:51 | 9 | 18 |
| 9 | Jari Laine | 8 | 1:55:38 | 11 | 19 |
| 10 | Ville Vihmari | 10 | 2:02:40 | 14 | 24 |
| 11 | Igor Chernenko | 13 | 2:07:42 | 12 | 25 |
| 12 | Jakko Kallio | 14 | 2:07:42 | 13 | 27 |
| 13 | Janne Laine | 12 | 2:06:54 | 17 | 29 |
| 14 | Jarmo Rantala | 15 | 2:16:58 | 16 | 31 |
| 15 | Marti Viilu | 17 | 2:56:51 | 15 | 32 |
| 16 | Arvis Iljins | 33 | DNF | 6 | 39 |
| 17 | Christian Sandoval | 33 | DNF | 10 | 43 |
| 18 | Vladimir Saveliev | 11 | 2:03:40 | DNS | 44 |
| 19 | Artunas Nersesians | 16 | 2:18:10 | DNS | 49 |
Sieravuori SUP Masters – Elite Women

| Elite Women | Athlete | Downwinder | Time | Survivor | Overall |
| --- | --- | --- | --- | --- | --- |
| 1 | Susak Molinero | 1 | 1:54:08 | 1 | 2 |
| 2 | Elle Laakso | 2 | 2:20:10 | 2 | 4 |
| 3 | Emme Prykari | 3 | 2:27:54 | 4 | 7 |
| 4 | Julia Karpacheva | 33 | DNF | 5 | 38 |
| Amateur Women | | | | | |
| 1 | Jenna Laakso | 33 | DNS | 3 | 36 |
| 2 | Anni Jauhiaien | 33 | DNS | 6 | 39 |
Amateur Women's Champ: Jenna Laakso
Junior Champ: Luca Luoto
You can get full results from all EuroTour races over on the official site.
---
Photos below by Kerry Powell/EuroTour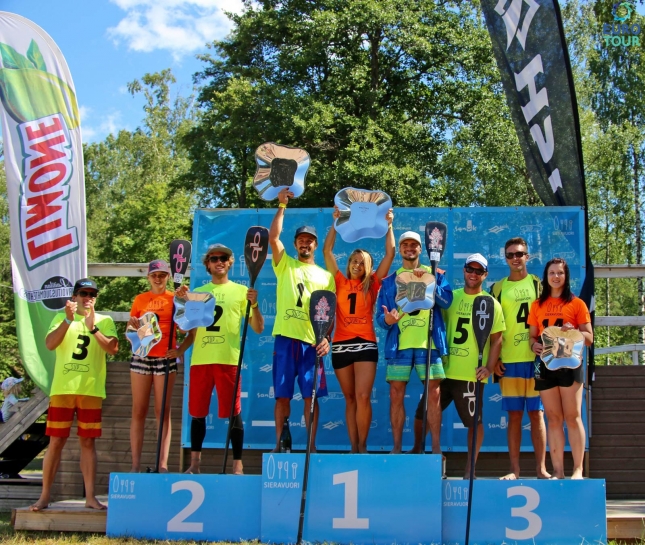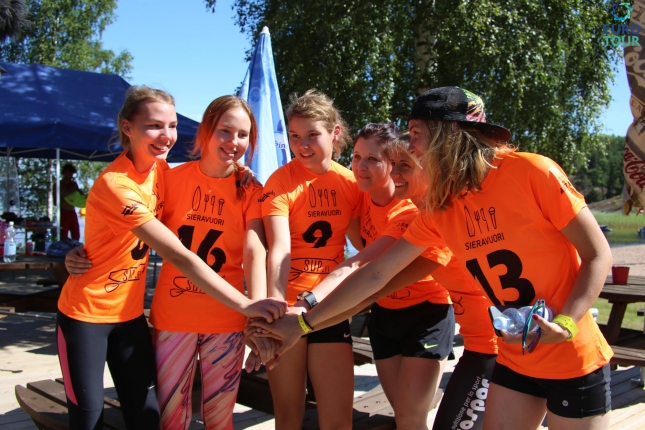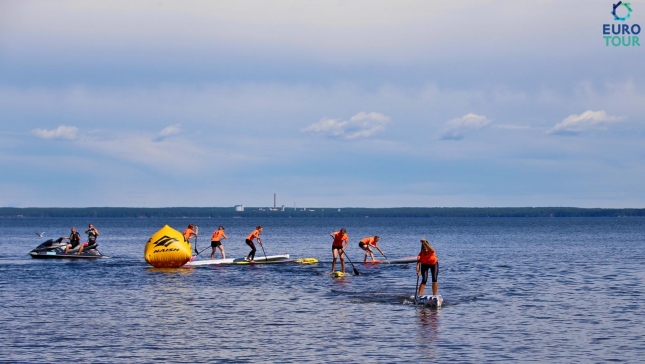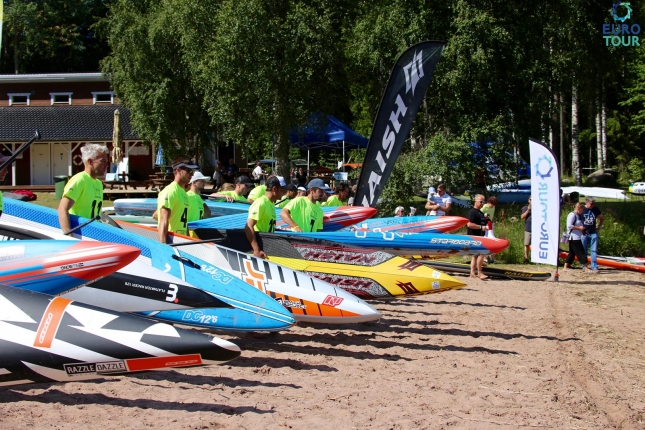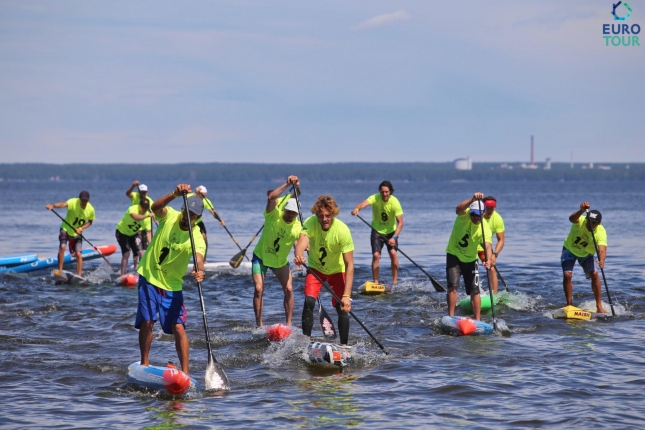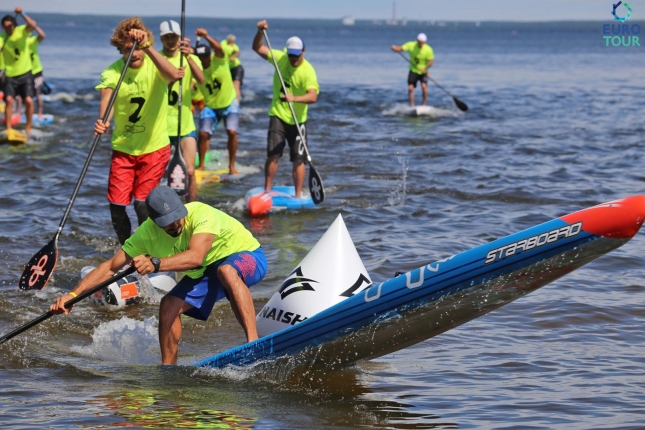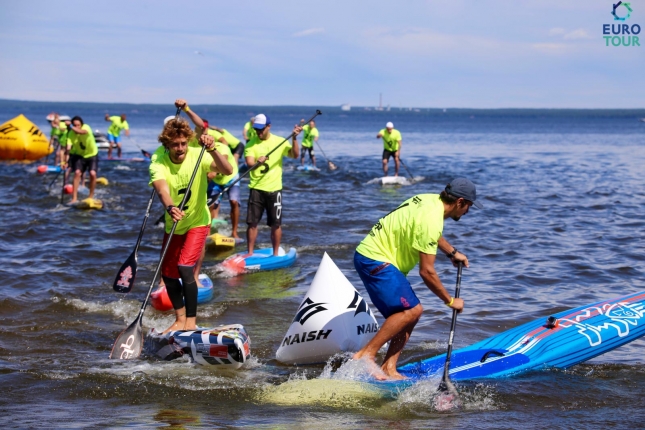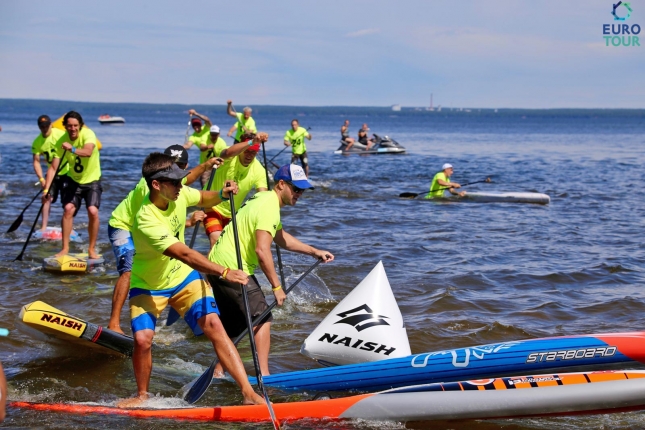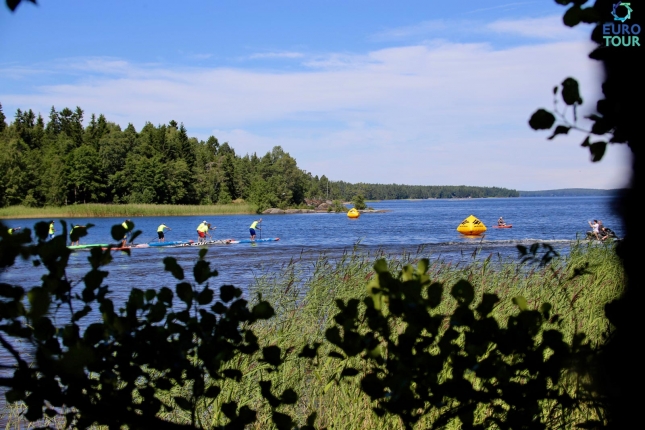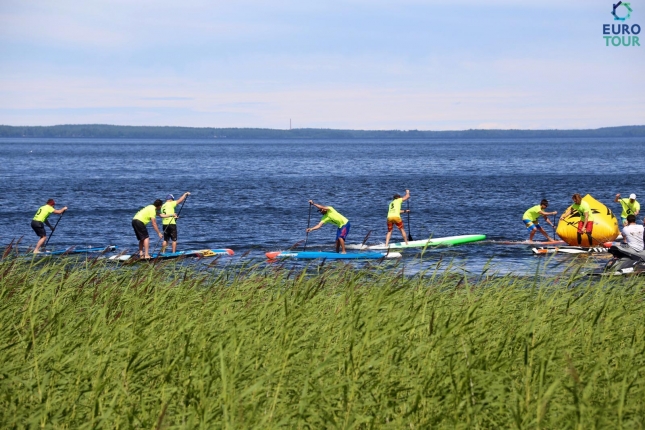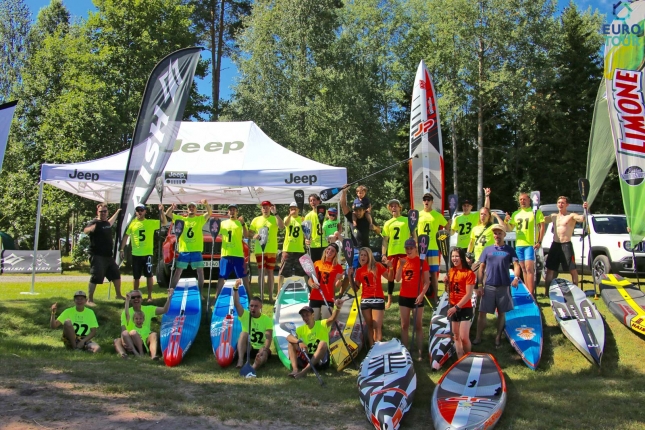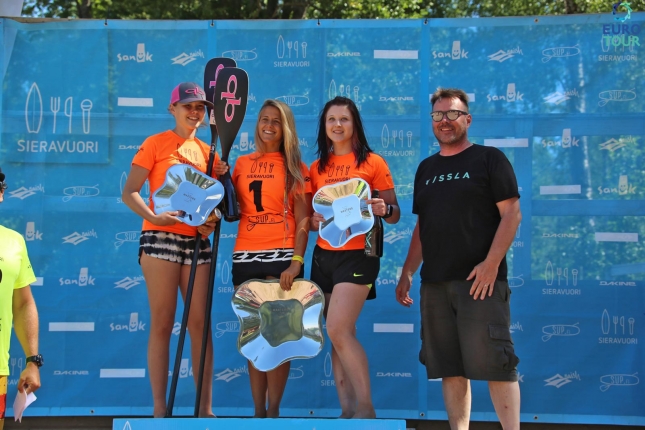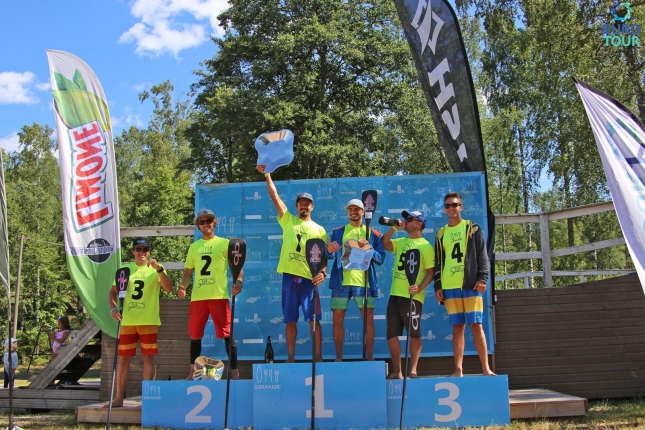 See you next year, Sieravuori…

https://www.instagram.com/p/BHtdNmxg7C2/