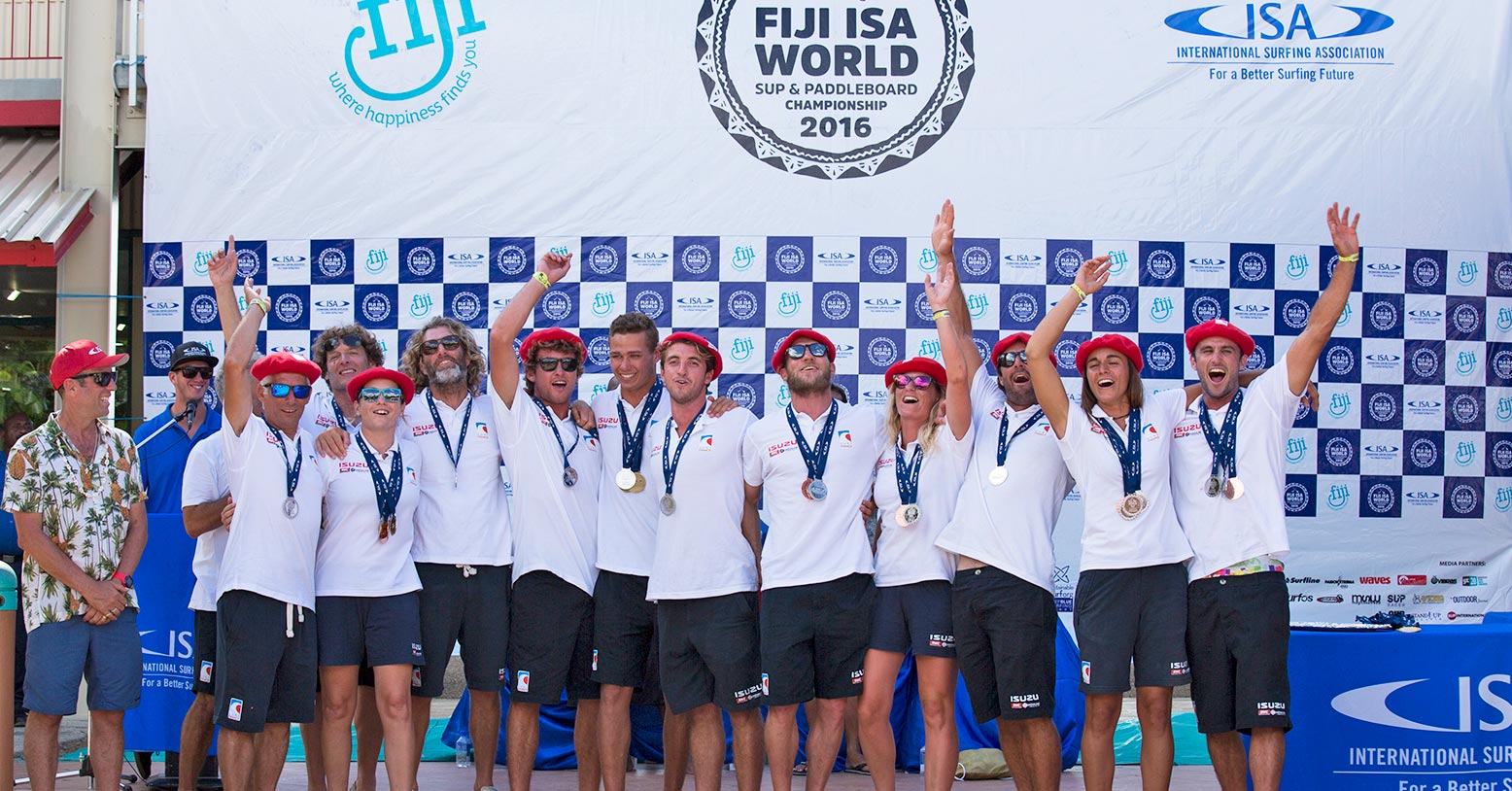 November 23, 2016
by Christopher Parker (@wheresbossman)
Fiji Postscript: Australia Are the Team Champions, but France Was Mighty Impressive
While the Aussies comfortably reclaimed the Team Champions Trophy at last week's ISA Worlds in Fiji, giving them four titles in five years, there was another nation at this year's championship event that was almost just as dominant and, at least by one measure, even more impressive.
Team France.
The Aussies were definitely the most dominant team this year, winning five gold medals in as many days, however the French were actually the most consistent, collecting a total of 11 medals to Australia's 10.
And France was clearly the best team in the SUP racing events, collecting 3x silvers, 2x bronze and 2x copper for a total haul of 7x medals. Their three athletes – Olivia Piana, Titouan Puyo and Arthur Arutkin – medaled every time they raced. By contrast, the Aussies only had 2x medals from the SUP racing, though one of those was a gold for Michael Booth in the marathon (the other was a copper for Karla Gilbert in the surf race).
France was so consistent they finished 2nd on the overall team points table without winning a single event. And although they were more than one thousand points behind the Aussies in the end, they stood well clear of three nations that easily beat them last year: New Zealand, Hawaii and defending champs the USA.
(Interestingly, France would have only ranked 7th on a traditional medal table, where nations are ranked first by the number of gold they win, then silver, et cetera, however their incredible all-round consistency saw them almost take the team title despite a complete lack of gold medals.)
Part of France's surge this year can be explained by the fact they sent specialist prone paddlers for the first time (Flora Manciet claimed two bronze medals and put in a heroic finish to the marathon race that saw her collapse and be stretchered from the water), however that's certainly not the only reason. The French actually lost considerable ground to the Aussies and Kiwis in the traditional paddleboarding events and had to rely on their stand up paddlers to even things up.
France's consistency in the stand up paddle events (the only time they didn't medal was in the men's surfing, and I believe that's the first time in five years they haven't) is particularly significant given the rumour that swept Fiji suggesting prone paddleboarding might be dropped from the 2017 Worlds.
While the ISA has made no decision on prone's future in the event, they did confirm the topic was discussed at their executive meeting last week.
So with that in mind, here's a quick look at the overall team standings with and without prone.
---
2016 Official Overall Team Standings (with prone)
GOLD: Australia – 11,959 points
Silver: France – 10,573 points
Bronze: New Zealand – 10,049 points
Copper: Hawaii – 10,029 points
5th: USA – 9,883 points
2016 Hypothetical Overall Team Standings (without prone)
(team relay included)
1st: France – 7,105 points
2nd: Hawaii – 6,703 points
3rd: Australia – 6,509 points
4th: USA – 6,402 points
5th: New Zealand – 5,406 points
2016 Hypothetical SUP Racing Team Standings (without prone, surfing or relay)
1st: France – 4,710 points
2nd: Australia – 3,829 points
3rd: USA – 3,727 points
4th: New-Zealand – 3,353 points
5th: Hawaii – 3,315 points
---
As you can see, the Aussies and New Zealanders relied heavily on their prone paddleboarders for points, with Australia dropping from 1st to 3rd (and almost down to 4th) if prone is removed from the equation, while New Zealand would drop two spots.
Australia climbs back up to 2nd on the SUP racing-only leaderboard, however the French are even further ahead in this scenario.
So the clear winner on the stand up paddling side of the event is Team France.
Does this mean France will start automatic favourites at next year's ISA Worlds if prone is indeed dropped from the program in Denmark? Perhaps, but not necessarily.
Depending on who qualifies (and who accepts their invite), the Aussies, Hawaiians and Americans can all potentially compete with the French, talent wise. However if France displays the same remarkable consistency in 12 months' time as they did last week, they'll be very hard to beat.
That's especially true if Olivia, Titou and Arthur are flying the flag once more. Though France has so much depth, particularly on the men's side, that they're going to be very strong no matter who qualifies.
Or in other words: Fear the French…