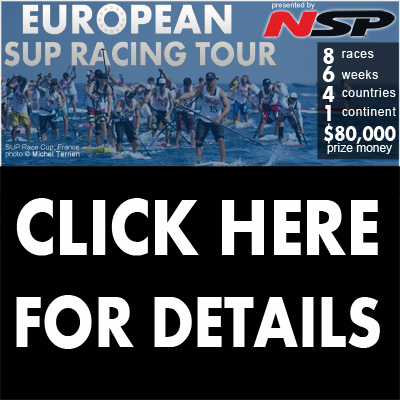 May 23, 2013
by Christopher Parker (@wheresbossman)
Europe, Day 1: Sunshine And Wine In St. Tropez
I'm calling Thursday May 23rd as the official "Day 1" of the European SUP Racing Tour (presented by NSP!). Even though I've been in Europe for a good six weeks or so, it's only now that the really serious racing will start to happen.
In a couple of days we'll see the biggest and most competitive race ever held in Europe, as a whole stack of international stars join elite paddlers from France, Germany, the UK and right across the Continent for the "SUP Race Cup" on the French Riviera. And that's only the beginning…
Next week we're all off to Germany for the massive Lost Mills, which is set to be huge. Then we've got the Oleron and Bilbao stops of the World Series, plus big races in Marseille, Belgium and beyond.
So day 1… after an epic week in England, we hit Nice last night and drove straight down to the venue for this weekend's big SUP Race Cup, the cool little town of St. Maxime.
The organisers of the SUP Race Cup, La Cigale Surf Club (and their very enthusiastic President Yannick Pinaud) are going out of their way to make the international paddlers feel welcome. Picking us up at the airport, finding a place for us to crash and generally just sharing their hardcore stoke for the sport of stand up paddling.
We woke up this morning to some awesome sunshine and not a cloud in the sky, which is just how I pictured the French Riviera. After rendezvousing with Jim Terrell and Chase Koserlitz last night (and getting our fill of wine and bread), we met up with part of the Aussie contingent this morning; Paul & Angie Jackson, Jake Jensen and Beau O'Brian, as well as the European go to man, Mr. Everywhere Belar Diaz.
The Fanatic crew went off for a photo shoot at lunch, so Jim, Jake, Beau and myself decided to be tourists for the day and go check out St. Tropez.
St. Tropez has gotta be one of the very first places I ever heard about in Europe. Every since I was a little kid I remember hearing that this was the playground of the rich & famous. Huge boats, fancy clubs and expensive restaurants. It's still pretty early in the season, so we didn't do too much celeb-spotting, but we did see plenty of ridiculously sized boats (which will apparently be dwarfed in a month or two when the billionaires roll into town) and found an awesome little spot for a drink.
Tonight it was off to La Cigale Surf Club for more wine and more bread. We met up with Connor Baxter, Bart de Zwart, South Africa's Dylan Frick, Pete Holliday (who drove a good 800 miles overnight from the UK) and a whole bunch of awesome paddlers from around Europe.
Travis Grant and plenty more elite guys and girls will rock up in St. Maxime in the morning, so come Saturday we're going to see an absolutely stacked field of paddlers battling for the $15,000 in SUP Race Cup prize money.
Tomorrow is the eve of the race, which I hope means getting on the water for a splash but am certain will involve more wine and bread…
That seems that's the French way. I could get used to it.