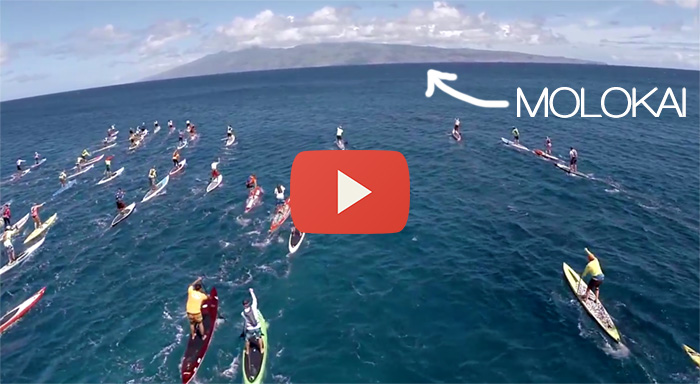 July 15, 2014
by Christopher Parker (@wheresbossman)
This Aerial Video From Maui 2 Molokai Is Quite Literally Epic
[notdevice][/notdevice][device]

[/device]
View in full screen. Set to Full HD. Enjoy.
We're right smack bang in the middle of the grand spectacular that is SIC's Downwind Month, when the world descends on the Hawaiian Islands to chase big bumps and endless glides.
Downwind Month is about having fun in the open ocean no matter how fast you go, though it does happen to feature a string of big, elite races as well. In a week and a half it's the grand daddy: Molokai 2 Oahu, which we'll be covering LIVE on July 27th. However last weekend saw another big channel crossing: Maui 2 Molokai, where Connor Baxter defeated the likes of Kai Lenny, Dave Kalama and Travis Grant to claim his 6th straight M2M crown.
Maui 2 Molokai is often called the "World's Funnest Downwinder" thanks to its endless bumps that allow paddlers to literally surf their way from one Hawaiian island to another. Conditions were a little tricky for the first half of the 27 mile crossing on Saturday, though things really picked up as paddlers got closer to Molokai and the bumps started running hot.
This video is epic for two reasons. One, because it just is… But two, because it actually comes from a group called EPiC Aerial Productions, who were filming for Kai Lenny (meaning we can expect more of this footage to be released soon through Kai).
As you can see from many of the clips in the SIC Showreel, aerial drone footage always makes a SUP race look good, however this one is something else entirely…
There's some great footage of the mass start, before the race becomes a four-way battle around the 1 minute 30 second mark, when Connor, Kai, Dave and Travis gapped the rest of the field. The sequence from 1:51 to 2:16 is simply stunning…
Watch above and enjoy. Then share this link all over Facebook, coz it's just that good.
Oh and on a side note: How freakin' amazing is Dave Kalama? The dude is pushing 50 and he's still right there with the young superstars less than half his age… Incredible. Imagine if SUP was a sport when Dave Kalama was 20 years old?
---
We've got full coverage from the Hawaiian Islands all through July thanks to the crew at SIC