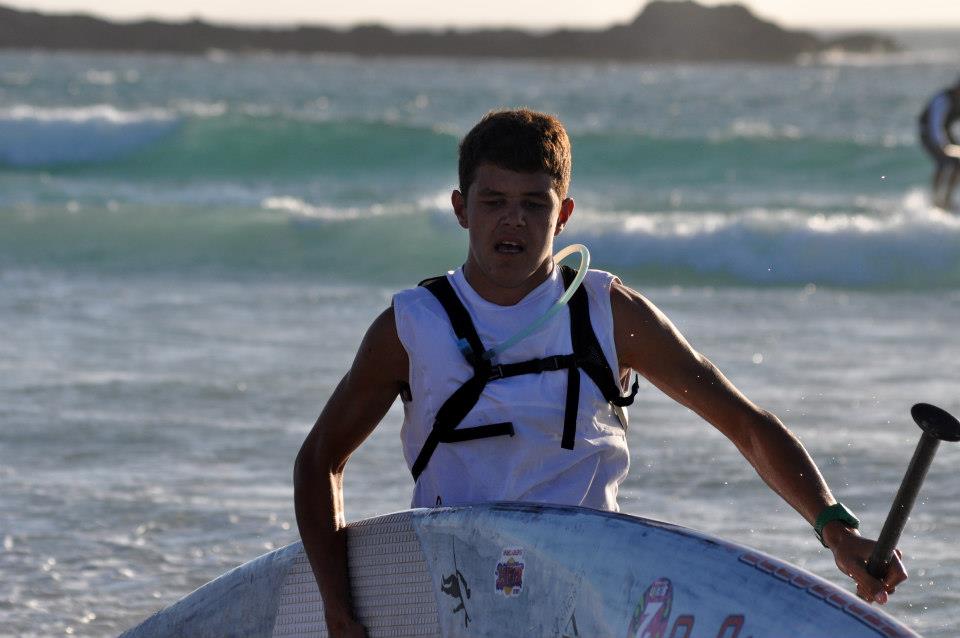 March 13, 2013
by Peter Petersen
Dylan Frick Adds South African Gold To His Peruvian Bronze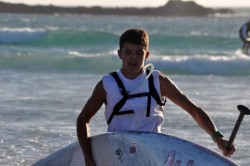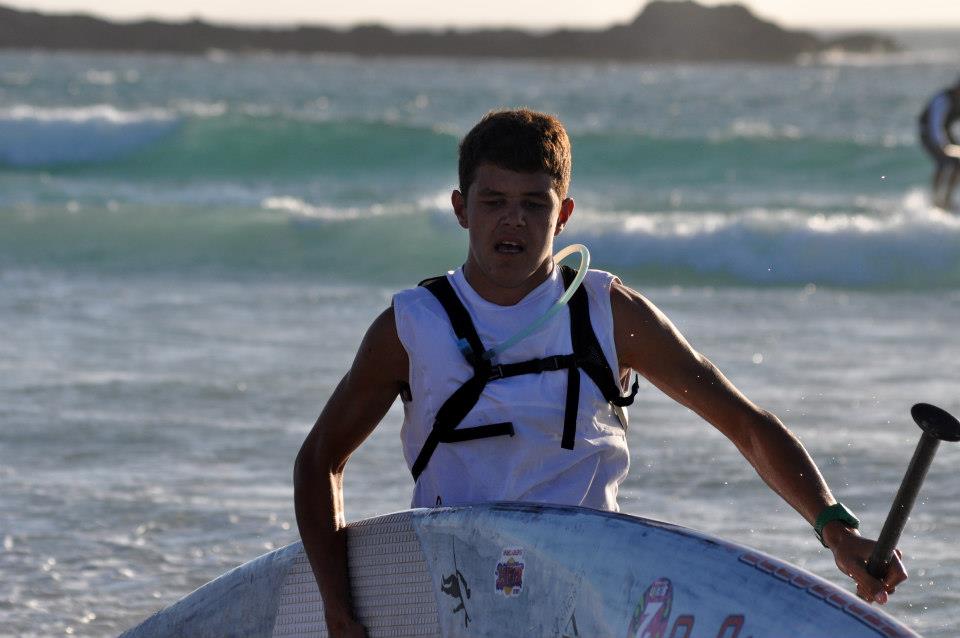 Boss Man's note: Here's a recap of the final race from the latest Downwind Dash Series in Cape Town, South Africa, courtesy of our SA Correspondent and SUP Culture founder Peter Petersen.
The final race, and the series, were taken out by young gun Dylan Frick, a name you'd recognise if you followed our ISA World Champs coverage a couple of weeks back. Dylan took out the Bronze Medal in the Technical Course race and now has a win in his home country to add to it.
*****
Dylan Frick Takes Out The PRIMI Naish Downwind Dash Series
After a poor run of luck, we finally struck wind for the final of the 2013 PRIMI Naish Downwind Dash series.
15-20knots South Easter, balmy 30deg Celsius and virtually flat seas was a perfect setting for the final race. Having only completed 3 races so far, this 4th race would trigger a discard and it looked like a three horse race for glory between Greg Bertish, Ivan van Vuuren and Dylan Frick.
Out the blocks Dylan Frick made his intentions known as he set off at a blistering pace. The lighter winds don't suit the older, wiser, Coreban riders so Ivan and Greg had their work cut out for them. Ivan had a reasonable start sitting in about 3rd with Greg sitting in 6th. Andrew Cillie, Brad Adams and Joshua Robertson were mixing it up amongst this group. Greg seemed to find his mojo about halfway and started making up places while Ivan started running out of steam at about the same time.
Up front Dylan was disappearing into the distance while the 3 contenders behind were pretty close. Brad Adams had a great race to take 3rd, but he couldn't quite catch Andrew Cillie while Greg nearly caught up to these two. Not far behind them, the future of SA downwinding, were fighting it out for 5th and 6th with Joshua Robertson recording his first win in the juniors, 3 secs ahead of Ethan Koopmans, also a junior.
Dylan was more than 5% quicker than the next guy and hence our sole Elite paddler tonight – this is a first – quite extraordinary!
In the ladies Mishka Steyn caused an upset by unseating Brigette van Aswegen for the first time ever. Tammy Robarts, who represented SA in the waves at ISA Worlds, took a fine 3rd.
Third junior in was Matthew Maxwell with his older brother Dylan a little further back. Calvin Ginsberg rounded out the juniors coming 32nd overall.
Overall the discard enabled Dylan Frick to win the series with 3 bullets to become undisputed King of Cape Town's downwinders. Greg Bertish had to settle for 2nd while Ivan van Vuuren was relegated to 4th as Brad Adams managed to squeeze himself onto the podium with his fine race today.
Brigette van Aswegen takes overall womens, also with three bullets, Mishka Steyn takes 2nd and Patricia Kohrs 3rd.
In the Masters, Ivan van Vuuren took the win (and 4th overall) with Andrew Cillie and Pietro Muscas tied on points and getting 2nd and 3rd respectively.
Ethan Koopmans took out the juniors (and 5th overall) ahead of Joshua Robertson and Matthew Maxwell – these guys are beginning to fly and will no doubt start vying for overall podium placings come next year.
Thanks to our sponsors: PRIMI, Naish, BulkSMS, VitaminWater, Buchulife, BodyTec Sunset Beach, Watersports Warehouse, Coreban/Expression on the Beach, SWOX, SUPHQ.com and SUPracer.com.
BIG thanks to our timekeepers Lolo, Jen and Aden!
*****
2013 PRIMI Naish Downwind Dash Series – Overall Results
Man of the Year
Dylan Frick – Starboard
Woman of the Year
Brigette van Aswegen – Starboard
Junior of the Year
Ethan Koopmans – Naish
Master of the Year
Ivan van Vuuren – Coreban
Rookie of the Year
Armin Wohlgemuth
Fighter of the Year
Maleen Hoekstra
OVERALL RESULTS
Click "#1", "#2", "#3" or "#4" to show results from each different race in the series

| # | Name | #1 | #2 | #3 | #4 | Best 3 | Class | Board |
| --- | --- | --- | --- | --- | --- | --- | --- | --- |
| 1 | Dylan Frick | 1 | 1 | 52 | 1 | 3 | Open | Starboard 14' Ace Pro |
| 2 | Greg Bertish | 9 | 2 | 2 | 4 | 8 | Open | Coreban 14' Dart |
| 3 | Brad Adams | 8 | 5 | 5 | 3 | 13 | Open | Fanatic 14 Falcon |
| 4 | Ivan van Vuuren | 31 | 3 | 1 | 10 | 14 | Masters | Coreban 14' Dart |
| 5 | Ethan Koopmans | 5 | 8 | 4 | 6 | 15 | Junior | Naish 14 Glide |
| 6 | Andrew Cillie | 3 | 39 | 11 | 2 | 16 | Masters | Starboard 14' OO |
| 7 | Pietro Muscas | 10 | 6 | 3 | 7 | 16 | Masters | Naish 14 Glide |
| 8 | Peter Petersen | 7 | 4 | 6 | 9 | 17 | Masters | Naish 14 LE |
| 9 | Joshua Robertson | 6 | 11 | 13 | 5 | 22 | Junior | Naish 14 LE |
| 10 | Francois Frick | 2 | 9 | 52 | 12 | 23 | Open | Starboard 14' Ace Pro |
| 11 | Armien Wohlgemuth | 12 | 14 | 8 | 11 | 31 | Masters | Naish 14 Glide |
| 12 | Tom King | 19 | 10 | 12 | 41 | 41 | Open | Fanatic 14 Fly |
| 13 | Justin Bing | 31 | 17 | 7 | 22 | 46 | Open | Coreban 14' Dart |
| 14 | Nico Pfitzenmaier | 13 | 13 | 22 | 41 | 48 | Open | Naish 14 Glide |
| 15 | John de Roy | 31 | 12 | 10 | 41 | 53 | Open | Coreban 14' Dart |
| 16 | Dave Maxwell | 14 | 16 | 26 | 23 | 53 | Open | Naish 14 Glide |
| 17 | Brigette van Aswegen | 16 | 19 | 24 | 18 | 53 | Ladies | Starboard 14' Ace Pro |
| 18 | Mike Fiet | 20 | 18 | 20 | 16 | 54 | Open | Coreban 14' Dart |
| 19 | James Taylor | 31 | 15 | 14 | 41 | 60 | Open | Naish 14 Glide |
| 20 | Mishka Steyn | 17 | 26 | 52 | 17 | 60 | Ladies | Starboard 14' OO |
| 21 | Craig Ginsberg | 26 | 21 | 31 | 14 | 61 | Open | Naish 14 Glide |
| 22 | Nic Muhl | 11 | 39 | 16 | 41 | 66 | Open | Naish 14 Glide |
| 23 | Tyran Cooper | 21 | 23 | 25 | 25 | 69 | Open | Coreban 14' Dart |
| 24 | Ike Frans | 31 | 20 | 52 | 19 | 70 | Open | Starboard 14' OO |
| 25 | Mitch Wagstaff | 18 | 39 | 15 | 41 | 72 | Open | Starboard 14' OO |
| 26 | Rob Munro | 23 | 22 | 28 | 30 | 73 | Masters | Fanatic 14 OO |
| 27 | Neal Esterhuysen | 31 | 24 | 21 | 41 | 76 | Open | Coreban 14' Dart |
| 28 | Gary van Rooyen | 31 | 39 | 30 | 15 | 76 | Masters | Coreban 14' Dart |
| 29 | Wayne Robertson | 25 | 27 | 34 | 27 | 79 | Open | Coreban 14' Dart |
| 30 | Gavin Dace | 31 | 39 | 23 | 26 | 80 | Open | Naish 14 Glide |
| 31 | Mathew Maxwell | 31 | 39 | 27 | 24 | 82 | Junior | Naish 14 Glide |
| 32 | Kimon Dos Santos | 31 | 39 | 52 | 13 | 83 | Junior | Naish 14 Glide |
| 33 | Patricia Kohrs | 24 | 25 | 52 | 35 | 84 | Ladies | Naish 14 Glide |
| 34 | Nicky Carstens | 31 | 39 | 17 | 41 | 87 | Masters | Coreban 14' Proto |
| 35 | Mathew vd Linden | 31 | 39 | 18 | 41 | 88 | Open | Naish 14 MC |
| 36 | Nicky Venter | 31 | 39 | 19 | 41 | 89 | Open | Starboard 14' OO |
| 37 | Tammy Robarts | 29 | 32 | 33 | 28 | 89 | Ladies | Naish 12 Glide |
| 38 | Monika Wohlgemuth | 28 | 30 | 37 | 31 | 89 | Ladies | Naish 14 Glide |
| 39 | Steve Tripney | 27 | 29 | 35 | 41 | 91 | Masters | Coreban 14' Dart |
| 40 | Calvin Ginsberg | 30 | 31 | 52 | 32 | 93 | Junior | Naish 14 Glide |
| 41 | Oscar Wollheim | 15 | 39 | 52 | 41 | 95 | Open | Naish 14 Glide AST |
| 42 | Dylan Maxwell | 31 | 39 | 52 | 29 | 99 | Junior | Naish 14 Glide AST |
| 43 | Jonathan Donner | 31 | 33 | 39 | 36 | 100 | Open | Naish 12 Glide |
| 44 | Francois Ferreira | 31 | 28 | 52 | 41 | 100 | Open | Starboard 14' OO |
| 45 | Danny Aeberli | 22 | 39 | 52 | 41 | 102 | Open | Starboard 14' OO |
| 46 | Iyves Gonder | 31 | 39 | 52 | 33 | 103 | Open | Naish 14 Glide AST |
| 47 | Mike Smith | 31 | 39 | 52 | 34 | 104 | Masters | Fanatic 14 OO |
| 48 | Iva Lopes | 31 | 34 | 47 | 41 | 106 | Ladies | Naish 14 Glide AST |
| 49 | Anna Knotten | 31 | 35 | 41 | 41 | 107 | Ladies | Proneboard |
| 50 | Craig Girdlestone | 31 | 39 | 43 | 38 | 108 | Open | Naish 14 Glide |
| 51 | Amanda Rootman | 31 | 36 | 52 | 41 | 108 | Ladies | Starboard 14' OO |
| 52 | Annalisa o'brien | 31 | 37 | 52 | 41 | 109 | Ladies | Coreban 14' Dart |
| 53 | Grant Donald | 31 | 39 | 49 | 39 | 109 | Open | Coreban 14' Dart |
| 54 | Kim Docherty | 31 | 38 | 45 | 41 | 110 | Open | RRD 12'6 |
| 55 | Nick King | 31 | 39 | 52 | 40 | 110 | Masters | Coreban 14' Dart |
| 56 | Rory Smith | 31 | 39 | 52 | 41 | 111 | Open | Starboard 14' Ace Pro |
| 57 | Paul Ruger | 31 | 39 | 44 | 41 | 111 | Masters | Coreban 14' Dart |
| 58 | Michaela Gabriel | 31 | 39 | 48 | 41 | 111 | Ladies | Naish 14 Glide |
| 59 | Maleen Hoekstra | 31 | 39 | 52 | 41 | 111 | Ladies | Naish 12 Glide |