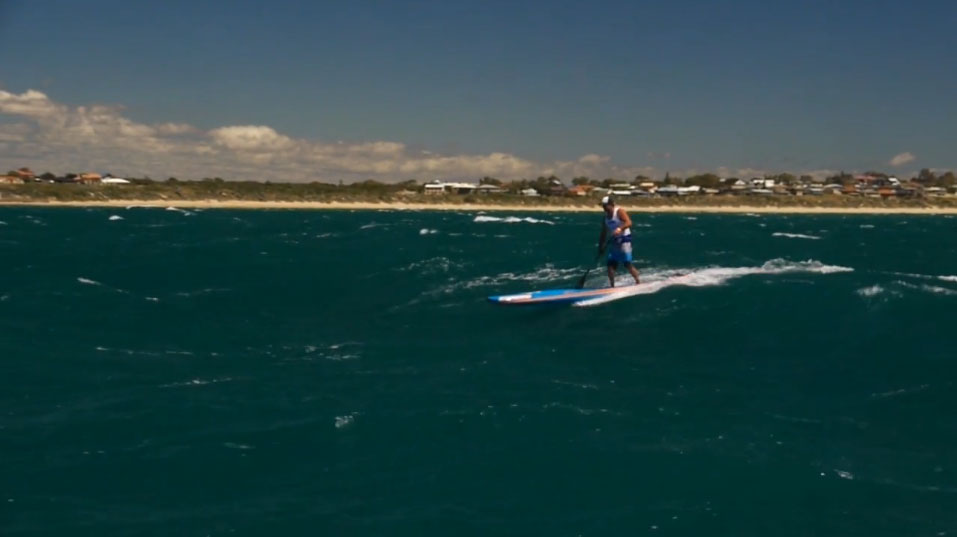 December 20, 2013
by Christopher Parker (@wheresbossman)
What (And Where) Is The Fastest Downwind Run? West Oz Stakes Its Claim To DW Speed Record
Apparently it's the week for downwinding records. Yesterday it was Chris Bertish's downwind distance world record, now there's talk about what the fastest downwind run in the world could be.
While Hawaii is what usually springs to mind when you think SUP + wind, the paddling crew around Mandurah, Western Australia (just south of Perth) are talking up their local spot as having the potential to be the quickest in the world. The course, from Dawesville Cut to Singleton Beach, was used for this month's King of the Cut race, which produced some very fast times that in turn generated a lot of chatter about downwind speed records in general.
Propelled by the famous Fremantle Doctor sea breeze, the Mandurah run does seem to get some pretty amazing conditions – just watch the "King of the Cut" race video we posted last week and you'll see I mean – though it doesn't hold title of world's fastest downwind run, not yet anyway.
Beau O'Brian won the 21.2km race in a time of 1:32:23, giving him an average speed of 13.77 kmh (8.56 mph). That's below some of the other recorded averages (eg. Cape Town), however according to SUPWA President Greg Kerr there's still plenty of room for improvement at Mandurah:
"Considering the wind strength was 20-22 knots for the race, there is a lot of scope to improve that time as our sea breeze can get up to well over 25 knots. We believe it to be the fastest downwind race track in the world and that it would be possible to break the 15km/h or maybe even the 16km/h barrier."
Organisers will be inviting an international field for next year's King of the Cut and have big plans to make this one of the world's premiere downwind races. If the race can market itself as "World's Fastest Downwind Run" it would be very appealing to the elite guys and girls who are looking for a new challenge.
Though before everyone jumps on the "Downwind Speed Record" bandwagon I think we need some minimum standards here…
What distance? So do you take the whole run or just a small section of it? Most downwinders start and end in the flat, which skews the average speeds. I think it's fair to take a middle section of the run, just so long as it's long enough to get a good average. So maybe a minimum 5km continuous stretch has to be used when working out average speed.
And any record has gotta have accurate timing (GPS, race chips or some other scientific setup).
Straight line or GPS line? I've seen guys like Jeremy Riggs do zig-zags all the way along the Maliko run. If you took their actual GPS data you'd end up with a noticeably longer course than if you measured the straight line.
Board class doesn't matter: Please, let's not have separate downwind speed records for 12'6, 14′ and Unlimited boards. Let's keep the downwinding pure and simple – just paddle whatever you like and go as fast as you can.
So there you go. The challenge is set. Oh and if you want to give the record a crack at Perth's hot new downwind run, pencil in the 2014 King of the Cut (scheduled for first weekend of December).
But apart from Mandurah, what are some other fast downwind runs? There are probably hundreds, many still undiscovered, but here are some of the best known:
Cape Town, South Africa
If you follow the updates from our South Africa Correspondent Peter Petersen then you'll know that Cape Town gets some all time conditions. The long-running PRIMI Naish Downwind Dash Series is one of the only (perhaps the only) regular downwind race series in the world. Fortunately the organisers also keep meticulous records, including accurate times and average speeds of the 10.1km course.
Course: 10.1km
Record holder: Ivan van Vuuren
Record time: 0:42:57
Record average speed: 14.11 kmh (8.77 mph)
Maliko, Maui
Probably the most famous downwind run of them all, when Maliko is on it's about as much fun as you can have standing up on a paddleboard. There's a chance Maliko has already produced some speed records, though that would depend on you interpretation of the course and results… If you finish at Kanaha Beach (as OluKai does) you'd get much faster average times than if you took the usual route all the way to Kahului Harbor (the course used by the Maui Paddle Champs that involves a sometimes-grueling flat water section to finish the run). This is one reason why I think records should be taken off the fastest 5km stretch, rather than the entire run.
Maui 2 Molokai
It may be the poor cousin of Molokai 2 Oahu, however the Maui 2 Molokai run is actually a lot more fun than doing the M2O race (which often isn't a downwinder at all). Has a famous middle section dubbed Pai'lolo Express (the name of the channel between Maui and Molokai) that has probably already set some speed records, such as when Connor Baxter and Dave Kalama famously went toe-to-toe in 2011's epic conditions. In fact pretty much any time Connor does that run you could look for a speed record.
These are just a few of the better-known SUP downwind runs. The great thing about downwinding is that there's probably hundreds (or even thousands) of awesome downwind runs around the world that have yet to be explored…