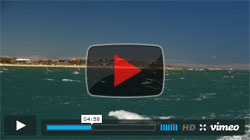 December 10, 2013
by Christopher Parker (@wheresbossman)
This Is What A Real Downwind Race Looks Like (Video + Results From West Oz)
Watch this quality recap of the 2013 King of the Cut race, which was held in Western Australia on the weekend and featured some pretty epic downwind conditions. Takes a little while to get going (the action on the water begins at the 3 minute 50 second mark) but it looks like it was a pretty all-time run.
Newly minted Australian representative Beau O'Brian won the day while Molokai champ Terrene Black took out the women's (and finished Top 10 overall against the guys), however I'd say every paddler that raced would have crossed the line feeling pretty satisfied.
Here's the Top 20 finishers (full results on RaceSplitter).