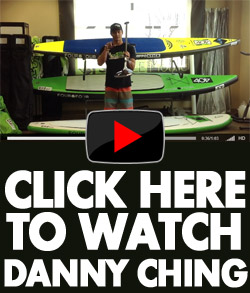 February 19, 2013
by Christopher Parker (@wheresbossman)
Danny Ching Shows Off His New Hippostick Paddles
More Danny Ching goodness today with a fresh video that shows off the champ's new "Hippostick" Paddles. We gave you a glimpse of Danny's 404 SUP Race boards yesterday and here are the blades, so for all you aspiring Danny Chang fans out there, you've now got the full set. All that's missing is the perfect technique that's been honed over years and years of training… minor details.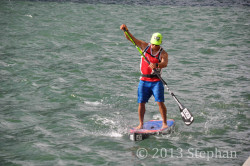 Hippostick Paddles is a new brand that Danny formed last year with his dad, legendary California outrigger canoe paddler and long-time paddle maker Al Ching. The paddles have been spotted in the wild before, with Danny having dominated the Battle of the Paddle (and several other recent SUP races) holding one of the prototype models. But now us regular paddlers can get in on the fun as well…
In the video below, Danny gives us a tour of the new blades, including "The AL Pro" model, which pays homage to his old man's influence. Right now there's two Hippostick SUP Paddles available on the official site; the $400 AL Pro and the cheaper "AL EXP" (which goes for $250).