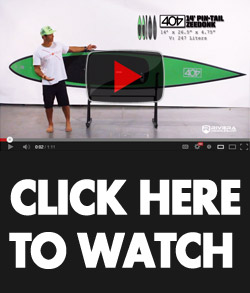 Zeedonk And The Monster: Danny Ching's New 404 Race Boards
Riviera, along everyone's favourite stand up paddler Danny Ching, have just released a bunch of videos showing off the new 404 SUP race board range. You can watch Danny give a tour of the new 12'6 Monster 2.0, the 14′ Zeedonk and its pin-tail cousin.
Let's face it, Danny Ching could come out with a bathtub, call it a SUP race board, and he'd still sell a few (and we'd still post the video) because hey, it's Danny Ching… but these boards do actually look pretty solid, so check 'em out below in all their glory.
Oh and what's with the name Zeedonk? "Fast as a Zebra, and anyone can ride a Donkey." Obviously…
Danny Ching's 404 SUP: 14′ Pin-tail Zeedonk
Length: 14′
Width: 26.5″
Thickness: 5″
Volume: 247.2 L

Danny Ching's 404 SUP: 14′ Zeedonk
Comes in either the Green Label Carbon (seen below) or Bamboo/Fibreglass
Length: 14′
Width: 28 1/2″
Thickness: 4 5/8″
Volume: 273L

Danny Ching's 404 SUP: Monster 12'6″ 2.0
Length: 12'6″
Width: 28 1/2″
Thickness: 4 5/8″
Volume: 245L