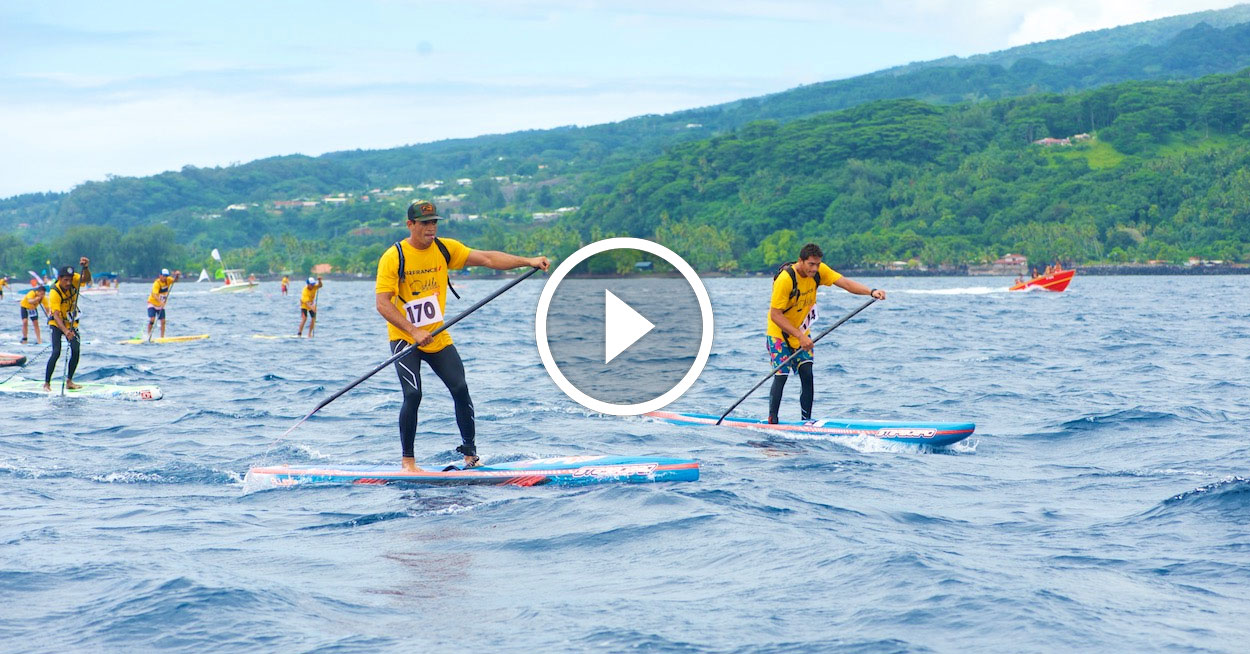 May 14, 2016
by Christopher Parker (@wheresbossman)
LIVE WEBCAST of the Biggest Race of the Year in Tahiti, the "Air France Paddle Festival"
The live webcast is over. Congraulations to Steeve Teihotaata and Olivia Piana for claiming very impressive wins today. Check out our brief recap and results from the 2016 Air France Paddle Festival for more.
You can also catch a full replay of the live stream below.
---
UPDATE #16: Live feed is finished. Thanks for watching. You can watch the replay above, and also check out our 2016 Air France Paddle Festival Results/Recap post for more.
UPDATE #15: Steeve Teihotaata WINS the 2016 Air France Paddle Festival, finishing one minute clear of Rete Ebb, with Titouan Puyo a further 10 seconds adrift and Georges Cronsteadt not too far behind that. Massive result from Steeve. Full results coming soon…
UPDATE #14: Steeve and Rete have both gapped Titou, who's been caught by Georges. It's a four-way fight for the win with about 30 minutes left to race, however right now it's Rete and Steeve looking strongest.
UPDATE #13: As the clock ticks past the 1 hour 30 minute mark, Rete Ebb has closed the gap on Titou and Steeve to make it a three way battle for the lead. Georges isn't too far off the pace either.
UPDATE #12: Titouan and Steeve side-by-side. Rete Ebb, Georges Cronsteadt, Niuhiti Buillard, Tamarua Cowan and Bruno Tauhiro battling to stay within sight of the leaders.
UPDATE #11: France's Olivia Piana is leading the women's race.
UPDATE #10: Titouan has closed the gap on Steeve and they're now neck-and-neck as the clock ticks towards the one hour mark. The leaders have rounded the north-west corner of the island and are now in the relatively flat, protected part of the course — so there won't be many more nice downwind bumps from here to the finish, it's going to be a grind all the way to the line.
UPDATE #9: Steeve has opened up another little gap on Titou, and now Rete is catching back up as well. Right behind them it's Georges Cromsteadt and Niuhiti Buillard.
UPDATE #8: Titouan Puyo and Steeve Teihotaata neck-and-neck at the 40 minute mark (winning times will probably be just over two hours). Rete Ebb still in third.
UPDATE #7: The top three right now is Steeve Teihotaata, Titouan Puyo and Rete Ebb. Looks like Georges Cronsteadt isn't too far behind.
UPDATE #6: The live feed keeps cutting out – seems like the internet coverage is probably a little patchy out there on the water.
UPDATE #5: Titouan Puyo and Steeve Teihotaata neck-and-neck out front.
UPDATE #4: The live stream from Tahiti is back up and running above.
UPDATE #3: If you're really keen, the Molokai OC-1 Solo race (Molokai to Oahu channel crossing on one-man outrigger canoes) is happening right now, and there's a live stream of that as well. At the one hour mark, Travis Grant is sitting up near the front of the field (he's probably in second place right now).
UPDATE #2: Seems like there are some issues with the live feed bandwidth. Refresh in a few minutes to see if they get it rolling smooth again. Oh and also – the live stream is in French…
UPDATE #1: Leading early are Steeve Teihotaata, Georges Cronsteadt and Titouan Puyo.
---
The biggest race of the year in Tahiti, the Air France Paddle Festival, is about to begin, and you can watch the whole thing LIVE with the official webcast stream above (and brush up on your French while you're at it).
The titans of Tahiti, led by veteran Georges Cronsteadt, will all be trying to beat international superstar Titouan Puyo, who will be looking to continue his winning form after triumphing against the world's best at the Carolina Cup last month.
The 24km (15 mile) elite race begins at 11:15am local time.
Tahiti is arguably the strongest paddling nation on the planet, and with more and more of their outrigger canoe paddling heroes crossing over into the SUP racing world, the 3rd annual edition of this big race should be a mighty competitive encounter.
While you're waiting for the webcast to begin, check out our Air France Paddle Festival preview for more info about the race, including a form guide of the contenders to keep an eye on this weekend.
The 2016 Air France Paddle Festival is a 2-star, 20% race on the SUP Racer World Rankings Race Index. This elite status means there are 20.00 world ranking points on offer for the winners, which will give the local contenders an opportunity to earn a spot on the world ranking leaderboards.