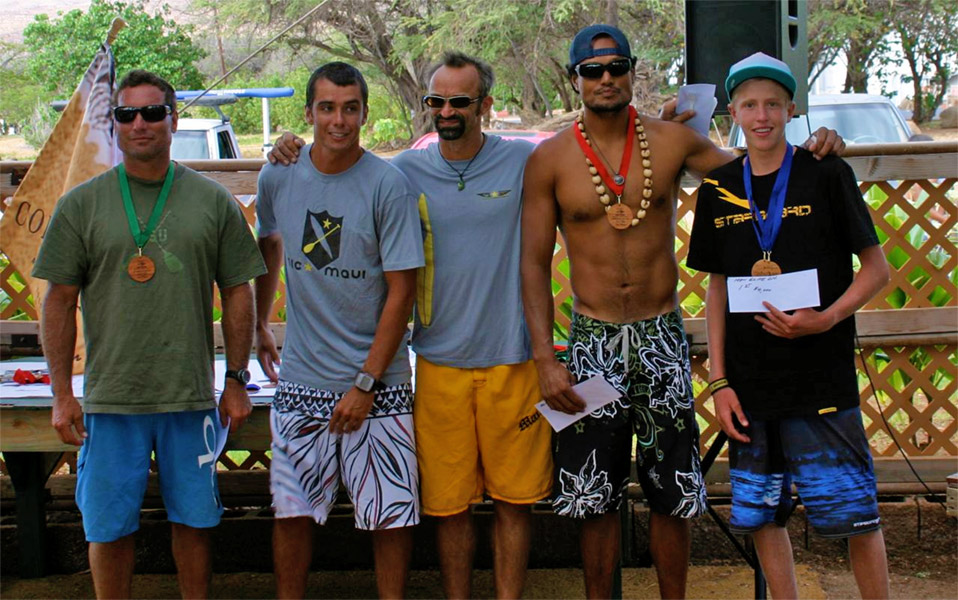 July 18, 2014
by Christopher Parker (@wheresbossman)
CB10: Is Connor Baxter Creating The Next Decade Of Dominance With Maui 2 Molokai?
CB10. Doesn't have quite the same ring to it as JM10, not yet anyway, but in a few years it may become a very popular term.
With his victory over Kai, Dave, Travis and Livio on the weekend, Connor Baxter has now won five straight Maui 2 Molokai titles. The event started in 2010 and Connor has won every single race. He owns this event. And if he can keep that domination going for another five years, he'll equal Jamie Mitchell's seemingly-untouchable 10x Molokai 2 Oahu paddleboard titles (aka the Decade of Dominance).
Connor won the first Maui 2 Molokai SUP race back in 2010 when he was just 15 years old. The scrawny little kid was up against a couple of guys that could have snapped him in half: Dave and Ekolu Kalama. Ekolu was the defending Molokai 2 Oahu champ and was no doubt very confident of beating a skinny little kid with blonde hair, but with Connor's speed, agility and a technique that must have seemed downright alien at the time, Connor held off the Kalamas to claim a memorable win.
Twelve months later Dave returned to try and set the record straight, but again Connor was just a little too quick. By 2012, the young gun from Maui was no longer the underdog upsetting the old guard, he was now starting as favourite in almost every race he entered. That year he and Dave would have an epic battle across the Pailolo Channel before Connor pulled away at the end to win by two minutes (and claim a record time sub three hours).
The 2013 Maui 2 Molokai was the only time when Dave and Connor weren't up against each other (DK has finished top 3 every time he's raced the M2M), however that didn't make it any easier: Connor had to get past one of the best bump readers in the business, Australia's Travis Grant. He did… By five minutes… Extending his winning streak to four in the process.
That brings us to 2014. This year the Maui 2 Molokai saw it's most-elite field yet. Connor was there as always, as was Dave, however for the first time Kai Lenny was jumping into the mix. Travis returned and the always-dangerous Livio Menelau was looking for yet another podium finish (the Brazo-turned-Maui-boy has finished top 5 every single year). To make things tougher, the usually reliable wind had backed off and made the first half of this 27 mile (43km) race a slog fest.
As you can see in *that* epic Maui 2 Molokai video, Connor was just always that little bit ahead. By the time he'd hit Molokai, Connor was two minutes clear of Kai, four minutes clear of Dave and ten minutes ahead of Travis. The superstar had won again.

Now he just needs to win five more to equal Jamie Mitchell's record. Despite Connor looking unbeatable across in this race, that's still no small feat. Not only does he have to defeat a a hungry bunch of competitors for the next half a decade, he's also gotta stay injury and illness free every single July for the next five years. I remember Jamie telling me how amazed he was that he was even able to get to the start line 10 years in a row, let alone win it every time.
So while the Maui 2 Molokai isn't on the same level as Molokai 2 Oahu in terms of prestige, it would still be an extraordinary accomplishment to dominate one race for an entire decade.
There's no doubt Connor has the talent to achieve "CB10" and I'm pretty sure he has the desire for it as well. I guess we'll find out in July, 2019, which would be Connor's 10th straight Maui 2 Molokai.
For now it's CB5 (and counting…).
2010 Maui 2 Molokai
1st: Connor Baxter (3:29:02)
2nd: Ekolu Kalama (3:30:25)
3rd: Dave Kalama (3:32:25)
4th: Livio Menelau (3:32:58)
5th: Mark Raaphorst (3:37:17)
2011 Maui 2 Molokai
1st: Connor Baxter (3:10:44)
2nd: Dave Kalama (3:11:37)
3rd: Livio Menelau (3:19:04)
4th: Mark Raaphorst (3:27:09)
5th: Jeremy Riggs (3:27:48)
2012 Maui 2 Molokai
1st: Connor Baxter (2:55:46) * Record time
2nd: Dave Kalama (2:58:12)
3rd: Livio Menelau (2:59:51)
4th: Dave Kissane (3:08:34)
5th: Scott Trudon (3:09:40)
2013 Maui 2 Molokai
1st: Connor Baxter (3:09:57)
2nd: Travis Grant (3:14:13)
3rd: Dave Kissane (3:18:12)
4th: Livio Menelau (3:20:30)
5th: Tamarua Cowan (3:22:50)
2014 Maui 2 Molokai
1st: Connor Baxter (3:04:31)
2nd: Kai Lenny (3:06:44)
3rd: Dave Kalama (3:08:58)
4th: Travis Grant (3:14:13)
5th: Livio Menelau (3:18:57)
2015, 2016, 2017, 2018, 2019 Maui 2 Molokai
1st: …?