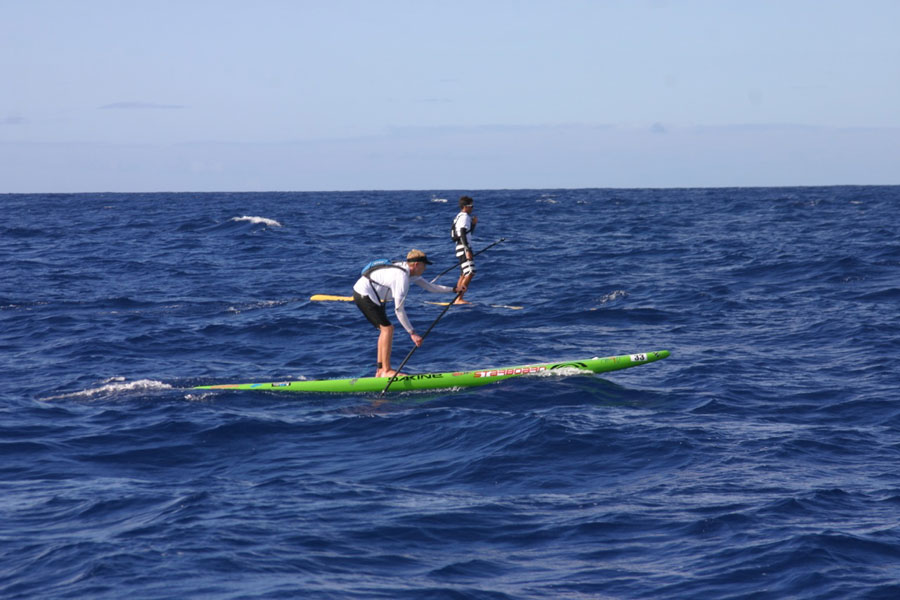 July 31, 2013
by Christopher Parker (@wheresbossman)
"Tough Race…" Connor Baxter's Molokai Recap
Connor Baxter was attempting a three-peat at last weekend's Molokai 2 Oahu race, however a spirited performance from Aussie Travis Grant forced him to hand over the Channel crown. So while Connor won his intense battle against Kai Lenny, he lost the war to Travis and Scott Gamble.
>>> MORE FROM MOLOKAI:
Catch up on the RESULTS from the 2013 Molokai 2 Oahu Paddleboard World Championships
Relive our Molokai 2 Oahu Live Coverage
Check out some awesome Molokai 2 Oahu PHOTOS
Peter Petersen's "Team Saffa Does Molokai 2 Oahu"
Hear from the champ himself with "How I Won Molokai" by Travis Grant (coming soon)
Danny Ching talks about how intense the Channel was this year (coming soon)
But how does the young gun feel now that the race is over? Check out some personal insights from Connor on his blog, highlights of which we've posted below…
My dad and I did lots of research on which line was favored weeks before the race. Since there was an outgoing tide everyone normally goes southbound. The current pushes you north – so you want to head more south so that you aren't trying to paddle against the current once you get to Oahu. Also – the wind predictions were really good. East winds at 20 mph. So – before the race I had a good idea of what line to take to Oahu.
…
Kai and I were trading the lead the entire race. The committee boats and the helicopters were constantly around us – giving us a good idea that we were in the lead.
It was a hard grueling battle but as we got closer Kai made a good comfortable lead on me. At this point I was so tired and hurting I thought Kai would keep his lead and there was no chance of me catching up. But, my support team aka my family – saw that I was giving up and were screaming "Never give up, anything can happen, keep going". And somehow I flipped a switch and got my energy back and paddled my hardest. It took me a bit, but I finally caught back up to Kai, which amazed me and I just kept my head down, paddling hard and started making a decent gap on him.
…
As I got close to Portlock, I noticed someone on a SUP in front. Then I was told Travis was almost finished. I was a little bummed…
…
Get the full recap over on Connor's blog.