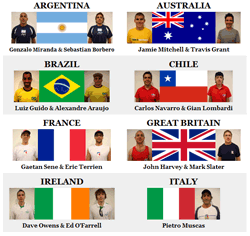 February 23, 2012
by Christopher Parker (@wheresbossman)
Who's Racing Who? Get Ready For The SUP Races @ The Peru World Champs!
*****
WHAT: 4.5km Technical Course SUP Race @ the ISA World SUP Champs
WHERE: Miraflores, Peru
WHEN: 9am Local Peru Time (time converter) Friday 24th RIGHT NOW!
HOW: Watch online @ isawsuppc.com/live
WIN: Scroll down for your own chance to WIN…
The World Championship SUP races are only 24 hours away finally here!
The first stand up paddle races of the inaugural ISA World Standup Paddle and Paddleboard Championship hit the water in Peru tomorrow right now.
The Long Distance race is on Saturday, but before that we've got the "Technical Course" race on Friday. It'll be a 4.5km Battle of the Paddle-style race in and out through the surf, split into both men's and women's events.
You'll be able to watch the race LIVE online and we'll also have all the results here on SUPracer.com straight after the event.
FRIDAY SCHEDULE:
(all times listed are Peru local time – time converter)
9:00am | Men's SUP Racing | Technical Course HEAT #1
10:00am | Men's SUP Racing | Technical Course HEAT #2
11:00am | Team Relay | HEAT #1
(Team Relay = 2x men + 2x women per team; 2x SUP + 2x Prone paddlers)
11:45am | Team Relay | HEAT #2
1:30pm | Women's SUP Racing | Technical Course FINAL
2:30pm | Men's SUP Racing | Technical Course FINAL
3:30pm | Team Relay | Consolation Final
4:15pm | Team Relay | FINAL
Check out who's going to be competing on Friday PLUS find out how you can WIN one of the new Epic Paddler's Caps…
*****
MEN'S TECHNICAL SUP RACE

4.5km Battle of the Paddle-style race | Friday, February 24th

ARGENTINA

Gonzalo Miranda & Sebastian Borbero

AUSTRALIA

Jamie Mitchell & Travis Grant


BRAZIL

Luiz Guido & Alexandre Araujo


CHILE

Carlos Navarro & Gian Lombardi


FRANCE

Gaetan Sene & Eric Terrien


GREAT BRITAIN

John Harvey & Mark Slater

IRELAND

Dave Owens & Ed O'Farrell


ITALY

Pietro Muscas

MEXICO

Hector Gonzales & Felipe Rodriguez

NEW ZEALAND

Paul Jackson


PERU

Tamil Martino & Jose Gomez


SPAIN

Belar Diaz & Roman Frejo

SOUTH AFRICA

Chris Bertish & Greg Bertish


SWITZERLAND

Steeve Fleury & Jean-luc Malfroid

USA

Jay Wild & Matt Becker

VENEZUELA

Fransisco Hernandez

& [to be decided]
WOMEN'S TECHNICAL SUP RACE

4.5km Battle of the Paddle-style race | Friday, February 24th

ARGENTINA

Lorena Cemersoni

AUSTRALIA

Shakira Westdorp

BRAZIL

Barbara Brazil

IRELAND

Jane Downes

PERU

Brissa Malaga

SPAIN

Pat Hernandez

SOUTH AFRICA

Brigette van Aswegen

USA

Brandi Baksic

VENEZUELA

Edimar Luque
*****