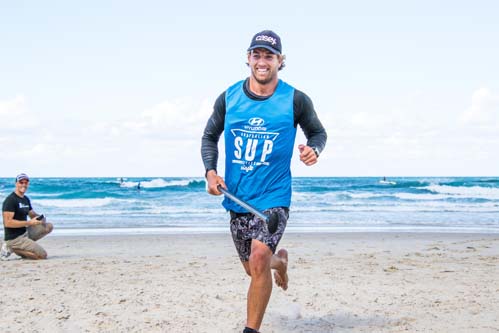 November 12, 2018
by Christopher Parker (@wheresbossman)
Your Monday morning briefing: James Casey, Karla Gilbert have won the Aussie Titles beach race.
Good morning and welcome back to Brekkie Bites.
We're down to the business end of the 2018 Aussie Titles, with the surfing and beach race titles decided today and the marathon race wrapping things up tomorrow.
Results from this week's event will help decide the team for ISA 2019 (a little confusing considering ISA 2018 is coming up in two weeks, but that's how they roll in Oz).
The official event site has more coverage.
JAMES CASEY BEATS THE CHAMPS
Sunova's James Casey has stolen the win from world champ Lincoln Dews and powerhouse Michael Booth after a see-sawing beach race held in tough, windy conditions.
Lincoln and Boothy, as they have been all season on The Paddle Leagaue World Tour, were the clear standouts and looked set for a 1-2 finish. But on the final lap, James (or "Jimmy" as he's known in Oz) caught as set the back, surfed clear and leapfrogged the superstar duo for the win.
The uber-dark horse Tim Cyprien also managed to sneak past Boothy for a spot on the podium, while youngster Ty Judson pipped veteran Kelly Margetts to round out the top five.
MEN'S BEACH RACE
1st: James Casey (0:26:28) NSW/Sunova
2nd: Lincoln Dews (0:26:52) QLD/Deep
3rd: Tim Cyprien (0:27:12) QLD
4th: Michael Booth (0:27:29) WA/Starboard
5th: Ty Judson (0:28:34) NSW/NSP
6th: Kelly Margetts (0:29:02) QLD/Sunova
7th: Jackson Maynard (0:30:33) QLD
8th: Paul Jones (0:32:22) QLD/NSP
9th: Nathan Cross (0:32:38) NSW/Blue Planet
10th: Callan Dick (0:33:07) QLD
---
KARLA GILBERT TAKES WOMEN'S TITLE
Former surf life saving Queen Karla Gilbert has taken yet another Aussie Title, dominating the women's beach race to finish a minute clear of world number six Terrene Black.
Conditions were tough, with officials setting a course that utilised both the small-medium waves and the medium-strong headwind.
Unknown West Oz athlete Susan Wilson rounded out the podium to break the East Coast's grip on the top placings.
WOMEN'S BEACH RACE
1st: Karla Gilbert (0:23:48) QLD/Naish
2nd: Terrene Black (0:24:44) NSW/Sunova
3rd: Susan Wilson (0:27:21) WA
4th: Keale Dorries (0:28:03) QLD
5th: Allison Fullagar (0:33:19) QLD
6th: Hannah Finlay-Jones (0:33:50) NSW
7th: Skyla Rayner (0:34:23) NSW
8th: Jade Lane (0:35:12) WA
9th: Savannah Fitzsimmons (0:37:10) QLD
10th: Chloe Walkerdene (0:45:39) QLD
---
SHAK WINS SEVENTH TITLE
Shakira Westdorp, who we revealed last week will be carrying a heavy load in China later this month, claimed an incredible seventh Australian title this morning in the SUP surfing contest. From memory, this is Shak's seventh title from eight attempts.
WOMEN'S FINAL
1st: Shakira Westdorp (16.25)
2nd: Hannah Finlay-Jones (11.30)
3rd: Skyla Rayner (11.20)
4th: Terrene Black (9.45)
In the men's surfing, Harry Maskell (who, just like Shak and Terrene, is also competing in both surfing and racing in China this month) was supremely dominant, scoring a near-perfect 19.15 (out of a possible 20) to take the title ahead of Wes Fry and Josh Stretton.
MEN'S FINAL
1st: Harry Maskell (19.15) NSW
2nd: Wes Fry (12.25) QLD
3rd: Josh Stretton (12.20) NSW
4th: Nic Walker (10.05) QLD
---