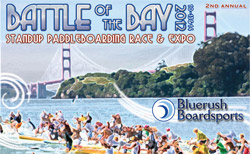 October 10, 2012
by Christopher Parker (@wheresbossman)
Who's Going To Step Up And Claim The $5k @ The Battle Of The Bay In San Francisco?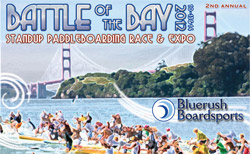 The 2nd Annual Battle of the Bay SUP race hits San Francisco Bay Area this weekend.
Plenty of top paddlers are still in town from the Battle of the Paddle, so the level of racing should be very decent. There's also a $5,000 prize purse on the line, which should step things up another level as well.
The races will be held inside the Bay, meaning we'll get to see flat-water race strategies and tactics come into play. There'll be plenty of drafting (which I for one am a big fan of) and jockeying for position right from the start. So even though there won't be the waves & carnage of the BoP, the races should still be entertaining.
The Battle of the Bay is also competing for talent with the Stand Up World Series Finals, which are happening in Hawaii at the same time. So with a few of the big names not on the start line in San Francisco (Connor Baxter, Kai Lenny, etc will all be on Oahu this weekend) it might be a chance for one of the dark horses to step up and steal the win, which will hopefully mix things up and keep it interesting.
The event features Elite, Amateur and Kids races, but I think the highlight will be the 6 mile Elite Course Race on Saturday. Either way, stay tuned to SUPracer.com all weekend: We'll be on location at the Battle of the Bay, so we'll keep you posted with full results as they happen.
*****
Battle of the Bay Schedule
// SATURDAY
6 5 mile Elite Course Race
Kids Race
// SUNDAY
12 10 mile Elite Distance Race
2 mile Open Race
More info on the official Battle of the Bay site