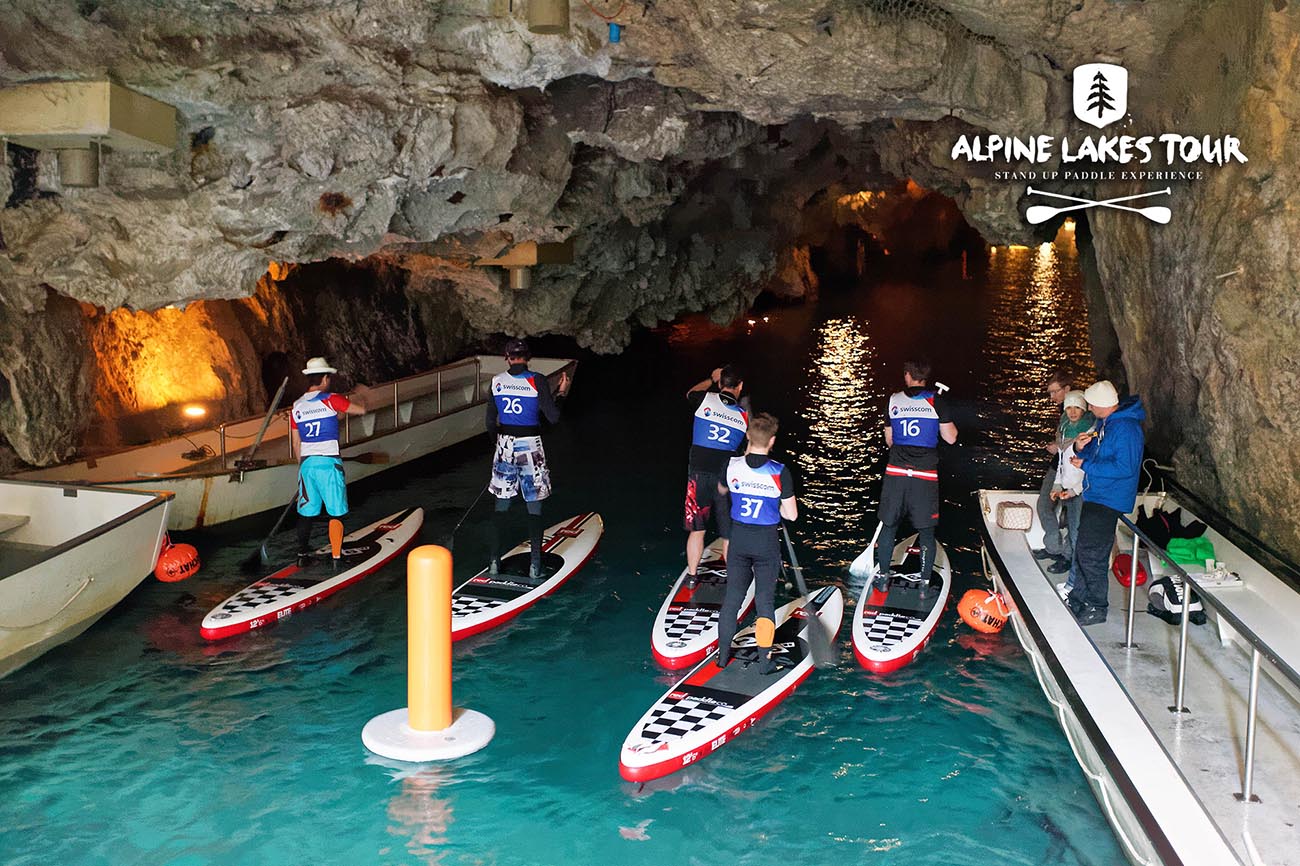 March 16, 2015
by Christopher Parker (@wheresbossman)
World's Most Unique SUP Race? Results & Photos From The 'Bat Race' – Held On An Underground Lake In Switzerland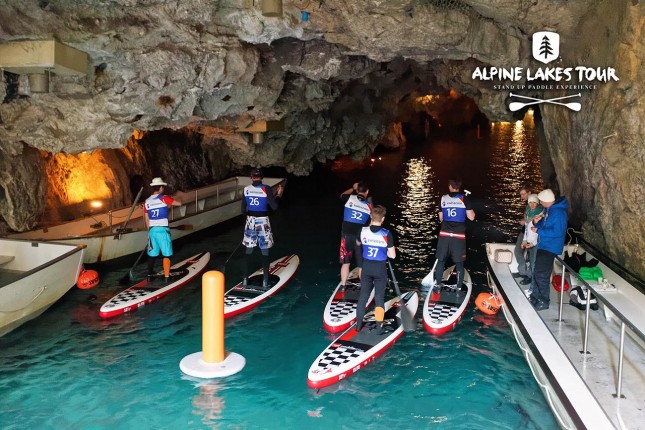 Remember that underground stand up paddle race we announced a couple of months ago? The Bat Race. It was set to happen on a lake inside a cave under the earth in Switzerland, which instantly gave it the title of "World's Most Unique SUP Race."
Well the Bat Race happened on the weekend. And it was rather spectacular…
Two dozen paddlers had the opportunity to paddle around one of the rarest race courses in the world (or under it), sprinting up and down the 300m long, 20m wide Lake Saint Leonard with the aid of a few floodlights and a vocal little crowd (lakeside seating was, as you can imagine, rather limited).
All competitors were on the same board: The Red Paddle Co. 12'6 "Elite" model inflatable.
The whole event was part of the Alpine Lakes Tour, a stand up paddling series in France (and over the border in Switzerland) that focuses on some of the most beautiful lakes in the Alps. Up until now those races have all been above ground, but when organisers were granted permission to SUP on the usually totally-off-limits-to-paddlers Lake St. Leonard (Europe's largest underground lake), the Bat Race was born.
As you can imagine it's not easy to get sharp photos of fast-paced action when you've got such dim lighting, but the organisers sent us over a few choice shots from the weekend.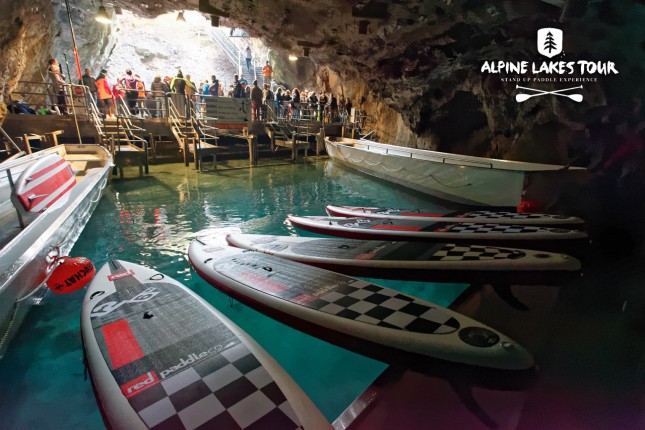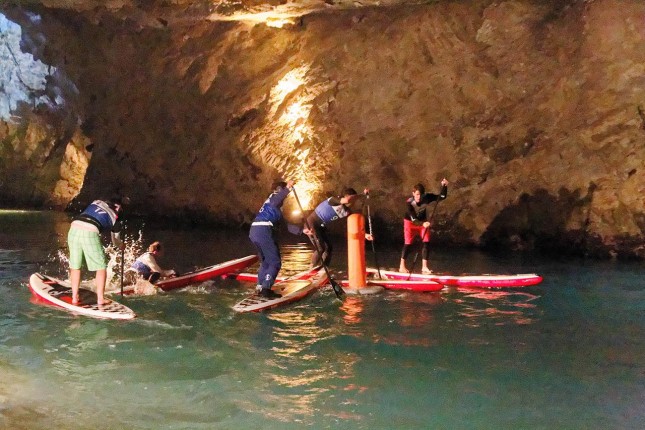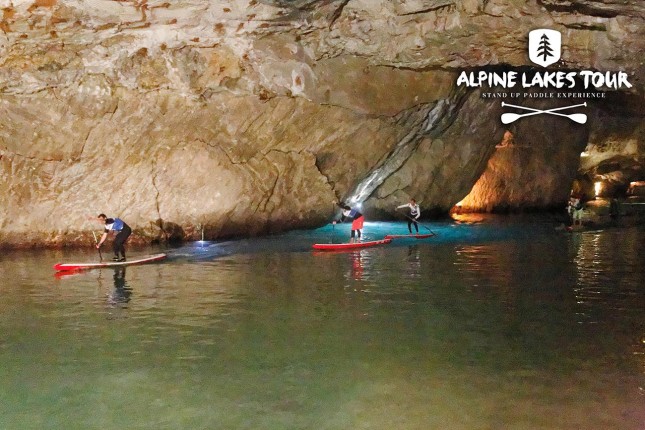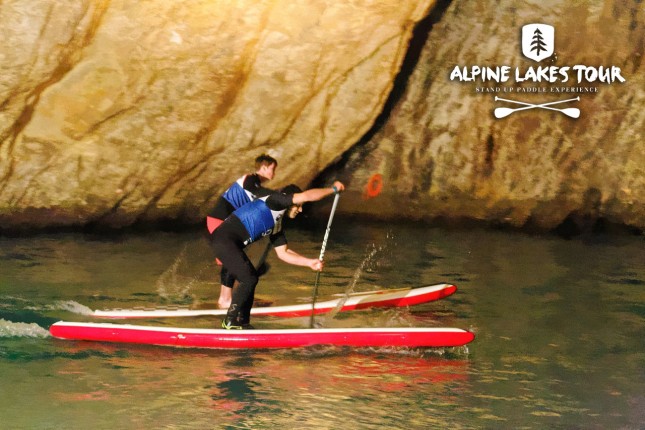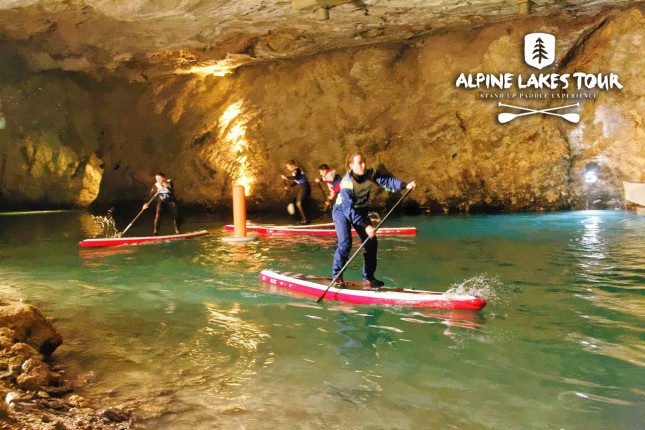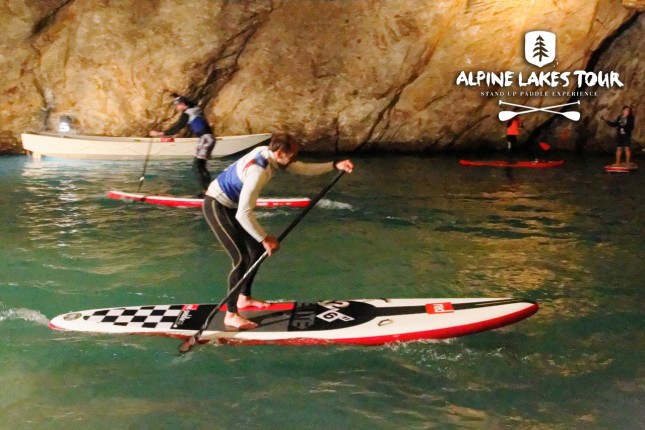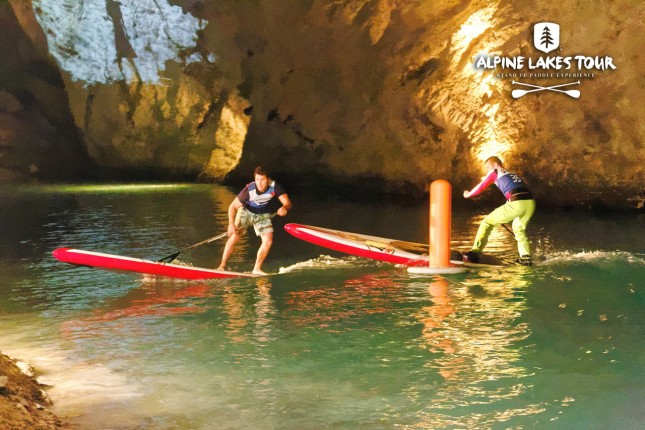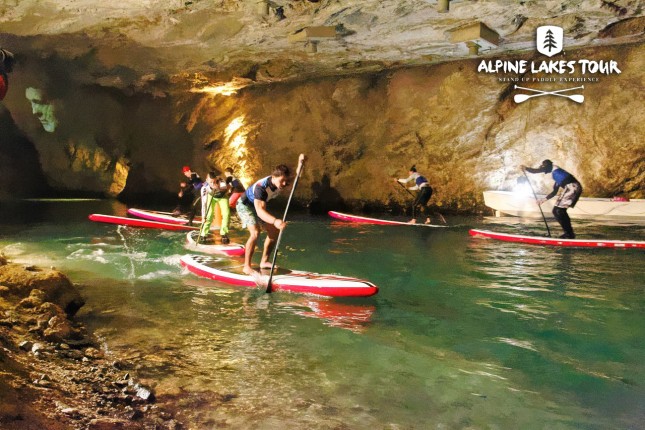 Here's a quick recap from one of the race organisers, Benoit Mouren:
The first Underground SUP RACE took place yesterday in Switzerland for the opening of the Alpine Lakes Tour 2015. Jérémy Teulade (France) won in the finals. Dani Reinhart (Switzerland) is second and Rok Puvar (Slovenia) third. Nicole Reinhart (Switzerland) is the first woman, Laurence Joubel (France) second and Virginia Roussel (France) third.

Lakes Saint Léonard, in Switzerland is the largest underground lake in Europe.

All competitors raced on a Red Paddle Elite Race board. Red Paddle is the Alpine Lakes Tour main sports Partner.

The BAT RACE was the opening race of the Alpine Lakes Tour 2015. Next stop is Torino (Italy)

Many Thanks to our partners : Red Paddle Co, Diirt, Supskin, Get Up, Le Nautic, Blue1310, the Saint Léonard Lake and. Alps Sup. Also to Pelikan for the coming video and Philippe Millet for the pictures.
And here are the full results. Congrats to Jérémy Teulade (men's champ) and Nicole Reinhart (women's champ) for being the first ever winners of a stand up paddle race held below ground…
Jérémy Teulade (France) 50
Dani Reinhart (Suisse) 49
Rok Puvar (Slovénie) 48
Ugo Clay (France) 47
Philippe Lachenal (France) 46
Gregor Macarol (Slovénie) 45
Ludovic Teulade (France) 30
Jean-Marc Bouis (France) 30
Nicole Reinhart (Suisse) 30
Nicolas Carliez (France) 30
Nicolas Fayol (France) 30
Peter Tritten (Suisse) 30
Loïc Cros (France) 20
Arnaud Martin (France) 20
Sandrine Genet (France) 20
Virginia Roussel (France) 20
Olivier Ruedin (Suisse) 20
Yvan Moreillon (Suisse) 20
Laurence Joubel (Suisse) 20
Gaël Wambeke (France) 20
Sarah Hauck (Suisse) 10
Nick Crettenand (Suisse) 10
Geoffreoy Bléry (France) 10
Hakim Dridah (Suisse) 10
Michel Schnitzbauer (Suisse) 10
Maximilien Arnould (France) 10
Carol Scheunemann (USA) 10
Katrin Gerber (Suisse) 10
William Canali (France) 10
Virginie Samson (France) 10
Siri Schubert (Suisse) 10
Thierry Martinet (France) 10
Daniel Chablaix (Suisse) 10
Tuan Lam (France) 10
Xavier Champendal (Suisse) 10
Christophe Blanc (France) 5
Karine Bargue (France) 5
Sabrina Lauper (Suisse) 5
Yann Nicolerat (Suisse) 5
Gaspard Dufour (France) 5
Aurélien Riss-Bargue (France) 5
Vincent Wuidart (Suisse) 5
Clarisse Labuissière (France) 5
Anne Wambeke (France) 5
Jonathan Da Dalto (Suisse) 5
Nathalie Charrière (Suisse) 5
Kiny Parade (Suisse) 5
Jérôme Vasquez (France) 5
Jérôme Bontemps (France) 5
Gaël Caillet-Bois (Suisse) 5