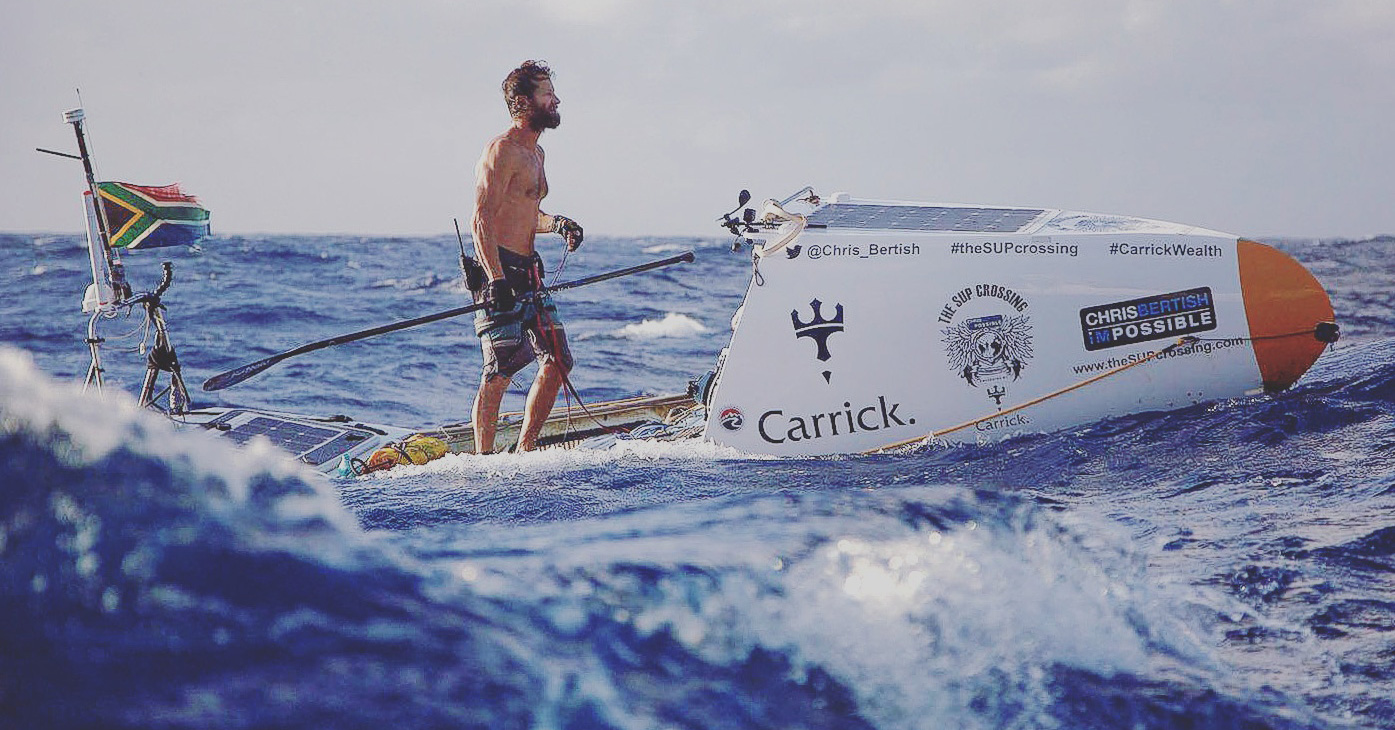 March 14, 2017
by Christopher Parker (@wheresbossman)
Chris Bertish's Other Atlantic Crossing Record: Making Paddleboarding Front Page News
Chris Bertish set a monumental record last week by completing the first ever transatlantic crossing on a paddleboard after 93 days alone at sea.
But while his 6500km (4050 mile) voyage is clearly an extraordinary achievement, one that may never be matched, Chris set another "record" that's almost just as impressive: making paddleboarding front page news around the world.
Within an hour of landing his $120,000 custom-built paddleboard (yes, it's a paddleboard) at English Harbour on the south coast of Antigua, several of the world's biggest news sites were leading their sports sections with Chris' story.
The New York Times. The Guardian. CNN. National Geographic. The Times. Sports Illustrated. The list goes on.
This mind-boggling adventure, which was done entirely in the name of charity let's not forget (you can still donate), briefly propelled the humble world of paddleboarding to a level usually reserved for mainstream sports that people have actually heard of; it was literally on the front page of theguardian.com next to a story about the English Premier League.
With the insular nature of our little community, it's easy to forget that SUP is barely even a sport at all. In their piece on Bertish's crossing, CNN summed it up perfectly by referring to a paddleboard as "one of those surfboard-like contraptions you've probably fallen off on vacation."
The average punter has never heard of the Battle of the Paddle, doesn't know what acronyms like PPG, M2O and APP stand for, and probably has no idea who Laird Hamilton or Kai Lenny are. But suddenly they know who Chris Bertish is.
So because of this one insanely determined and borderline-crazy big wave surfer from South Africa, SUP is now a little bit more mainstream and legitimate.
No, it's not going to convince the IOC to put us in the Olympics or make Coca-Cola sponsor the Carolina Cup, but it's done more for our little tribe than perhaps anything or anyone else ever has.
Chris Bertish did the impossible. Twice.

https://www.instagram.com/p/BRcAOk4lQ8k/
Record-setting news within the SUP community
As you can imagine, the first successful crossing of the Atlantic Ocean on a stand up paddleboard (Bertish wasn't the first to attempt the crossing–let's spare a thought for Nicolas Jarrosay and his brave but ultimately doomed transatlantic crossing from 12 months ago) was major news within the SUP community as well.
In fact, 'major' is an understatement.
This story was so big it set a one day traffic record on SUP Racer that more than doubled the old mark of 35,000 page views set by our Molokai live blog. Within 48 hours of the story breaking, and with the viral nature of Facebook in full effect, we saw more than 120,000 page views here on supracer.com.
That usually takes a month.
Our post about Chris Bertish's Atlantic Ocean paddleboard crossing, written literally as the guy was stepping onto dry land thanks to SUP the Mag's live stream of the historic moment, has now generated a record 15,768 shares and upwards of 200,000 page views.
Just for good measure, it was also @supracer's most-liked Instagram post of all time (and we're in good company: the same photo became one of Kelly Slater's most-liked instas when the King wrote a post full of praise for Bertish).
SUP the Mag's Facebook Live video has been watched an astonishing 212,341 times, which sets a massive record for a paddleboarding live stream, while I'm going to safely assume their exclusive photo gallery of Bertish's arrival was their most-viewed of all time as well.
Chris Bertish broke the internet, or at least the small little paddleboarding corner of it anyway.
And now, thanks to him, that little corner is a little bigger.

https://www.instagram.com/p/BRboA3il7WX/

Cool little bonus footnote: Bertish has been hanging out with Sir Richard Branson on the billionaire's private Caribbean island the past couple of days. He still hasn't shaved.