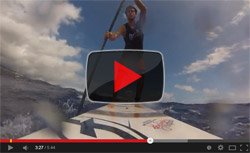 January 1, 2014
by Christopher Parker (@wheresbossman)
Chasing Bumps On Reunion Island
Watch this cool little clip of times on Reunion Island courtesy of Arthur Daniel. The French young gun and F-One team rider escaped mainland France to get some much needed New Year's sun on the tiny little island in the Indian Ocean, an island that has some of the funnest ocean in the world (apart from being a SUP haven, Reunion is home to some world class surf breaks as well).
Arthur scored a solid New Year's downwinder on a run between the towns of Tansalé and Sinlé, which led to the christening of the downwind course as the "Tansaliko Run" (the French are forming a habit of combining their local towns with the world famous "Maliko Run" to come up with new downwind run names).
Whatever the name is, it looks like a pretty awesome spot to ring in the new year.
If you're not already familiar with the name Arthur Daniel then you will be very soon. Along with paddlers such as fellow Frenchman Arthur Arutkin, the Danish Viking Casper Steinfath and Italy's Leonard Nika, Arthur is leading a new wave of European young guns that are storming podiums across the continent and around the world.
---
Wanna see more SUP vids? Over to the Showreel we go: