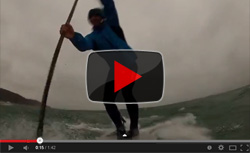 December 24, 2013
by Christopher Parker (@wheresbossman)
…And Here's The Video (RE: Extreme Downwinder On The 'Radliko' Run)
Here's the video to accompany Monday's "Extreme Downwinder in France" post, about how Greg Closier and friends pulled off an absolutely macking downwinder on the France's west coast.
I chatted with Greg and got a few more details on the epic run, in which the winds were peaking at 50-60 knots…
Yep Chris it was crazy, but not dangerous, as we were cautious. The paddlers were Amaury Dormet, Stéphane Guiomar, Jérémy Branchu and myself, all of them are experienced paddlers. The run is pretty good, we call it Radliko (because it goes through "Rade de Brest", a huge outside natural Harbor in the city of Brest… we mix that name with famous Maliko run to come up with "Radliko").
In this area, depending of the wind, we have several runs between 7km and 20km. As you noticed the weather is hard, cold, rainy, dark, but at least we are a group of racers really motivated to paddle no matter what.
So there you go. The Maliko Run has some competition… from the Radliko Run.
Here's another clip from the same run a couple of days later…
*****
Wanna watch more Stand Up Paddle board videos? Over to the Showreel…