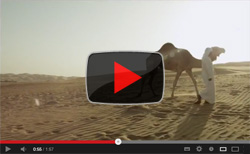 March 22, 2013
by Christopher Parker (@wheresbossman)
Abu Dhabi All-Stars Invitational Promo Vid: $20k Up For Grabs In The Desert
Check out this promo for one of the most unique Stand Up Paddling events of the year, the Abu Dhabi All-Stars Invitational. Set in the desert oasis of the UAE, the All-Stars is a specialty event that combines both the Stand Up World Series (racing) and Stand Up World Tour (surfing).
The world's finest have been invited to compete for the $20,000 prize purse, with results from both the surfing and racing combined to produce an overall champ. It's all happening April 4th-7th, with the surfing taking place Wadi Adventure Park wave pool and the SUP racing happening along the imposing Abu Dhabi waterfront.
The Abu Dhabi All-Stars Invitational won't count towards end of year points in either the World Series or World Tour, instead it's being used as a showcase of what's possible in this part of the world. The U.A.E. is flush with cash and surrounded by water, so while it's not quite as synonymous with SUP racing as somewhere like Hawaii or California, it's certainly got the potential.
As we noted in the original announcement about SUP event in Abu Dhabi, the All-Stars Invitational is pushing the boundaries. Abu Dhabi, and the U.A.E. in general are home to some of the most ridiculous  larger-than-life buildings, attractions and sporting events. For Stand Up Paddling to make an impression in this part of the world is a big deal, and if it all goes off successfully will be a very good sign for the international future of our sport.
But enough chest beating, just check out the promo clip below for more info and then stay tuned for all the info here on SUPracer.com – we'll be on the ground in Abu Dhabi giving you live updates right throughout the event…