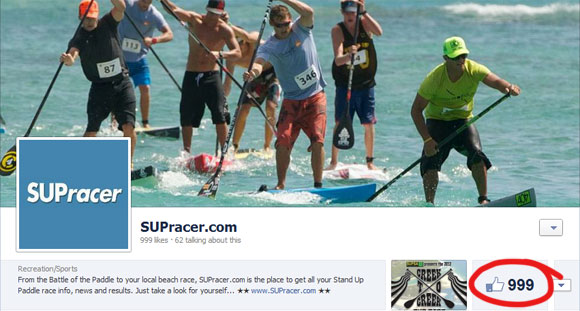 May 27, 2012
by Christopher Parker (@wheresbossman)
999x Facebook Likes. Time To Give Away Some Cool Free Stuff!
UPDATE: Game over (for now…), we just announced the winner. Congratulations to Chris Paustian from Illinois.
56 Likes, 15 Comments and a couple of Shares: It was a stacked field vying for the prize this week!
http://www.facebook.com/goSUPracer/posts/310163455734379
*****
The SUPracer Facebook page just hit 999x Likes!
Thanks a lot for following us and for supporting the sport of Stand Up Paddle racing.
It's crazy to think that SUPracer is less than six months old… lots of cool stuff coming up in the next six months and beyond 😀
But anyway, to celebrate the imminent 1,000th Facebook fan, we think it's time to give away some cool free stuff.
So if you want to ★★ WIN! ★★ yourself an Epic SUP Cap, simply click here and "LIKE" or "COMMENT" on our latest Facebook post.
If you're lucky, you could join the list of Epic SUP Cap Winners…