September 15, 2014
by Christopher Parker (@wheresbossman)
859 Days Later: SUPracer.com Finally Has A New Facebook Cover Photo
It only took me two and a half years, but the SUPracer.com Facebook cover photo has finally been changed.
As you will see, highlighted by the fact that I'm about to write 1,200 words on a topic most would suggest doesn't even warrant a simple caption, I take my Facebook cover photos seriously.
Like the exchange of flags between host cities at the Olympic Games closing ceremony or the inauguration of a new President, the changing of our Facebook cover photo is a weighty subject.
For years I resisted the urge to update the cover shot. Despite the fact that half the guys in this photo have new stickers on their board, despite there having been literally hundreds of great races in the time since, despite the event this photo was taken at not even existing anymore, I hung onto this image from early 2012 like a proud father carries photos of his children in his wallet.
OLD COVER PHOTO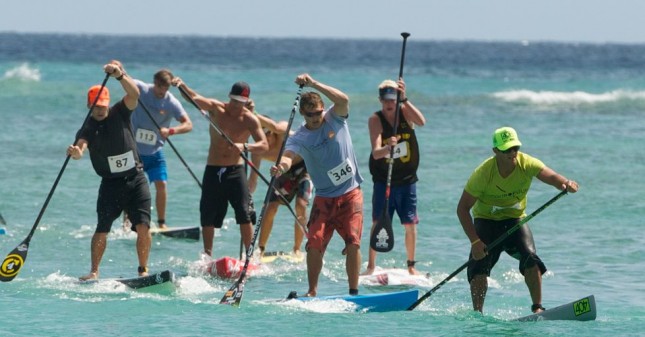 Waikiki, May 5th, 2012.
The first and only Waikiki Paddle Festival takes over from where the old BOP Hawaii left off, introducing the Jamie Mitchell Survivor format on an elite field of competitors. Starting with 50 odd paddlers, the competition was whittled down, race by race, to the final 8.
This photo was taken as top guys charged their way back in towards the shore on the second half of the one-lap final. That's Danny Ching out front in the green, behind him Jamie Mitchell and then in the all black is Travis Grant (remember C4?), who would catch a bump moments after this photo was taken and surge to victory.
In between Danny and Jamie we can see a young Connor Baxter, who was fighting a fever on this day but still kept pace with the top guys almost all the way til the end. Wedged between Jamie and Travis are the shirtless Aussie duo of Paul Jackson (on the red board) and right behind him Jake Jensen (back when he was still paddling for that yellow brand). A little further back we see Slater Trout in the blue shorts.
The unlucky one to miss out on this photo was Kelly Margetts, who had a bad start and found himself near the rear of the field for much of the final. You can just see the tip of Kelly's board on the far left of the pic, above Travis' paddle.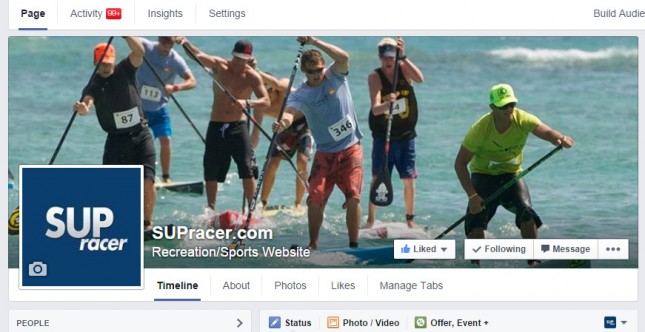 There was something about this photo that mesmerised me. I was there on the beach and got to see all this happen live, but this photo still managed to capture the moment perfectly for me.
The Waikiki Paddle Festival took place a mere six months after SUPracer.com started and this was the first major race I attended in any official capacity, so to me it was rather special. This photo summed up everything that SUPracer.com was about and that's why it was our cover photo on Facebook for 859 straight days, from May 9th, 2012 to September 15th, 2014.
But now, we change…
I give you our new Facebook cover photo, which may or not not be plastered at the top of our Facebook page for the next two and a half years straight.
NEW COVER PHOTO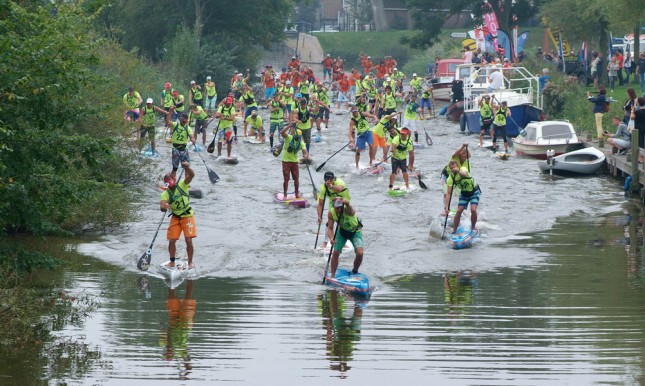 This photo was taken by Steve West just a few days ago: Saturday, September 6th, 2014.
The location is not quite as iconic as Waikiki. Pictured above is the quaint town of Franeker, which lies somewhere in the Dutch province of Friesland. It was the beginning of Day 4, the penultimate stage of the SUP 11 City Tour.
We had roughly 43kms (26.7 miles) of paddling in front of us at this point, but, just like every other stage of the 11 Cities, every competitor sprinted like mad in the first 500 metres.
As you can see it was a very narrow starting area, with around 100 paddlers trying to squeeze their way through the inner-city canal and into a good position before the draft trains inevitably formed.
Out front, in the center of the pic and on the shiny blue Starboard, we see Bart de Zwart. Bart would win this stage, along with almost every other stage to claim his 4th SUP 11 City Tour title. The runner-up and defending champ, Peter Bartl, is in the orange QB boardies to Bart's left.
After more than 22 hours of paddling across five days, only 29 seconds separated these two guys. That's how evenly matched they are and highlights just how much of a mental, as well as physical challenge this great race is.
To the right we see Martjin van Deth on the other blue Starboard – Martijn was very impressive in hanging onto Bart's and Peter's tails all week, finishing a well deserved third overall.
Behind them we see the other dozen guys that fought hard for the Top 10 all week. Directly behind Bart is Franck Fifils from Guadeloupe, who finished 4th overall. Behind Martijn we've got Jay Haysey from the UK, who was looking good all week but had one bad day (this day, funnily enough) and dropped to 11th on the leaderboard.
In the center, on his purple, signature Art in Surf board is Alex Matero from Brazil. Another impressive competitor who rounded out the Top 5 in the overall standings. To the right, on the green and white Boga board is Miguel "The Machine From Mallorca" Martorell, who I had the pleasure of sitting behind for hours and hours during the week. Thanks for the ride Miguel.
A few board lengths directly behind Peter is Dirk Bickert, the quiet assassin from Germany would go about his work with minimal fuss each day, often towing dozens of guys down the canal on his way to 6th place overall. I also spot Andre Le Geyt in the red hat, just to the right and behind where Dirk is. The back and forth banter between Andre and myself was one of the few things that kept me going right through the week. The 11 Cities is a long, loooong race but the atmosphere is unlike any other stand up paddling event.
I also snuck into this photo: That's me in the orange boardies just to the right of center. I didn't have the best of starts this day (in fact I didn't have a good start all week until the final stage) but, about two minutes after this photo was taken, managed to find myself in a good spot on the main draft train to start a fun day of racing.
On the far right of the photo, paddling precariously close to the moored boats and with her paddle in mid air, about to take another powerful stroke, is the women's champion Janneke Smits. I'd never met Janneke before this race but the Dutchwoman was very impressive, sweeping every stage to claim her maiden 11 Cities title.
The names mentioned above aren't world famous. Apart from Peter and Bart, most wouldn't rate a mention at a major international event. And that's perhaps why I love this photo. Yes, I'm biased – I'm in there myself and it was taken at a race I've quickly grown rather fond of, but still, there's about something more to it than that…
This photo shows serious, determined, hard fought competitive paddling in action. But it also highlights, at least to me, the other part of this sport that we love: Traveling to new destinations, meeting new people, the camaraderie, the sportsmanship, the fun and adventure of it all.
And that's why this shot by Steve West is our new Facebook cover photo.