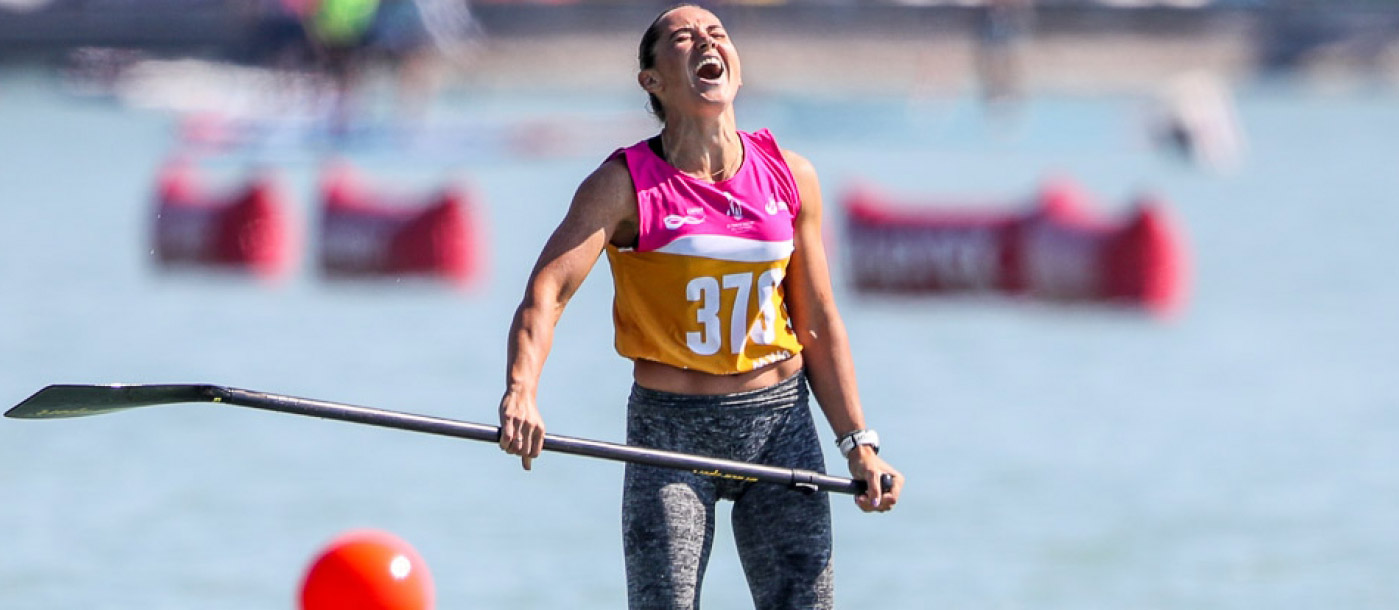 March 3, 2022
by Christopher Parker (@wheresbossman)
ICF cancels SUP World Cup in Russia, joins Olympic world in banning athletes
The International Canoe Federation (ICF) has joined the Olympic world in condemning Russia's invasion of Ukraine by banning Russian and Belarusian athletes from competition. This follows last week's cancellation of the ICF's three Russian events, which included a SUP World Cup in Moscow that was expected to be a major stop on the road to Gdynia, Poland, which is hosting the ICF Worlds in September.
Almost every Olympic federation has shared a similar stance after the International Olympic Committee (IOC) came out with a surprisingly quick and forceful statement condemning the Russian invasion last week. The International Surfing Association (ISA) made a similar announcement yesterday, however the ICF move is more significant given they were planning to host a major event in the country (and also, canoeing is far bigger than surfing in Russia).
The ICF SUP World Cup was set to be a three-event series with Russia joining Switzerland (7 & 8 May) and Hungary (17-19 June). The World Cups are basically mini versions of the ICF Worlds, with each stop featuring the usual sprint/course/distance combo and winners receiving an all-expenses paid trip to Gdynia along with prize-money. While it seems there will only be two World Cup events now, I chatted with the canoe boys today and they suggested the Moscow stop may actually be relocated instead of cancelled.
All these announcements will have a direct impact not only on the World Cup series but also potential medal winners at the World Championships. If the ban on Russian athletes is still in effect six months from now, the likes of Elena Prokhorova and Nataliia Novitskaya who won gold and silver in the sprint at last year's worlds will be sidelined. (It's worth noting that at the same event the Ukraine men won bronze in the team relay.)
Nobody wants to see innocent athletes caught up in a war waged by their dictatorial government (something that ICF Prez touched on). But while it's easy to say the world of paddling shouldn't be politicised, sport has long been used a political tool and it's clear the world needs to use everything at its disposal to pressure Russia into withdrawing its troops from Ukraine. Sporting sanctions join economic sanctions as a means of pressure and isolation. And let's also keep some perspective, because while the careers of Russian athletes will unfortunately suffer in the short-term, there are already reports of Ukrainian athletes being killed defending their country.
Looking at this more broadly, I think it's interesting that the IOC – often accused of blatant hypocrisy for its blindly "apolitical" stance (see: Beijing, Shui, Xinjiang, Sochi, etc) – was so damning in its indictment of Russia's invasion. Apart from the obvious ethical standpoint of opposing the worst European conflict in 77 years, the Olympic body is also upset because the Winter Paralympics are due to begin tomorrow. All 193 Olympic nations signed a UN-backed 'Olympic Truce' promising no hostilities during the Beijing Winter Olympics from 4 February through 20 March (in an Orwellian twist, the truce was co-sponsored by Russia). This "truce" has always been merely symbolic but marks an interesting footnote to the crisis (as does the disturbing report suggesting China asked Russia not to invade Ukraine… until after last week's closing ceremony).
Of course, sporting events become insignificant during times like these. It's hard to think about a race when our SUP friends in Kyiv are picking up guns instead of paddles. But it is important to highlight just how much SUP has expanded in Eastern Europe the past few years–the "Culture Shift" as the sport moves away from the oceans and towards flat water. Ukraine and particularly Russia are emerging hubs for stand up paddling. Or at least, they were. The impact on our humble little sport is just one more backward step this senseless war has produced.
At this point, I think the ICF should just announce the Moscow World Cup will be rescheduled as the Kyiv World Cup in 2023. Figure out the details later, just announce your intention as a show of solidarity with our paddling family in Ukraine (and as a subtle "Fuck you" to the Russian government).